Movie Review
Sergeant York
Jeepers! the creepers are after somebody - and guess who!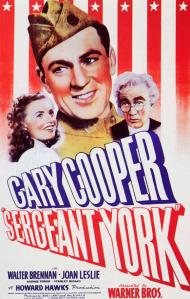 US Release Date: 09-27-1941
Directed by: Charles Barton.
Starring
▸
▾
Gary Cooper

,

as

Alvin York
Walter Brennan

,

as

Pastor Rosier Pile
Joan Leslie

,

as

Gracie Williams
George Tobias

,

as

"Pusher" Ross
Stanley Ridges

,

as

Major Buxton
Margaret Wycherly

,

as

Mother York
Dickie Moore

,

as

George York
Ward Bond

,

as

Ike Botkin
Noah Beery Jr.

,

as

Buck Lipscomb
June Lockhart

,

as

Rosie York
Clem Bevans

,

as

Zeke
Howard Da Silva

,

as

Lem
Tully Marshall

,

as

Uncle Lige
Pat Flaherty

,

as

Sergeant Harry Parsons
Elisha Cook Jr.

,

as

Piano Player
Frank Faylen

,

as

But! Boy
Gig Young

as

Marching Soldier
Reviewed on:
February 6th, 2013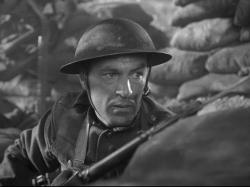 Gary Cooper as Sergeant York.
Sergeant York was the highest grossing film of 1941. It was playing in theaters when the Japanese attacked Pearl Harbor. The film's unabashed patriotism was credited with helping recruit soldiers. In some cases young men went directly from the movie theater to the enlistment office. Gary Cooper would later state that this was his favorite of all his pictures. Denied entry in the armed services after America entered WWII due to his age and an old hip injury, Cooper considered this movie to be his contribution to the war effort.
Sergeant York was nominated for 11 Academy Awards including three of the acting awards as well as Best Picture, and Best Director for Howard Hawks. Gary Cooper (whom the real Alvin York had insisted play him) won the first of his 2 Oscars in the title role. Walter Brennan, who already had 3 Oscar statuettes in the Supporting Actor category for Come and Get It (1936), Kentucky (1938), and The Westerner (1940), lost to Donald Crisp in How Green Was My Valley (that movie also took home the Picture, and Director prize (for John Ford) as well). Margaret Wycherly (who is best remembered today for playing Ma Jarrett to James Cagney's deranged Cody Jarrett in White Heat (1949)) lost her one and only Oscar nomination to Mary Astor in The Great Lie.
This is the story of the most decorated American soldier of WWI, but it is much more than just a war picture. The first half of the movie deals with the titular character's life in the rural hills of Tennessee. He is a wild young man that loves to drink, fight and generally raise hell. His mother rules her brood with an iron fist. In one scene she sends Alvin's younger brother (Dickie Moore) to fetch him from a saloon at gun point.
Alvin's life begins to change when he meets and falls in love with a young woman named Gracie (Joan Leslie). Alvin York had insisted his wife be portrayed by a wholesome actress, "No Ooomph Girls!" he reportedly said, an obvious reference to Warner's resident sex pot Ann Sheridan. Anyway, York tries to buy some land to impress Gracie but learns it has already been sold to his rival for her affections. Alvin proceeds to get rip roaring drunk but fate steps in in the form of a lightning bolt.
Alvin takes this as a sign from God and changes his ways. He quits drinking and hell raising and begins attending church. When the war comes he is against it and tries to get out of serving by declaring himself a conscientious objector. He is denied C.O. status and gets drafted. The second half of the movie deals with York's time in the military and the war itself, where he eventually captures 132 German soldiers nearly single-handed. The movie ends with him receiving many awards for bravery including the Distinguished Service Cross and the Congressional Medal of Honor. Alvin York returns home a triumphant hero!
There is a pivotal scene where Alvin York reconciles his pacifist beliefs with his patriotic duty. As he later explains it, "Well I'm as much agin' killin' as ever, sir. But it was this way, Colonel. When I started out, I felt just like you said, but when I hear them machine guns a-goin', and all them fellas are droppin' around me... I figured them guns was killin' hundreds, maybe thousands, and there weren't nothin' anybody could do, but to stop them guns. And that's what I done."
Howard Hawks direction keeps the story moving along, although it does run a bit over 2 hours. Gary Cooper is perfect as a man that goes from drunken hillbilly to national icon. He exudes such a strong sense of decency and honor as Sergeant York that it is completely understandable why the real man insisted he play him, even though he was at least 10 years too old for the part.
Sergeant York is, quite simply, a classic American film!
Photos © Copyright Universal Pictures (1941)
Related Review