Movie Review
A Separation
Lies may lead to truth.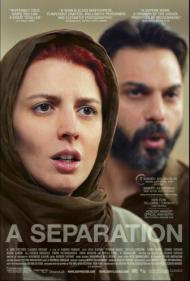 US Release Date: 12-30-2011
Directed by: Asghar Farhadi
Starring
▸
▾
Peyman Moadi

,

as

Nader
Leila Hatami

,

as

Simin
Sareh Bayat

,

as

Razieh
Shahab Hosseini

,

as

Hodjat
Sarina Farhadi

,

as

Termeh
Merila Zare'i

,

as

Miss Ghahraii
Ali-Asghar Shahbazi

,

as

Nader's Father
Babak Karimi

,

as

Interrogator
Kimia Hosseini

,

as

Somayeh
Shirin Yazdanbakhsh

,

as

Simin's Mother
Sahabanu Zolghadr

as

Azam

Reviewed on:
January 30th, 2012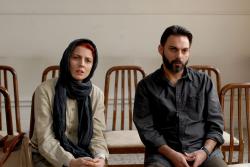 Leila Hatami and Peyman Moadi in A Separation.
A Separation is a gripping family drama from Iran. Already the recipient of dozens of awards, including the Golden Globe for Best Foreign Language film, it has also been nominated for not only the Foreign Language Oscar, but also the Academy Award for Best Original Screenplay. Besides being a well made film, deserving of the accolades, it also provides a glimpse into the everyday life of a country the Western world rarely sees.
It tells the story of a clash between two families. Nader and Simin are a middle class Iranian family going through marital difficulties. Simin wants to leave the country so that their daughter, Termeh, won't have to grow up there, but her husband, Nader won't leave his father who is suffering from Alzheimer's. After Simin moves out of the house and back in with her parents, Nader hires a woman to come in during the day to care for his father.
The woman he hires, Razieh, is poor and more religious than Nader and Simin. Before cleaning up Nader's father, she must first check that it won't be a sin. Her husband, Hodjat, is in debt and has been in and out of jail. One day when Nader comes home to find his father alone in the house and tied to the bed, he becomes angry with Razieh and physically throws her out of his house. Razieh is pregnant and when she loses the baby, Nader is charged with murder under Iranian law since she was more than 4 and a half months along.
As someone used to American courtrooms, seeing the Iranian legal system in action is quite the culture shock. The legal proceedings are chaotic by comparison. Instead of a courtroom and a jury, the case is heard in a cramped and overheated office in front of a judge. No lawyers are present and rather than a formal, present the case and then defend it procedure, it seems to consist entirely of the accused and the defendants yelling as loud as they can at each other. Witnesses are called in as they are mentioned during the case and trips are made to the scene of the crime under less than clinical conditions.
If the legal scenes show the differences of life in Iran then the family ones show that relationships are the same all over. Nader and Simin's arguments aren't very different from any Western couple's marital spats. Eleven year old Termeh is caught between her parents. She is put in an awkward spot by her father's legal troubles as well as by being used as a weapon in her parent's divorce.
The cast is all around terrific. Sareh Bayat as Razieh and young Sarina Farhadi (the daughter of the director) as Termeh do particularly good work. It is all played very realistically and never goes over the top no matter how high the drama gets.
If there is any weakness to the story, it is perhaps that it runs a bit long. At just over two hours, there is some room for tightening. That's a minor quibble though and I hardly mean that it needed to be edited ruthlessly. It's just that the story really picks up after Nader and Razieh have their argument and it does take a little while to reach that point.
I find it interesting that a foreign language film would get a Best Screenplay nomination. The story is the same in any language, but how many Academy members who watch it will understand it in its original language? That puts a lot of pressure on the translation of the subtitles.
Reviewed on:
February 14th, 2012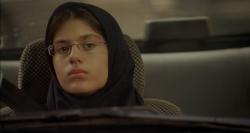 Sarina Farhadi in A Separation.
Yes Scott and the subtitles are filled with awkward phrases and grammatical errors as a result of the translation into English, although that doesn't diminish the emotional impact or high quality of the movie as a whole. I agree the acting is first rate and the script certainly deserves an Oscar nomination. As Scott wrote, A Separation brilliantly conveys the stark cultural differences between Iran and the Western world while telling a universal story of human conflict that citizens of any country can relate to.
It opens with a powerful scene of Simin and Nader arguing before a judge whom we hear but don't see. The camera represents the judge's perspective. Simin is stating her case for divorce while Nader acts alternately angry and indifferent towards her. According to Iranian law a woman cannot obtain a divorce without her husband's permission. Nader grants his approval but only because he knows Simin will never leave the country without their daughter, and he knows their daughter won't willingly leave him.
Perhaps the best thing about A Separation is how it manages to sympathize with everyone involved in the conflict, while at the same time effectively showing how each of the 4 adults contributes to the escalating feud. The children are the only innocent victims in this heated quarrel between two families from different social classes. As Scott mentioned Nader and Simin are solidly middle-classed while Hodjat and Razieh are poorer and less educated. Hodjat has a short fuse. He attacks Nader at the hospital and later threatens physical violence against Nader's family.
The case against Nader is based on the question of whether or not he was aware of Razieh's pregnancy when he pushed her out his front door. As it turns out there are falsehoods being told on both sides of the argument.
I found the relationship between Nader and his daughter Termeh to be the most compelling one in the story. She is incredibly bright and several times catches her father in a lie and calls him out on it. The ending is intentionally ambiguous but still satisfying and in keeping with the slice of life naturalism of the story.
A Separation is a powerful family drama that gives audiences an in-depth look into the lives of citizens of a country the Western world rarely sees. It features a very talented cast and offers a movie experience you won't soon forget. Don't miss it.


Reviewed on:
February 22nd, 2012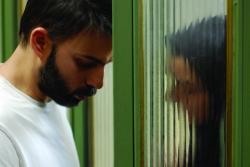 A Separation
Have you heard the one about the Iranian husband who was fined for littering after he threw his wife out of their 12th story apartment window? Okay, so that was a joke, but that is the kind of attitude and stereotype many people have about Muslim marriage in these middle eastern countries. A Separation tells a different story and humanizes these people in a wonderful way, without sanctifying them.
The Islamic religion is an important part of the story and Iran is clearly represented as sexist, as the women must dress a certain way while the men can dress as they please. However, the women depicted on the film are not considered as lowly as is often talked about in the media. A Separation will likely be an eye opening experience for most westerners.
As Patrick wrote, the script was written with everyone being at fault to some degree, and I mean everyone. I also like how it shows how what one person does affects another. It is all a domino affect. The mother leaves, which causes the need for a home care provider. The father's lie leads to the daughter lying...etc. No one is completely the victim and no one is the obvious hero.
I felt the most sympathy for Nader. He finds himself under stress from his wife leaving and his father's ailment. He makes a rash decision and his life becomes a potential hell. He is not completely innocent mind you, but he is the one caught in the middle of everything. Everyone else has an out, but him.
A Separation is a perfect example of why I so often love foreign films.
Photos © Copyright Sony Pictures Classics (2011)