Movie Review
See No Evil
This Summer, someone is raising Kane.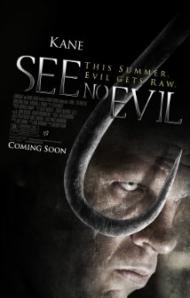 US Release Date: 05-19-2006
Directed by: Gregory Dark
Starring
▸
▾
Glenn Jacobs

,

as

Jacob Goodnight
Christina Vidal

,

as

Christine
Michael J. Pagan

,

as

Tye
Samantha Noble

,

as

Kira
Steven Vidler

,

as

Williams
Cecily Polson

,

as

Margaret
Luke Pegler

,

as

Michael
Rachael Taylor

,

as

Zoe
Penny McNamee

,

as

Melissa
Craig Horner

,

as

Richie
Mikhael Wilder

,

as

Russell
Tiffany Lamb

,

as

Hannah
Sam Cotton

,

as

Young Jacob
Cory Robinson

,

as

Blaine
Zoe Ventoura

as

Eyeless Women

Reviewed on:
October 3rd, 2013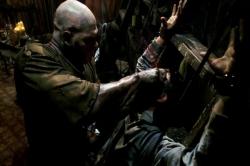 Jacob claims another eyeball for his collection.
I am a self-admitted wimp when it comes to horror films. My sons can attest with bruised arms caused by me jabbing them with my elbow when startled during a scary scene. It was my youngest sons turn to pick the movie this past weekend so, much to my dismay, we rented See No Evil. He made a point to not sit next to me on the couch.
The story begins with a police officer rescuing a woman from a serial killer who likes to pluck the eyes out of his victims. He shoots the sicko in the head but first loses an arm. Several years later, the one armed man now works with juvenile delinquents. He and a female corrections officer take four female and four male troubled youths to clean an old dilapidated hotel called the Blackwell Hotel. The hotel is going to be turned into a homeless shelter.
The youths as well as the two officers and an old lady caretaker are locked in the old but still furnished building for the weekend. What they do not know is that the serial killer believed to be dead is living somewhere on the premises. As the teens start to wander around they start losing their eye balls and lives to the killer. Some deaths are particularly gruesome and disturbing. The story breaks down simply to who will and who will not survive, if anyone.
To my relief, See No Evil is not big on frights but relishes gore and disgust. People die in horribly painful ways. At nearly 7 feet tall, WWE wrestling star Kane (Glenn Jacobs) makes a very imposing monster. He only has one line in the entire film, "I see it." that he says shortly after a twist is revealed.
See No Evil can make for a mindless Halloween watch but is otherwise only recommended for fans of gore and WWE stars. Filmed in Australia, See No Evil earned just enough money worldwide to earn a sequel due out next year. No doubt my son will have me suffer through it as well.
Photos © Copyright World Wrestling Entertainment (WWE) (2006)