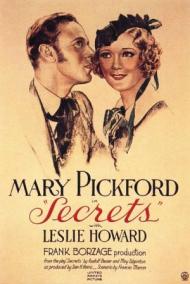 US Release Date: 03-16-1933
Directed by: Frank Borzage
Starring
▸
▾
Mary Pickford

,

as

Mary Carlton
Leslie Howard

,

as

John Carlton
C. Aubrey Smith

,

as

Mr. William Marlowe
Blanche Friderici

,

as

Mrs. Martha Marlowe
Doris Lloyd

,

as

Susan Channing
Herbert Evans

,

as

Lord Hurley
Ned Sparks

as

Sunshine
Reviewed on:
April 10th, 2009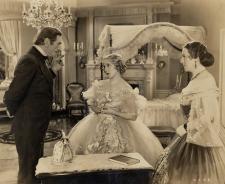 Mary Pickford wears an elaborate Adrian gown.
Secrets is the epic story of an American family over the course of 50 years; as told in 85 minutes. This overwrought melodrama is based on a play and as such has three distinct acts. This would be Mary Pickford's last movie. Although she had transitioned well to talkies, winning an Oscar for Coquette in 1930, her popularity had been waning for nearly a decade. So at the age of 40 America's Sweetheart, and the first internationally famous movie star in history, stepped away from the camera for the last time.
It begins in New England in the 1870's. Pickford is the daughter of a wealthy ship baron. She is betrothed to an English Lord but falls in love with one of her father's clerks (Leslie Howard). On the eve of her wedding she runs off with John and they head west. The period gowns, by Adrian, with all there many layers, are elaborately recreated.
Act II begins with a travel montage of the young pioneer couple heading west by wagon train. The movie now becomes a western and this section features the best scene in the movie. John and Mary's house gets attacked by cattle rustlers. They look at each other. She says, "John!" He says, "Mary!" Then they rush into each other's arms. John starts shooting back, Mary goes into the bedroom and discovers that their infant son is dead. She gives a long slow silent movie reaction. She proves what Norma Desmond meant by, "We had faces then!". Her facial expressions are brilliant. While she was only average at delivering dialogue she was one of the finest actresses of the silent medium.
The third act picks up 20 years later in the 1890's. John has just been elected to the California Senate and he and Mary now have 4 children, 2 boys and 2 girls. Now the real melodrama kicks in. It turns out John has a secret. He is a womanizing cheat. A scandal threatens to end his political career but all turns out well when Mary forgives him. The final scene skips another 30 years to the 1920's. John and Mary are in their 70's and their children are middle aged. Mary tells her overprotective brood that she and John want to be left alone to share their "secrets" . They then sneak the butler's car and head off into the roaring twenties night. John turns on the radio, "oh Susanna" is playing. He turns his head to look at her and says, "Do you remember, Mary?" Fade to them as a young couple on the wagon seat heading west. The End.
Secrets was not a big hit at the box office. It was overshadowed by Cavalcade which won the Best Picture Oscar that year. It is interesting to think of the people that really lived during this half a century in time. The changes and advances they witnessed in society, technology and every other facet of life, were ridiculous. Much more drastic than the changes of the last 50 years.
Photos © Copyright United Artists (1933)