Movie Review
Secret Things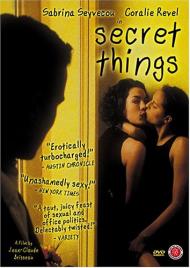 France Release Date: 10-16-2002
Directed by: Jean-Claude Brisseau
Starring
▸
▾
Coralie Revel

,

as

Nathalie
Sabrina Seyvecou

,

as

Sandrine
Roger Miremont

,

as

Delacroix
Fabrice Deville

,

as

Christophe
Blandine Bury

,

as

Charlotte
Olivier Soler

as

Cadene

Reviewed on:
January 12th, 2011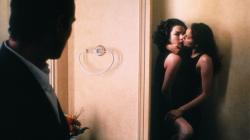 Christophe watches Nathalie and Sandrine before joining in.
Secret Things (Choses secretes) has the hottest opening scene ever! An amazingly gorgeous naked woman walks slowly across a wooden floor and proceeds to masturbate for all the world to see. The camera pulls back and we see she is entertaining in a club. Coralie Revel, as Nathalie, is one sexy ass woman. Her body is a wonderland and when in close up she has eyes that I could get lost in.
The film is told from the perspective of the female bar tender, Sandrine. She admires the more vivacious Nathalie for her sexual confidence. After Nathalie helps Sandrine refuse to fuck a paying customer, they are both thrown to the curb. They become room mates. Their first night together has Nathalie instructing Sandrine on how to masturbate herself, after revealing that no man has ever made her cum. I know. Could a movie get any hotter?
They forge a plan to enter the business world using their feminine whiles to get ahead. They figure their looks and body can manipulate the right men to get them where they want to be. They both get hired into two different departments of the same company.
The movie centers on Sandrine as she fends off the advances of a co-worker while setting her sights on the married boss, Delacroix, and the son of the owner, Christophe. Christophe has a reputation of breaking women's hearts. His looks, money and charm are so affective that rumors exist that women have even killed themselves over him.
The games begin and Sandrine soon finds herself having an affair with Delacroix. She learns some disturbing news about Christophe and Nathalie seems to be keeping a secret. Although the two women share several sexual encounters with each other, they are both straight. Something Christophe takes advantage of. Before we know it, we are not sure who is manipulating who.
The film is very sexually charged. It has some taboo sex, as well as a graphic orgy, briefly shown. Throughout the film a silent figure appears covered in a long shroud. I am guessing it is death lurking about, but this specter has an eagle.
The sex will keep you interested, but it all spins out of control by the end. The weak plot just keeps getting darker and harder to believe. Neither girl is honestly likable. At least they are good looking and are not shy about taking off their clothes. The best way to watch this movie is to just fast forward to the next sex scene.

Photos © Copyright Centre National de la Cinematographie (CNC) (2002)