Movie Review
Searching for Sugar Man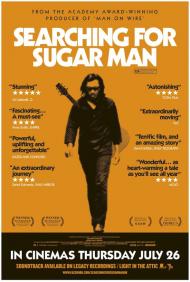 US Release Date: 07-27-2012
Directed by: Malik Bendjelloul
Starring
▸
▾
Steve Segerman

,

as

Himself - Record Shop Owner
Dennis Coffey

,

as

Himself - Co-Producer, Cold Fact 1970
Mike Theodore

,

as

Himself - Co-Producer, Cold Fact 1970
Dan Dimaggio

,

as

Himself - Bartender, The Brewery
Jerome Ferretti

,

as

Himself - Bricklayer
Steve Rowland

,

as

Himself - Producer, Coming from Reality 1971
Willem Moller

,

as

Himself - Musician
Craig Bartholomew-Strydom

,

as

Himself - Music Journalist
Ilse Assmann

,

as

Herself - Former Apartheid Archivist
Steve M. Harris

,

as

Himself - Teal Trutone
Robbie Mann

,

as

Himself - RPM Records
Clarence Avant

,

as

Himself - Former Chairman of Motown Records
Eva Rodriguez

,

as

Herself - Rodriguez's Eldest Daughter
Rodriguez

,

as

Himself
Regan Rodriguez

as

Herself - Rodriguez's Youngest Daughter

Reviewed on:
February 4th, 2013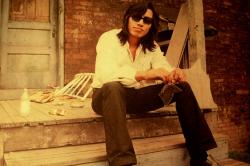 The elusive Rodriguez in Searching for Sugar Man.
I hope this movie wins the Oscar for Best Documentary Feature come February 24th. It is quite wonderful. It tells a true story that is one of those instances where fact really is stranger than fiction. If this was a made up screenplay it would be unbelievable. But this remarkable story really happened.
In 1970 a young Hispanic folk singer/songwriter living in Detroit, Michigan released his debut album using just his last name, Rodriguez. Although Rodriguez would record a second album the following year neither of them made even the tiniest splash in the music pond. Outside of a few local fans that saw him perform in a few dive bars in Detroit, Rodriguez has remained virtually unknown in the United States to this day.
Now here's where the story gets interesting. Legend has it that a young woman brought a copy of Rodriguez's debut album to South Africa sometime in the early 70s. She played it for friends, who played it for friends, who played it for friends. Bootleg copies were made and it became an underground hit. Soon it became a mainstream hit when legitimate copies of the album were imported and sold. It is conservatively estimated that at least half a million copies of this album were sold in South Africa over the next 25 years. As one fan explains, "Every liberal, white, middle-class home in South Africa in the 70's had three albums; Abbey Road by the Beatles, Bridge Over Troubled Water by Simon & Garfunkel, and Cold Fact by Rodriguez.
Rodriguez became the voice of the anti-Apartheid movement (some of his songs were banned from the radio) and a true musical icon in South Africa, while remaining completely unknown throughout the rest of the world. This came as a shock to many South African residents as they tried to learn more about their idol. Other than the photo on the album cover, nothing was known about this mysterious and enigmatic musician. In fact, a legend had sprung up about his death. He supposedly committed suicide onstage. Depending on which version you heard, he either shot himself or set himself on fire in the middle of a performance.
Anyway, this movie tells the story of the search for Rodriguez (one of his songs is called "Sugar Man", hence the movie's title) by two men who grew up listening to his music. The culmination of their search is incredible but I won't spoil it.
The music by Rodriguez is quite good. His songs are Dylanesque but he has a unique vibe and a much better singing voice than Bob Dylan. The songs "Sugar Man", "I Wonder" and "Street Boy" are the ones I enjoyed the most and remember best. I definitely plan on adding some of them to my Ipod.
If there's a flaw it's the fact that everyone interviewed seems ready to canonize Jesus Sixto Rodriguez on the spot. Everyone speaks of him with utter reverence and unabashed awe in their voices. His three grownup daughters (whom one can forgive for speaking well of their father) are all interviewed and they have a tendency to go on about how saintly their father is.
But honestly this is understandable since the movie was made by fans of Rodriguez. As one man says, "He was bigger than Elvis in South Africa." In the search to track down Rodriguez they began by following the money trail. Obviously someone was cashing all those royalty checks from his sales in South Africa. This leads to a funny scene where the head of Rodriguez's old label is interviewed. This man's facial expressions, body language and adamant denials all scream guilty.
Searching for Sugar Man is quite simply one of the most enjoyable documentaries I've ever had the pleasure of watching.
Reviewed on:
February 6th, 2013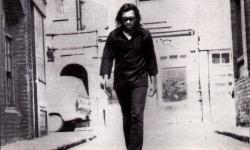 Rodriguez in Searching for Sugar Man.
Like Patrick, I found this documentary to be highly enjoyable. It's one of the very few feel good documentaries that I've ever watched. Most of the time, they're made to make a political point or bring attention to the plight of one group or another. This one though, just wants to tell a magical story about an obscure musician that ends on a very happy note. It is indeed, a case of fact being stranger than fiction. Or rather, it would be, if this movie didn't gloss over several important points in the story of Rodriguez.
The film wants you to believe that Rodriguez's career ended in the early 1970s and that he vanished into obscurity until he was rediscovered by his two South African fans in the late 1990s. The truth is though, that while Rodriguez does seem to have been unaware of his popularity in South Africa, he was very aware of his popularity in Australia, where his records also sold very well. Not only did he tour there several times in the late 1970s and early 1980s, including an arena tour with Australian band, Midnight Oil, but he also released a compilation album of his greatest hits. His records were also in print throughout Europe from the 1970s right through the 1990s.
Even with this smudging of facts, this is still an enjoyable film. The fact that Rodriguez's music was so inspiring to musicians in South Africa during the era of Apartheid and that those musicians eventually got to see him perform live all those years later, is a nice little story. Rodriguez himself comes across as a very odd man and he remains enigmatic throughout. We learn very few factual details about his life. As Patrick wrote, no one says a word against him. This film is only interested in praising Rodriguez not burying him.
By the time this film had ended, I was ready, like Patrick, to present it with the Oscar for Best Documentary. I was so intrigued by the story that I immediately did a little online research, which is where I discovered all of the details that the film left out. It's understandable when a fictional film takes poetic license with a true story for dramatic purposes, but when documentary filmmakers do it, it just feels wrong.

Reviewed on:
February 10th, 2013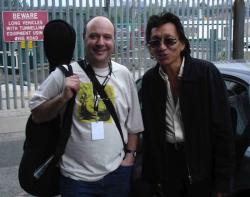 Steve Segerman and his hero.
The fact that Rodriguez is not quite the has-been that this film implies is a bit of manipulation. To me though, the entire film is a bit dramatized. Often, when someone from Detroit is interviewed about Rodriguez they were filmed outside, in some less than glamorous neighborhood. It seemed like they wanted to encourage the mystique of Rodriguez as a street corner troubadour.
Some of the scenes are clearly staged. The most obvious one being when former actor turned music producer, Steve Roland opens a photo album to find pictures of Rodriguez and pretends that, "I haven't seen these pictures in almost 35 years." Yeah right! Just before getting to the page where all of Rodriguez's pictures are neatly collected in a folder, he first proudly shows us a picture of him with James Dean.
The one aspect of the film that is the most sincere is the adulation the South African fans have for Rodriguez. Record shop owner Steve Segerman states, "For us, it was one of the most popular records of all time." He becomes very fascinated when he finds out that Rodriguez is unknown in the United States. Rumors swirled about his death, but Segerman did not know any facts about him.
Segerman wrote the liner notes for a CD release of Rodriguez's, where he wrote that there are no facts known about him. This interested journalist Craig Bartholomew-Strydom, who decided to follow the money and find out how Rodriguez died. He and Segerman met to compare information, which ends up being very little. After much searching, Craig gets in contact with an American producer who tells Craig that Rodriguez is still alive and living in Detroit.
The joyous reaction of Craig and Segerman discovering that their hero is still alive is smile inducing. Through Rodriguez's eldest daughter, Segerman and Craig get all the information they had been searching for. Segerman even received a phone call from Rodriguez that he describes as, "That was definitely one of the greatest moments of my life."
The story centers on Rodriguez, but I found the heart of the story to belong to Segerman. How many of us have not wanted to meet our hero. It is their enthusiasm for the subject that resonates throughout the film. As Patrick wrote, they make Rodriguez into a saint. I can excuse them from doing that as they are merely over excited fans, but they go so over board in making him into a saint, that he becomes as un-real as he was before they knew he was even alive.
This is a fascinating story, but I was more caught up in the excitement of Segerman meeting his hero and bringing him to South Africa than I was in Rodriguez himself. We are told some information about Rodriguez at the end of the film, but I wanted to know what happened to Segerman. After all, who buys records anymore?
Photos © Copyright Sony Pictures Classics (2012)