Movie Review
The Sea of Grass
Big As Its Stars!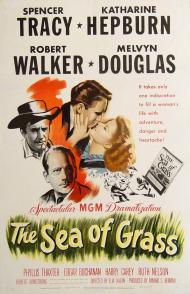 US Release Date: 04-25-1947
Directed by: Elia Kazan
Starring
▸
▾
Spencer Tracy

,

as

Col. James B. 'Jim' Brewton
Katharine Hepburn

,

as

Lutie Cameron Brewton
Robert Walker

,

as

Brock Brewton
Melvyn Douglas

,

as

Brice Chamberlain
Phyllis Thaxter

,

as

Sara Beth Brewton
Edgar Buchanan

,

as

Jeff, Cook on Brewton Ranch
Harry Carey

as

Doc J. Reid

Reviewed on:
August 13th, 2014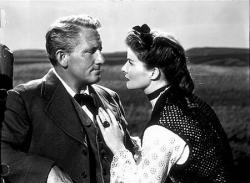 Spencer Tracy and Katharine Hepburn in Sea of Grass
Elia Kazan wrote in his autobiography of this film, "It's the only picture I've ever made that I'm ashamed of. Don't see it." At over two hours in length, this western drama covers decades in the life of a wealthy family living in the Great Plains, hence the title. It is often very melodramatic, while Hepburn and Tracy have too few scenes together. This is hardly their best movie together, but it is always a treat watching them work.
Just after arriving from St. Louis, Lutie Cameron (Katharine Hepburn) marries New Mexico cattleman Jim Brewton (Spencer Tracy). She soon discovers that Jim is not liked by the locals as he uses government land for grazing his cattle at the expense of homesteaders. On the way to her new home, Jim stops the wagon to show Lutie the sea of grass, or as he says with great passion, "Land the way God made it."
Lutie has to learn to get along on the ranch. Her first act is to have the cowboys dig up some trees by the crick and plant them by the house. The men object, but do it. As Lutie watches from the porch, one cowpoke suggests that a strong wind will take the trees down. Another glances at Lutie and says, "Don't you worry about them trees, their skinny but their awful stubborn." While Lutie just smiles.
Jim spends large amounts of time away, leaving Lutie to make friends with a poor homesteading family of farmers. Each of their approach to the family in question causes a rift between them. Lutie and Jim's marriage is soon teetering on a cliff. Jim acts cold and indifferent while Lutie responds emotionally. These are both highly flawed people. Lutie has an affair with an enemy of Jim's named Bryce that produces a son. Even though she has yet to tell him, he knows it is not his. Just after she gave birth, Jim stands over her and says sourly, "Well, you've got a son."
Sea of Grass moves along like a soap opera. Jim is in love with the land more than Lutie, while she claims to love Jim but her betrayal is a hurdle that they cannot get over. They split with Jim getting full custody of both children and Lutie moves back in St Louis. Bryce corresponds with her, keeping her abreast of the children. Time passes and we watch the children grow up but all we really want is the scene where Jim and Lutie are reunited.
These are the two most flawed characters Tracy and Hepburn ever played opposite each other. They come across as real but neither is likable. Worst yet is that they are hardly ever in the same scene. As any fan of theirs knows, the best part of any Tracy/Hepburn film is when they disagree. They certainly do that here, but they do it from such a distance that it rarely registers.
This movie is intended as a saga, covering a couple of decades. The real problem is simply the lack of the two stars screen time. Hepburn practically disappears from the last half of the movie as it centers on their son, played by Robert Walker. He and Tracy share some dramatic scenes but I never felt as sorry for him as I should. Sea of Grass is nothing more than a western soap opera with an environmental message that two legendary actors were, unfortunate enough, to star in.
Photos © Copyright Metro-Goldwyn-Mayer (MGM) (1947)
Related Reviews