Movie Review
The Sea Chase
The elusive Sea Captain and his blonde woman in an explosive, suspense-packed story of high daring on the high seas!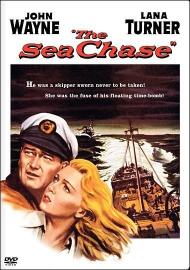 US Release Date: 06-04-1955
Directed by: John Farrow
Starring
▸
▾
John Wayne

,

as

Capt. Karl Ehrlich
Lana Turner

,

as

Elsa Keller
David Farrar

,

as

Cmd. Jeff Napier
Lyle Bettger

,

as

Chief Officer Kirchner
Tab Hunter

,

as

Cadet Wesser
James Arness

,

as

Schlieter
Richard Davalos

,

as

Cadet Walter Stemme
Alan Hale Jr.

,

as

Wentz
Paul Fix

,

as

Max Heinz
Claude Akins

as

Winkler


Reviewed on:
December 20th, 2006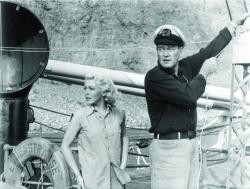 Lana Turner and John Wayne in The Sea Chase.
John Wayne, through his movies, fought in every American war. The Sea Chase takes place at the onset of World War II. The unique thing is that Wayne plays a German. Don't worry, Wayne, and the rest of the cast, do not even attempt German accents.
Wayne plays the captain of a German freighter that is in an Australian port when the war breaks out. Wayne is not a Nazi lover but he loves his country. Before the British can confiscate his ship, he sneaks it out of the harbor and attempts to take her back to Germany.
Turner plays a Nazi spy/whore who climbs aboard just before the ship pulls out of the harbor. She spends most of the movie walking around the deck of the old freighter impeccably dressed and coiffed, looking like Marilyn Monroe's older, more serious sister.
The movie is called The Sea Chase, but unfortunately, there is very little chasing going on. The ship pulls out of harbor and heads to a tropical island to get wood to burn as fuel for the trip home. Occasionally we see a British destroyer, supposedly looking for Wayne, but they never actually encounter each other.
The only real action occurs when Turner and Wayne flirt/fight with each other. But even those scenes are not much to brag about. Wayne was not a great leading man and Turner should have played up her role more. Monroe she is not.
Hunter was a closeted homosexual at the time of this movie, but now that he is out of the closet his character here comes across entirely gay. His big plot involves going swimming alone with another young pretty boy, who gets bit by a shark. Hunter then sits patiently concerned by his dying "friend's" bedside.
Without a whole lot of action going on the only thing to enjoy is the cast. Wayne fills the screen like no man could. The supporting cast is very recognizable. Arness would go on to star in television's long running western Gunsmoke. Hale wears his navy clothes and looks just like he does as The Skipper on Gilligan's Island. Hunter's boyfriend, Davalos, played James Dean's brother that same year in East of Eden.
The Sea Chase is a rare film for it's time and subject. The great American hero/movie star, Wayne, playing a German was quite a novel idea. The problem is that the chase is practically without tension. Sure, there is the final showdown when the British finally catch up to him but by then you will have probably lost interest enough to not even care.
Reviewed on:
May 27th, 2013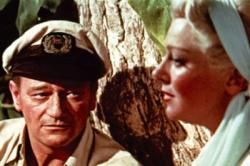 John Wayne and Lana Turner in The Sea Chase.
Yeah, this movie certainly doesn't live up to its title. This is one slow-paced and uneventful chase. John Wayne and Lana Turner have some decent chemistry together but the script doesn't really allow for any great dialogue. It has Wayne spouting such cliched lines as, "Did anyone ever tell you that you're beautiful when you're angry?" Lana Turner certainly was stunningly beautiful. Eric compared her to Marilyn Monroe but she had a more elegant and brittle beauty and she lacked the earthiness that Marilyn possessed.
The supporting cast is filled with recognizable faces, as my brother wrote. Although he didn't mention Claude Akins. He played many supporting roles in the movies before going on to many famous parts on television. Paul Fix is another famous face in a small role. He appeared in dozens of westerns on the big screen and on television.
The mid 1950s were all about widescreen and Technicolor to lure couch potatoes away from their tv sets and out to the movies. The Sea Chase features many scenes showcasing this new technology. The ocean made for a great visual background for the new wider screen.
This is an odd choice of roles for John Wayne. He is playing a German but a very sympathetic one. He is no Nazi supporter. And as my brother also mentioned, none of the actors bother with attempting a German accent. As for the gay angle with Tab Hunter's character, it certainly fits, even if it wasn't intentional. The Sea Chase is an odd movie with an interesting cast.
Photos © Copyright Warner Bros. Pictures (1955)