Movie Review
Scoop
The perfect man. The perfect story. The perfect murder.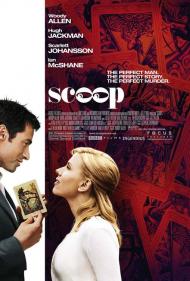 US Release Date: 07-28-2006
Directed by: Woody Allen
Starring
▸
▾
Scarlett Johansson

,

as

Sondra Pransky
Hugh Jackman

,

as

Peter Lyman
Woody Allen

,

as

Sid Waterman
Ian McShane

,

as

Joe Strombel
Kevin McNally

,

as

Mike Tinsley
Romola Garai

,

as

Vivian
Charles Dance

,

as

Mr Malcolm
Fenella Woolgar

,

as

Jane Cook
Victoria Hamilton

as

Jan

Reviewed on:
July 30th, 2006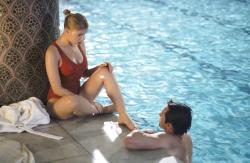 Scarlett Johansson and Hugh Jackman in Scoop.
Woody Allen takes a lot of heat in the press for his continuing habit of churning out a movie a year, many of which have been viewed as less than spectacular. I, however, find something very comforting in Woody's movies and, let's face it, we don't know how many he has left in him so let's enjoy his work while we have a chance. And don't you just know that when he finally does retire, either voluntarily and involuntarily, those same critics will be praising his career to high heaven when it's over.
As for Scoop, his latest film, it is a fairly amusing yarn that is the comic counterpoint to last year's Match Point. In a way, this movie and that one remind me of another of Allen's films, Melinda and Melinda, since that movie told the same story, once as a tragedy and once as a comedy. In a similar vein, Match Point and Scoop touch on similar themes. While Scoop doesn't reach the comic heights of Match Point's tragic ones, it does entertain.
Another similarity between Scoop and Match Point, is that they both feature Scarlett Johansson. This time around Scarlett plays Sondra Pransky, an American Journalism student staying with friends in London. While watching a magic act featuring the great Splendini (Allen), also known as Sydney Waterman, Sondra volunteers to take part and while hiding in the cabinet is visited by the ghost of a recently deceased journalist (McShane) who informs her that he knows the identity of the Tarot Card serial killer and that it is Peter Lyman (Jackman), the son of a Lord. Enlisting Sydney's help, Sondra sets out to discover the truth. Thankfully, Sondra's friends are socially connected and she's able to arrange a meeting with Lyman at his health club where she pretends to drown so that Lyman will save her. Although several things about Lyman don't add up, Sondra soon finds herself falling in love with him, which only further hampers her investigations.
Anyone who's ever seen an Allen film should be well prepared for the style of humor on display here. Lately, he has taken to casting a sort of surrogate actor to play the Allen role and this time, despite appearing himself, that job falls to Johansson. Although playing a neurotic, Jewish, Brooklynite is a bit of a stretch for her, she pulls it off gamely, if not always 100% convincingly. Without a doubt, the best scenes in the movie are between Allen and her as they banter back and forth. Over the course of their investigation, Sondra introduces Sydney to everyone as her father, and indeed, from the way they argue, it's a fairly convincing act. Jackman simply has to be charming and good looking, a feat he carries off well if not spectacularly.
Not the best of Allen's films by any means, but definitely not his worst. I don't think that at this stage in his career Allen is really looking to break new ground and suddenly find a brand new audience (apart from those who grow up and discover his work for the first time). If you enjoy Allen's comedies, you should find more than enough to enjoy here with this one.

Reviewed on:
December 1st, 2006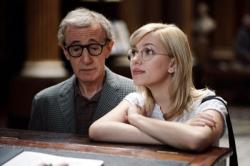 Woody Allen and Scarlett Johansson in Scoop.
Johannson is again in a Allen film playing a slutty American in London. She is as beautiful as ever, but her comic abilities are just not there. She looks uncomfortable the entire movie trying to channel her inner dizzy blonde. She is no Reese Witherspoon. Anna Faris could have done wonders with this role.
Jackman walks through the film as if he just did it so he could ad an Allen film to his ever growing resume. With the two main stars turning in less than great performances, it is left to Allen to give this movie something to smile about. Other than a few amusing side remarks, "I was born of the Hebrew persuasion, but I converted to narcissism." he comes across more annoying than nerdishly charming.
Scoop is what I would call a throw away film. It is not a completely lousy movie but it will disappear from my memory nearly as fast as Zelig.
Reviewed on:
April 30th, 2008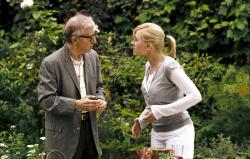 Woody Allen and Scarlett Johansson in Scoop.
Scarlett Johansson just doesn't have the comedic chops to pull off this role. Which is too bad really because this is Woody's funniest screenplay since at least Small Time Crooks. It's obvious that Allen spoon fed her all of her line readings but her timing and delivery are never more than adequate. Allen himself, on the other hand, gives his funniest performance in years.
Being in London has certainly reinvigorated Allen's creative juices and I think this movie could and should have been a deserving comic counterpoint to Match Point, if only the lead actress had been up to the task. But then again there just aren't any Rosalind Russells or Carole Lombards around these days for him to cast.
I would like to second Scott's statement about Woody's consistent output being a charming and comforting constant in this uncertain world. The cinematic frontier would look much bleaker without his presence.
Photos © Copyright Focus Features (2006)