Movie Review
The Scientific Cardplayer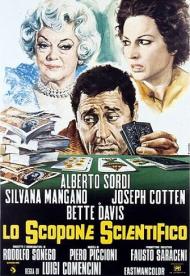 US Release Date: 10-25-1972
Directed by: Luigi Comencini
Starring
▸
▾
Alberto Sordi

,

as

Peppino
Silvana Mangano

,

as

Antonia
Joseph Cotten

,

as

George
Bette Davis

,

as

The Millionairess
Mario Carotenuto

,

as

The Professor
Domenico Modugno

,

as

Righetto
Franca Scagnetti

,

as

Pasqualina
Antonella Demaggi

as

Cleopatra
Reviewed on:
March 31st, 2014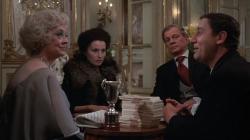 Bette Davis, Silvana Mangano, Joseph Cotten, and Alberto Sordi in The Scientific Cardplayer.
The Scientific Cardplayer (Lo scopone scientifico) is an obscure black comedy from Italian director Luigi Comencini in the early 1970s. It deals with the eternal struggle between the classes in an unusual and often quite amusing manner. Bette Davis plays an unnamed American millionairess who travels the globe with her male companion (Joseph Cotten) playing locally popular card games for high stakes with the poor citizens of each nation she visits.
She arrives in Italy annually to play a variation on an old Italian card game called Scopa. Awaiting her are an impoverished married couple played by Alberto Sordi and Silvana Mangano. The Millionairess always floats them 1 million lire but invariably wins it back and then some. But hope springs eternally and this poor couple keeps coming back for more with dreams of one day fleecing the American capitalist of all her money.
For Bette Davis and Joseph Cotten this was their third movie together following Beyond the Forest in 1949 and Hush...Hush, Sweet Charlotte in 1964. They play a pair of eccentrics who make like Norma Desmond and Max von Mayerling, as he is a former husband turned servant who fawns over his mistress's every need. Although their speaking voices were dubbed in Italian they both manage to give wonderfully rounded performances that hearken back to silent cinema. If you've ever wondered why they made such a big deal of Bette Davis's eyes, this movie will put that question to rest.
As for Alberto Sordi and Silvana Mangano, they both won the Italian equivalent of the Academy Award for their performances in this movie when they took home Best Actor and Best Actress honors, respectively, at the David di Donatello Awards in 1973. Watch the facial expressions of these four talented stars as they play cards together and see what truly great comic acting looks like.
There is plenty of black humor in this intense little comedy. The Millionairess has a slight heart attack at one point but even on her death bed her last wish is to resume the card game. As Peppino and Antonia start to win, they continue to bet double or nothing until the stakes are in the hundreds of millions of lire. The entire village is soon caught up in the drama and excitement.
Adding to the shenanigans are an old rival of Peppino's, he's a professional gambler named Righetto who threatens to break-up the married couple, and a tragicomic figure named the Professor who gives didactic lectures to the village's citizens on the beauty of Marxism and the importance of reading. Visually, the poverty of the slums in Rome are contrasted starkly with the luxurious accommodations at the villa where the Millionairess stays. Oh and Peppino and Antonia have five children. The oldest one, a lame girl named Cleopatra, has concocted a plan to exact revenge on the Millionairess.
Despite the presence of its two American stars, The Scientific Cardplayer has rarely been shown in the United States. And that's a shame since it's quite entertaining. It features memorable characters in darkly funny situations and the cast is terrific. If you do happen to stumble across this movie somewhere I highly recommend you watch it.
Photos © Copyright Dino de Laurentiis Cinematografica (1972)