Movie Review
School for Scoundrels
Nice Guys Graduate Last.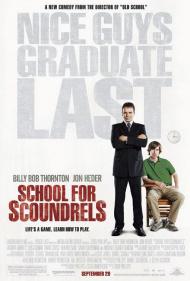 US Release Date: 09-29-2006
Directed by: Todd Phillips
Starring
▸
▾
Billy Bob Thornton

,

as

Dr. P
Jon Heder

,

as

Roger
Jacinda Barrett

,

as

Amanda
Matt Walsh

,

as

Walsh
Horatio Sanz

,

as

Diego
Todd Louiso

,

as

Eli
Michael Clarke Duncan

,

as

Lesher
Paul Scheer

,

as

Little Pete
Jon Glaser

,

as

Ernie
Leonard Earl Howze

,

as

Carl
Sarah Silverman

,

as

Becky
David Cross

,

as

Ian
Ben Stiller

as

Lonnie
Reviewed on:
October 1st, 2006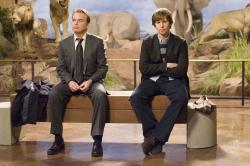 Billy Bob Thornton and John Heder in School for Scoundrels
School for Scoundrels certainly had the potential to be a funny movie, only sadly it wastes most of it. John Heder and Billy Bob Thornton have proven that they can do comedy and with supporting parts being played by the likes of Ben Stiller, Sarah Silverman and David Cross, you'd have to be trying to fail to make a comedy this unfunny. Oh sure, there are some funny moments, and more than a couple, only they're spread very thinly across the movie's length and many of them have already been given away in the previews.
Heder stars a Roger, a male meter maid in New York who could almost be Napoleon Dynamite a few years later, but with better communication skills. When his panic attacks prevent him from talking to the girl next door and cause all his adopted brothers at the local Big Brother organization to ask for new Big Brothers, he is advised by a friend to sign up for a confidence building course being offered by Dr. P (Thornton). At this course, Dr. P belittles and berates his classroom full of social misfits in an attempt to transform them into aggressive assholes. Suddenly and with no real reason apart from Dr. P telling him to, Roger finds his confidence and becomes the star pupil of the class. Dr. P then challenges Roger by competing with him for the affection of Amanda, the girl whom Roger is love in with.
The best moments in the movie are when Roger and Dr. P are fighting over Amanda. Their tennis match is worth a few chuckles, but the resulting plot barely raises a smile. Thornton, as he showed in Bad Santa, has a flair for vulgar comedy, but too often here, he's just insulting, but with very little bite. As for Heder, while I wasn't a big fan of Napoleon Dynamite, at least that movie showed some originality. His character of Roger is totally generic and charmless. What Amanda ever sees in him is beyond me.
Sarah Silverman as Amanda's caustic roommate is funny in a few scenes as she continually insults Roger, referring to him as Dahmer and extorting flowers and tickets out of him in exchange for information about Amanda. Stiller also gets a few laughs in as a very peculiar former student of Dr. P's who once faced the same situation as Roger finds himself in.
The biggest problem with the movie, beyond not being funny enough, is that it has no charm. Roger really isn't very likable and his transformation is never plausible. He is a coward who is abused by nearly everyone and who faints when talking to women, and yet all Dr. P has to do is yell at him and tell him to be a Lion and suddenly he's able to confront his co-workers and go out on a date with Amanda. I wasn't rooting for any of these characters and didn't care who ended up with whom.
Instead of a school for scoundrels, maybe this should have been a school for screenwriting and they could have sent whoever wrote this crap to it.
Photos © Copyright Dimension (2006)