Movie Review
Scary Movie
Obey The Rules... Or Die Laughing.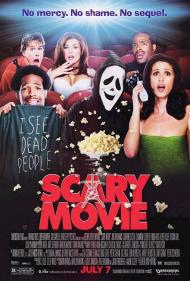 US Release Date: 07-07-2000
Directed by: Keenen Ivory Wayans
Starring
▸
▾
Anna Faris

,

as

Cindy Campbell
Shawn Wayans

,

as

Ray Wilkins
Marlon Wayans

,

as

Shorty Meeks
Jon Abrahams

,

as

Bobby Prinze
Shannon Elizabeth

,

as

Buffy Gilmore
Cheri Oteri

,

as

Gail Hailstorm
Carmen Electra

,

as

Drew Decker
Lochlyn Munro

as

Greg Phillippe

Reviewed on:
July 9th, 2000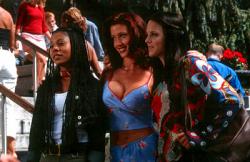 Regina Hall, Shannon Elizabeth, Anna Faris in Scary Movie.
Remember Airplane! and the Naked Gun Series? Well, Scary Movie is a movie very much in the same vein. It is a spoof of other movies, mainly Scream and I Know What You Did Last Summer, but also many others. And while it may not be quite as good as the Zucker brother's movies, it is still very, very funny.
The plot, which is merely a vehicle for the jokes, is based completely on the plot of Scream, with the spoofs of other movies tacked on top of it. If you aren't familiar with Scream, all you need to know is that a serial killer in a Halloween costume, is stalking a bunch of teenagers in a small town.
The humor in this movie is based on the concept that if enough jokes are fired off in a row, some of them will make you laugh. The concept works. In other words, if you are groaning over a joke that fell flat, don't worry. There are ten jokes coming right behind it that will make you laugh.
The cast does a good job of keeping it sincere throughout the madness. Like Leslie Nielsen before them, they have learned that the straighter they play it, the funnier the jokes seem.
Like all spoofs, it helps you get the jokes if you have seen the movies they are spoofing, but even if you haven't, you will still find yourself laughing.
All in all, Scary Movie is silly, light entertainment that should keep you laughing throughout.
Reviewed on:
July 12th, 2000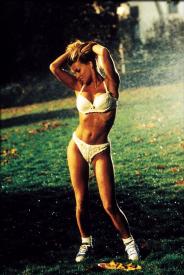 Carmen Electra in Scary Movie.
Keenan Ivory Wayans has been making spoofs of other movies for a long time. Most notably with I'm Gonna Get You Sucka and Don't Be a Menace to South Central While Drinking Your Juice in the Hood. With Scary Movie poised to become the breakout comedy of the summer, he has achieved a new level of success.
This movie continues the gross-out trend of the Farrelly brothers with nothing left to the imagination. While I do enjoy this humor, most of the visual gags only work once. I have a sneaking suspicion that these movies are going to seem incredibly dated in just a few years.
Be that as it may, there is nothing else to stop you from sitting back and enjoying this ribald send-up of recent teen horror flicks. As Scott mentioned, Scary Movie fires off jokes at such a rapid pace that it is rather like a roller coaster ride of silliness. If, however, you are unable to appreciate the lowest forms of bathroom humor and juvenile sex jokes, then, by all means, stay far away from this one.

Reviewed on:
July 14th, 2000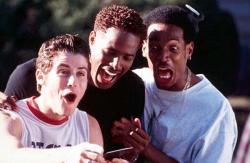 Jon Abrahams, Shawn Wayans and Marlon Wayans in Scary Movie.
20 years ago I watched Porky's. It was a great teen sex comedy. I was a teenager at the time and was shocked by some of the jokes and laughed at all of them. Now we have Scary Movie. Its humor is in the same gutter as Porky's, only more so.
Scary Movie is a great satire of recent teen horror movies. It helps greatly if you have seen them. Many of the jokes would make little sense and some none at all if you haven't.
The most notable thing this movie has to offer is its shock appeal. Where as Porky's suggested a penis going through a bathroom wall, Scary Movie shows an erection going through a bathroom wall then in one ear and out the other of a Wayan brother. Scary Movie also out does Theres Something About Mary's cum on the ear scene. In Scary Movie a girl gets fire hosed to the ceiling by a particularly explosive ejaculation.
I laughed my ass off. Not destined to be a classic, but a footnote in vulgar movie history.
Photos © Copyright Dimension Films (2000)
Related Reviews