Movie Review
Scandal
In 1960 Christine Keeler met Mandy Rice-Davies. Three years later they brought down the British Government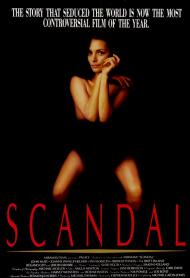 US Release Date: 04-28-1989
Directed by: Michael Caton-Jones
Starring
▸
▾
John Hurt

,

as

Stephen Ward
Joanne Whalley

,

as

Christine Keeler
Bridget Fonda

,

as

Mandy Rice-Davies
Ian McKellen

,

as

John Profumo
Leslie Phillips

,

as

Lord Astor
Britt Ekland

,

as

Mariella Novotny
Daniel Massey

,

as

Mervyn Griffith-Jones
Roland Gift

,

as

Johnnie Edgecombe
Jean Alexander

,

as

Mrs. Keeler
Alex Norton

,

as

Detective Inspector
Ronald Fraser

,

as

Justice Marshall
Paul Brooke

,

as

John, Detective Sgt.
Jeroen Krabbe

as

Eugene Ivanov

Reviewed on:
October 26th, 2011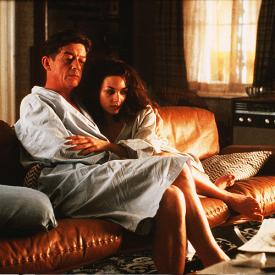 John Hurt and Joanne Whalley in Scandal.
Here's a story that seems to have it all: sex, spies, drugs, celebrities and politics. It was the scandal of its day and it's no exaggeration to say that it brought down a government. In many ways, it marks the end of the 1950s and the start of the 1960s in Britain. It caused disgrace to the already beleaguered Conservative government of Harold MacMillan and Alec Home and allowed the Labour government of Harold Wilson to sweep to power. A movie, or even a mini-series detailing the events of the scandal seems like a can't miss idea, and yet the result here is a well acted and produced film that never quite engages the audience on an emotional level.
It tells the story of Christine Keeler (Joanne Whalley), an attractive young woman from a poor background who, when the story begins in 1960, is working at a nightclub as a dancer. Stephen Ward (John Hurt) is an Osteopath to the rich and powerful. As a side hobby he cultivates women like Christine and introduces them to his friends.
He takes a special interest in Christine and introduces her to, among others, a Russian diplomat/spy named Ivanov and the Minister for War John Profumo (a shaven headed Ian McKellan), both of whom she has an affair with. Eventually Stephen drops Christine when a drug dealing boyfriend of hers starts shooting a gun outside of Stephen's flat. When you're the Osteopath for the royal family, the one thing you don't want is your name tainted by scandal in the papers.
After she's left in a lurch with no where to live, Christine sells her story to the tabloids and the publicity that Stephen was hoping to avoid becomes the biggest story of the year. Although at first Profumo denies the affair, he is soon forced to admit it and resign. Stephen is accused of being a pimp and is brought up on charges and all of his high-powered friends desert him. Meanwhile Christine and her friend Mandy Rice-Davies get their fifteen minutes of fame in all the newspapers of the day.
The problem I had with the way the story is told is that no one comes off as sympathetic. Okay, so maybe no one involved in the scandal was sympathetic, but for the sake of the movie someone needed to be. The movie starts from Christine's point-of-view. She's young and impressionable, but she embraces the lifestyle that Stephen shows her with open arms and legs. Stephen comes across as a free spirit and a little slimy. As the story goes on, the point-of-view switches from Christine to him. Suddenly he's shown as someone left hung out to dry with no friends. But then he's the one who ditched Christine at the drop of the hat and used who knows how many other young women before her. Profumo is an adulterer and a liar and so is no sympathetic character either. In short, there's really no one to root for and care all that much about.
Perhaps the most likable character in the whole film is Mandy. She's chirpy, bubbly and seems to be enjoying herself throughout it all, which is more than can be said of just about anyone else in the story. Bridget Fonda, who does several nude scenes, seems to be having fun in the part. Her English accent isn't the best, but she still makes it work. Her scene on the witness stand is the highlight of the movie.
The performances are all around first rate. John Hurt does a very nice job as Stephen and I really do wish the entire movie had been told from his point of view. To me he's the most interesting character in the story and he certainly has the most tragic ending. Everyone looks the part, I just wish the movies was as good as it looks.
While sex scandals are as common today as young women famous for little more than their sex lives, it was quite the novelty in the early 1960s. The Kardashians, Paris Hilton and all their ilk should be grateful for Keeler and Rice-Davies. They were the pioneers of fleeting tabloid celebrity brought on by sexual escapades.
Reviewed on:
March 4th, 2015
Bridget Fonda and Joanne Whalley in Scandal.
What I liked best about Scandal was the manner in which it depicts the role of sex in politics. The viewer starts off on the outside of the political arena. We enter the world of wealth and power alongside Christine Keeler, like her we discover who these men are as the story goes along. Although very young, she's already a showgirl so she's not presented as a total innocent by any means but she is definitely shown as being heavily influenced by Stephen Ward. Under his tutelage she begins to live a completely hedonistic lifestyle fueled by alcohol, marijuana and lots of sex. She soon finds herself attending orgies with some very powerful men.
She also begins dating drug dealers and finds herself caught up in some seriously dangerous drama. Scott mentioned the scene where one of her lovers goes berserk in front of Stephen's flat in broad daylight. Roland Gift plays Johnnie the bad tempered drug dealer. Gift is more famous as a singer than an actor. He fronted a band called Fine Young Cannibals back in the day, and had a number one hit in the spring of 1989 with the song "She Drives Me Crazy". He's fine as Johnnie Edgecombe, one of the more colorful characters in the story.
The sex in Scandal is quite explicit and there's plenty of nudity both male and female. In fact it was nearly slapped with an X rating for an orgy scene during which one of the background couples was actually having sex. The scene was trimmed and it received an R rating instead. For anyone interested, according to IMDB, this sequence occurs at just passed the 49 minute mark.
I agree that the cast is good. John Hurt and Joanne Whalley play off each other well. The weak link is Bridget Fonda and her halfhearted attempt at an English accent. Scott mentioned her big courtroom scene and it is terrific. But not because of her. It's a great scene because of the script. Fonda has several memorable lines and she is okay in her delivery of them, but never rises above the level of adequate. Even a mediocre actress can pull off a scene this well-written, which is proved by the fact that she got a Golden Globe nomination out of it.
The time period is vividly depicted. Many popular songs of the era are heard and The Pet Shop Boys wrote a new song for its theme called "Nothing Has Been Proved" and sung by Dusty Springfield. The Profumo Affair brought down a government and has passed into historical record. Scandal presents the story behind the scenes and does so in a compelling manner. I was able to sympathize with all of the main characters, flaws and all. I found Scandal to be a solidly entertaining movie representation of a fascinating era.
Photos © Copyright Miramax Films (1989)