Movie Review
The Santa Clause
What if your dad was Santa Claus?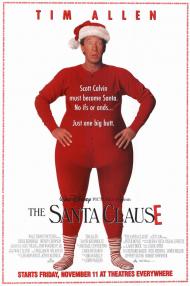 US Release Date: 11-11-1994
Directed by: John Pasquin
Starring
▸
▾
Tim Allen

,

as

Scott Calvin / Santa Claus
Wendy Crewson

,

as

Laura Calvin Miller
Judge Reinhold

,

as

Dr. Neil Miller
Eric Lloyd

,

as

Charlie Calvin
David Krumholtz

,

as

Bernard the Elf
Larry Brandenburg

,

as

Det. Nunzio
Mary Gross

,

as

Miss Daniels
Paige Tamada

,

as

Judy the Elf
Peter Boyle

as

Mr. Whittle

Reviewed on:
December 3rd, 2008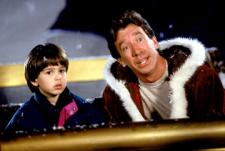 Eric Lloyd and Tim Allen in The Santa Clause
Tim Allen went from successful stand up comic to major television star on Home Improvement, and with his film debut in The Santa Claus, a movie star. Before becoming famous he lived in Michigan. Home Improvement took place there and so does The Santa Clause.
Scott Calvin, note the initials, is a divorced toy executive. On Christmas Eve his young son, Charlie, spends the night. They are awakened by a noise outside. As they rush out, a man dressed as Santa Claus falls off their roof. "It's Santa! You killed him!" Charlie yells. The scene is a bit awkward as jolly old saint nick is in fact laying dead in the snow. The movie recovers quickly as Scott puts on the Santa suit, after the body disappears, and he and Charlie fly Santas sleigh and finish delivering the Christmas presents.
They waken back in their home the next morning and Scott dismisses the previous nights events as a dream. The rest of the movie takes place over the course of a year as Scott slowly starts to realize that he is indeed the new Santa Claus. Charlie has no doubts about what happened that night, even though his mother and his psychiatrist step father do. Scott's ex-wife even suggests trying to get sole custody of Charlie as his constant talk of visiting the north pole has her concerned that Scott is a bad influence.
Over the year, Scott gains weight and grows a grey beard without trying. His co-workers are shocked by his weight gain. "Bee sting. Evidently I'm allergic." He lies. When he asks his doctor about the physical changes he is advised, "Oh, it's middle age, buddy. It happens. And with that body, you should be thankful you have hair. Look, if it bothers you, you can dye it - and you should diet!"
Like so many Christmas films, The Santa Clause is about the magic of the holiday. It is about believing in some thing that is intangible yet so very present. As Judy the elf puts it, " Seeing isn't believing. Believing is seeing."
The Santa Clause puts an interesting, delightful spin on the story of Santa Claus. The rescue Elf squad is entertaining. Scotts put downs of Neil are some of the funniest bits. The movie makes a couple of references to Tim Allens television character, Tim Taylor. Just before going down a chimney wearing a baggy Santa suit, he says to Charlie that he hopes whoever lives here "..is a Tailor." While walking around Santas workshop he puts a tool belt up to his waist as he often wore on his show.
The one problem I have always had with The Santa Clause is that at the end of the movie Scott and Charlie both still lose out. Scott excepts that he is Santa and must now spend large amounts of time away from his son and Charlie understands that his dad now belongs to the world and not him. Although the sequels address that issue, this first films ending still remains a bit unsatisfying.
Photos © Copyright Walt Disney Pictures (1994)