Movie Review
The Santa Clause 2
Check It Twice.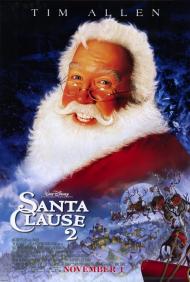 US Release Date: 11-01-2002
Directed by: Michael Lembeck
Starring
▸
▾
Tim Allen

,

as

Scott Calvin/Santa
Elizabeth Mitchell

,

as

Carol
David Krumholtz

,

as

Bernard
Eric Lloyd

,

as

Charlie Calvin
Judge Reinhold

,

as

Neil Miller
Kevin Pollak

,

as

Cupid
Molly Shannon

,

as

Tracy
Liliana Mumy

,

as

Lucy Miller
Spencer Breslin

as

Curtis, the Experimental Elf

Reviewed on:
November 3rd, 2002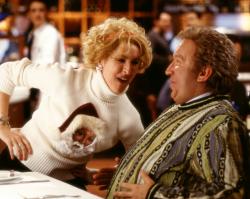 Molly Shannon and Tim Allen in The Santa Clause 2.
There is something about a Christmas movie that is instantly enjoyable. No matter how good or bad it is, it is hard to say a negative word about something relating to the most magical time of the year. We all remember our Christmas's past and the fun derived from them. So when we watch a Christmas movie we find ourselves in a cheery vulnerable for fantasy mood.
In The Santa Claus 2 this theme is actually played out in a great scene. Santa in Scott Calvin mode gives presents out to a very bored group of teachers at a faculty holiday party. Each adult gets a toy they had or always wanted as a child. Before you can say Auld Lang Sine the party is a hit and all the adults are joyously reliving a childhood Christmas, playing with a long forgotten toy. Christmas magic is not just for the young.
In this sequel Tim Allen's, Scott Calvin's Santa Claus discovers he must get married to maintain his status as jolly old St. Nick. He loses weight as a result of his losing his Kris Kringleness. Meanwhile he discovers that his son, now a teenager, is on Santa's naughty list. So to fill 2 stockings at once he goes to see his son and hopefully find a wife.
While Santa is away trying to save his son and his job, a couple of elves create a fake Santa so as to not let the other elves worry about Christmas not happening this year. The movie then has two plots working at once. One is the more adult story line. Scott trying to court a wife while dealing with his sons delinquency. This plot is sweet and sentimental. The adults in the audience enjoyed this part but the children got restless. The kids were more entertained by the plot involving the fake Santa Claus at the North Pole. He turns into a Saddam Hussein Santa. He creates an army of toy soldiers and is set to deliver only coal on Christmas eve.
So Scott Calvin has to straighten out his son. Then he has to find a wife, and get back to the north pole in time to defeat the evil Santa and save Christmas. That is a full days work, but with some Christmas magic anything is possible.
Like the first movie this is a magical holiday ride that is squarely aimed at both kids an adults. The difference here is that the kid parts are very kiddish and the adult romantic parts will have the kids asking for popcorn. The first movie rolled along smoother on the appeal to the whole family train tracks, but this one pays off with a little patience.
The original cast is back. Tim Allen does double duty as Scott Calvin/Santa Claus as well as playing the evil Santa. Scott Calvin's cute son, Charlie, in the first movie is now a teenager that no longer resembles Tim Allen in the least. In fact my first thought was why does Scott Calvin have a Mexican son? Regardless of the difference in genetics, Eric Lloyd does a great job as the confused son and adds a level of emotion to this movie that the first movie lacked.
Elizabeth Mitchell as Charlie's principal and Scott's love interest is great. She plays it wonderfully straight. Molly Shannon, of Saturday Night Live fame, has a small part but takes full advantage of her limited screen time. Her scene got one of the biggest adult laughs.
Get in your Christmas mood and go see this movie. It will remind you of what it is like to be a child at Christmas as well as let you enjoy it as an adult.
Photos © Copyright Walt Disney Pictures (2002)