Movie Review
San Francisco
It started out like any other day!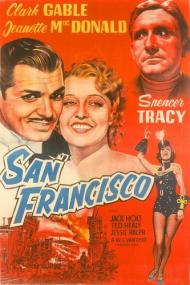 US Release Date: 06-26-1936
Directed by: W.S. Van Dyke
Starring
▸
▾
Clark Gable

,

as

Blackie Norton
Jeanette MacDonald

,

as

Mary Blake
Spencer Tracy

,

as

Father Mullin
Jack Holt

,

as

Jack Burley
Jessie Ralph

,

as

Mrs. Burley
Ted Healy

,

as

Mat
Shirley Ross

,

as

Trixie
Margaret Irving

,

as

Della Bailey
Harold Huber

,

as

'Babe'
Edgar Kennedy

,

as

Sheriff
Al Shean

,

as

Professor
William Ricciardi

as

Signor Baldini

Reviewed on:
March 1st, 2011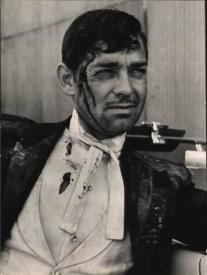 Gable as Blackie Norton, after the quake, in San Francisco.
San Francisco was MGM's big budget extravaganza for 1936, set right before and during the earthquake of 1906. It stars Clark Gable, Jeanette MacDonald and, in his first movie with Gable and the movie that earned him the first of his nine Best Actor Oscar Nominations, Spencer Tracy. San Francisco lost the Best Picture prize to another big budget MGM extravaganza, The Great Ziegfeld.
The movie opens on New Year's Eve as 1905 becomes 1906. MacDonald is Mary Blake a country Parson's daughter newly arrived in town. Her dream is to sing opera. When her apartment building burns down, the destitute Mary auditions for Blackie Norton, the owner of a saloon on the Barbary Coast. Gable is at his most rakish and charming. His Blackie is a rapscallion with a heart of gold. He was boyhood chums and remains best friends with Father Mullin (Tracy playing yet another noble priest).
The gist of the plot is that Mary gets caught between her love and loyalty to Blackie and her opportunity to better herself by singing the high brow music she loves and rubbing shoulders with the elite folks of Nob Hill through her relationship with a local impresario. Even with the talents of Anita Loos writing the screenplay all of this love triangle mush is simply fodder, filling the screen until the disaster strikes.
The special effects are impressive, they hold up well 75 years later. We see walls of buildings collapsing with people inside them. A crowded sidewalk opens up and tears apart. Bricks rain down on the fleeing populace. MGM spent a pretty penny on this one and it shows. It's just too bad that it takes nearly an hour and a half of screen time for the earthquake to hit. Once it does, all that came before seems rather trivial indeed.
MacDonald sings the title song several times. You probably know it, "San Francisco – open – your - golden – gate - you'll – let – nobody - wait – outside - your - door!" In my opinion the definitive version was sung by Judy Garland at Carnegie Hall in 1961. She even gave a shout-out to Jeanette from the stage. MacDonald sings several other songs in her lilting soprano, including the Arthur Freed/Nacio Herb Brown standard "Would You?" which would later play a pivotal role in the classic MGM musical Singin' in the Rain.
A pair of legendary silent directors contributed uncredited work on San Francisco. D.W. Griffith, long since put out to pasture by the movie industry, lent his expertise in directing several of the crowd scenes, and Erich von Stroheim wrote a few lines of dialogue, without the knowledge of studio head Louis B. Mayer, that made it into the finished picture.
In one scene Spencer Tracy ad-libbed the line, "That Rooney kid skipped Mass again…" Tracy had just worked with Mickey Rooney in Riffraff and two years later he would play another priest trying to reform Rooney in Boy's Town. Watch Jeanette MacDonald's reaction to the line. Tracy knew the director, W. S. Van Dyke (aka One-Take Woody), hated doing retakes, so the line stayed in.
San Francisco is a glossy, old-fashioned, B&W, MGM spectacle. Sure the love story plot is creaky but the final 30 minutes are brilliant.
Reviewed on:
December 14th, 2011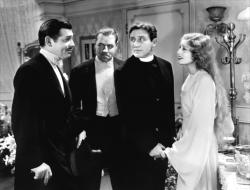 Clark Gable, Jack Holt, Spencer Tracy and Jeanette MacDonald in San Francisco.
The special effects in the final 30 minutes do hold up remarkably well. Patrick, you mentioned the black & white spectacle, but that final half hour would have been even more spectacular in color. The problem with the finale involving the earthquake is that it has almost no connection with the 90 minutes preceding it. With a small rewrite you could have excluded the disaster completely. Its only purpose is to give Blackie a reason to have a change of heart.
Structurally this movie reminded me (although that hardly seems fair since this movie was made some 60 years earlier) of Titanic. Both movies feature a soap opera plot leading up to a disaster. James Cameron at least had the good sense to have the disaster take up half the movie. Take out the sinking of the ship from Titanic and you have no movie, but the earthquake here just isn't as integrated into the film's plot.
One of the biggest drags on the story's pacing is Jeanette MacDonald's singing. She had a beautiful soprano voice and the studio was obviously eager to show it off because she sings a few times too many, including a montage of her performing in an opera. The problem is that no matter how great her voice, every time she opens her mouth to sing, she stops the plot cold. It doesn't help that none of the songs she is given to sing are very memorable. Okay, so the title song is catchy and I can imagine Judy Garland selling it, but it's not suited to MacDonald's operatic style.
The plot is hindered by the Production Code's censorship. Blackie is supposed to be an unscrupulous rogue. He runs the most popular nightclub on San Francisco's Barbary Coast; a region known for prostitution, gambling, drinking and general debauchery. Here though, the area has been so sanitized that Blackie's club seems practically family friendly. His big sins are being a ladies' man who dismisses religion as a haven for suckers. Gable plays him with such charm that even these minor defects are easily forgiven. He and the city are never allowed by the Code to behave in a way that truly deserves an earthquake sent by God as the story implies.
Spencer Tracy's Oscar nomination is a puzzler. He's a great actor, but this part is hardly award worthy and even if it were deserving of an Oscar, surely it should have been in the Supporting category.
I also have to ask, what was going on with the boxing trunks Gable wears when he's sparring with Tracy? If he were wearing them 30 plus years later in San Francisco you'd just assume he was romantically interested in Tracy rather than MacDonald.
I'll grant you Patrick that the final 30 minutes are brilliant. It's just a shame you have to sit through so much that's not brilliant in the 90 minutes that comes before it.

Reviewed on:
December 13th, 2012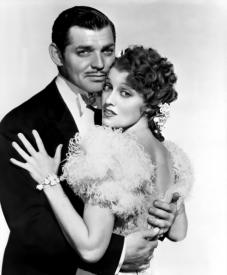 Clark Gable and Jeanette MacDonald in San Francisco
In 1936 Clark Gable was at the height of his career. As Patrick noted, Gable is at his most charismatic here. When MacDonald first meets him she announces, "I'm a singer!" To which Gable responds, "Alright, let's see your legs!" With the exception of perhaps Shirley Temple and Mickey Rooney, he was the most solid box office attraction of the time. This is even in spite of those unflattering gay boxing trunks, Scott mentioned.
Like my brothers, I found the special effects of the earthquake to be quite well done. Most of the shots were quick, with lots of editing to create a frantic feel. In real life, nearly 3,000 people died in the quake and resulting fires, making it the deadliest natural disaster in the history of the United States.
Macdonald should have been regulated to two or three songs at best. Her plethora of performances extend this movie to an unnecessary two hour running time and do not serve the plot. The real problem for this film though is that it was made after the enforcement of the Hayes Codes. As Scott wrote, the story implies the quake was retribution from God for the city wallowing in sin. As Tracy says to MacDonald, "You're in probably the wickedest, most corrupt city, most Godless city in America. Sometimes it frightens me. I wonder what the end's going to be. But nothing can harm you if you don't allow it to because nothing in the world, no one in the world, is all bad."
MacDonald should been playing a prostitute/stripper in a provocative vaudeville show. Gable should have been more of a criminal. Even Tracy's priest should have been shown as having some flaw or at least a lack of faith. Thus when the earthquake hits it would have been like God destroying Sodom and Gomorrah for its sins.
At the end, Gable does drop to his knees to thank God, but it seems forced. Then we have people shouting with glee over the fires being put out. "We'll build a new San Francisco." someone yells and then everyone breaks into song, singing, "Glory, glory hallelujah. His truth is marching on..." If the film was going to end on such a religious note it should have built towards it better.
.
Photos © Copyright Metro-Goldwyn-Mayer (MGM) (1936)
Related Review