Movie Review
San Andreas
We always knew this day would come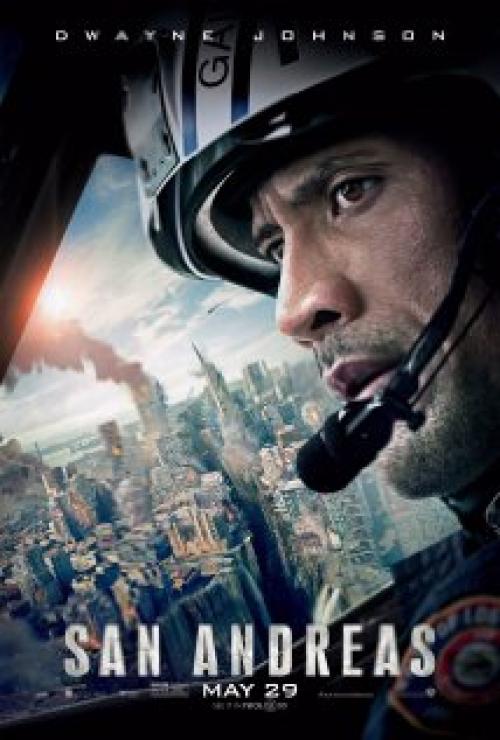 US Release Date: 05-29-2015
Directed by: Brad Peyton
Starring
▸
▾
Dwayne Johnson

,

as

Ray
Carla Gugino

,

as

Emma
Alexandra Daddario

,

as

Blake
Ioan Gruffudd

,

as

Daniel Riddick
Archie Panjabi

,

as

Serena
Paul Giamatti

,

as

Lawrence
Hugo Johnstone-Burt

,

as

Ben
Art Parkinson

,

as

Ollie
Will Yun Lee

,

as

Dr. Kim Park
Kylie Minogue

,

as

Susan Riddick
Marissa Neitling

,

as

Phoebe
Morgan Griffin

,

as

Natalie
Breanne Hill

as

Larissa

Reviewed on:
May 30th, 2015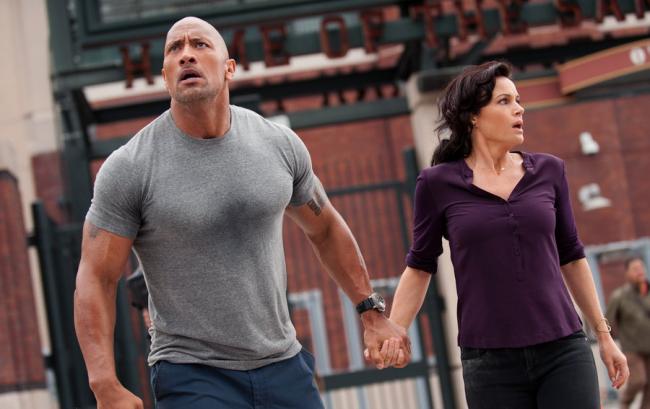 Dwayne Johnson and Carla Gugino in San Andreas.
A movie this big, this loud, and this dumb, should have been a lot more fun than this. Movie technology and special effects have advanced light years since the heyday of disaster movies in the 1970s and this movie takes full advantage of that, featuring destruction on an unprecedented level. However, the earth can't shake the entire time and whenever it pauses we're left with some dull family drama and dubious pseudo-science.
One of the biggest difference between this movie and those old classic disaster films is that most of them featured large, often big name, casts. Here you only have the Rock playing Ray, a rescue helicopter pilot and his family in one storyline and Paul Giamatti as an earthquake expert at CalTech in another. The one benefit of this is that it does keep the running time under 2 hours. And of course it's the special effects that are the real stars anyway.
The plot wastes little time jumping into the action. After an opening rescue scene that introduces the Rock as Ray, we learn that he is estranged from his wife and a divorce is pending. He also has a college age daughter who wants to see her parents reunited. We also meet Giamatti's earthquake expert when he flies off to Nevada to test a new earthquake detection system. That's when the earthquakes start to hit as a series of quakes travel up the length of the San Andreas Fault. They hit Los Angeles first, with skyscraper toppling destruction that is truly impressive to behold. There's then a slight lull in the devastation as the Rock and his wife fly in his rescue helicopter towards San Francisco where their daughter Blake has traveled on the way back to college. While they journey, as predicted by Giamatti, another, even larger earthquake hits the Bay area.
While the earth is shaking the movie works. The shots of downtown Los Angeles being utterly destroyed as skyscrapers topple like dominoes, are stunningly well done, although despite all the destruction there's very little bloodshed and zero gore. These scenes are exciting, even if completely ludicrous and often over the top. The movie definitely delivers all of the destruction promised in the previews.
The quieter moments are simply cliched moments of melodrama. Even a good actor couldn't make those moments work and the Rock, despite having action star charisma, isn't that good of an actor. He and Carla Gugino share a couple of moments discussing their marriage and the death of one of their daughters that stops the action without doing anything but show the limitations of the writers and the actors.
Although the destruction is over-the-top, the sense of fun never is. There's a distinct lack of stand up and cheer moments. If eye candy is enough for you then you might be satisfied with what this one has to offer, but if you're looking for anything else, you'll need to look elsewhere.

Reviewed on:
June 4th, 2015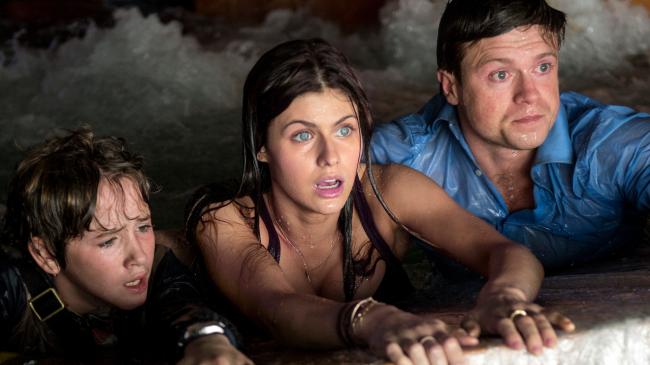 Art Parkinson, Alexandra Daddario and Hugo Johnstone-Burt in San Andreas
As Scott wrote, San Andreas wastes little time jumping into the action. The opening scene featuring the rescue of a girl whose car went off the road and over a cliff should have gone differently. This blonde chick is driving down a winding mountain road, about to pass another car when she looks and reaches into the back seat for a water bottle. Then she gets onto her cell phone while continuing to drive. Ray should have let this dumb ass die in that canyon. Hopefully, she did not survive the earthquake.
Where I disagree with Scott is that I was never bored by the family drama. Sure, we know where it is all headed but it is hardly intrusive or dragged out. We get just enough information to understand their relationship dynamics and personal issues. There was a death in the family a few years earlier and Ray has yet to get over the guilt. It caused him to shut down emotionally and distance himself from his wife. She in turn sought emotional support in the arms of another man.
I agree that this is not an original idea. I will also point out that having Ray's soon to be ex-wife now with a vastly rich man is an idea already used in Taken. I guess screen writers think rich men are a perfect foil for men of action. As this film is a spectacle and not a family drama, I can easily overlook the screen writing clichés. After all, a California earthquake movie is not exactly original to begin with.
As any movie watcher knows, there is nothing like a major disaster to bring people together. In the midst of millions of people dying in a devastatingly destructive disaster, Blake finds a boyfriend. She meets and talks to Ben and his little brother Ollie for a couple of minutes before the quake hits. They talk of superficial things but it is apparently enough as it inspires Ben to endanger his and his brother's life to rescue Blake. Granted, Ben is likable and Alexandra Daddario has a rocking body but their relationship feels a bit forced. I guess emotions run high when your life is on the line.
The special effects are indeed the real star here. The crashing buildings and moving ground are very impressive. The few San Francisco buildings that survive the quake get destroyed by a tsunami. San Francisco literally gets wiped from the face of the earth.
This is easily my favorite earthquake film and it has to do with the very thing Scott disliked. Yes, Ray and Emma are stereotypes and Emma is far too hot to be as resourceful as she is. Still, their motive to find each other in the face of disaster is very heart felt. Add the brothers and we have a group of people with plenty of emotional need to simply survive and reunite.
The end of the movie makes a few subtle references to 9/11. We see handmade notices on a fence of people looking for lost loved ones, much as we did days after the twin towers came down. We are shown an American flag unfurl and the Rock answers the question, "What do we do now?" with, "We rebuild."
Sure, the only Oscar nomination San Andreas may get will be for effects but I still found myself enjoying the ride toward the family's inevitable reunion.
Photos © Copyright Warner Bros. (2015)
Related Reviews