Movie Review
The Salvation
Bad men will bleed.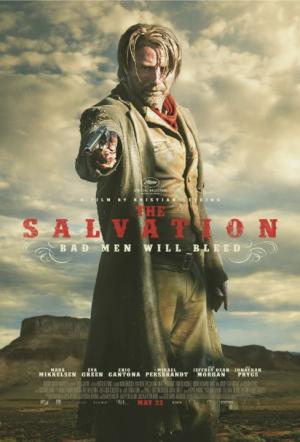 Denmark Release Date: 05-22-2014
Directed by: Kristian Levring
Starring
▸
▾
Mads Mikkelsen

,

as

Jon Jensen
Eva Green

,

as

Madelaine
Jeffrey Dean Morgan

,

as

Henry Delarue
Eric Cantona

,

as

Corsican
Mikael Persbrandt

,

as

Peter Jensen
Douglas Henshall

,

as

Sheriff Mallick
Michael Raymond-James

,

as

Paul Delarue
Jonathan Pryce

,

as

Mayor Nathan Keane
Alexander Arnold

,

as

Voichek Borowski
Nanna Øland Fabricius

,

as

Marie Jensen
Toke Lars Bjarke

,

as

Kresten Jensen
Sean Cameron Michael

as

Lester

Reviewed on:
March 2nd, 2016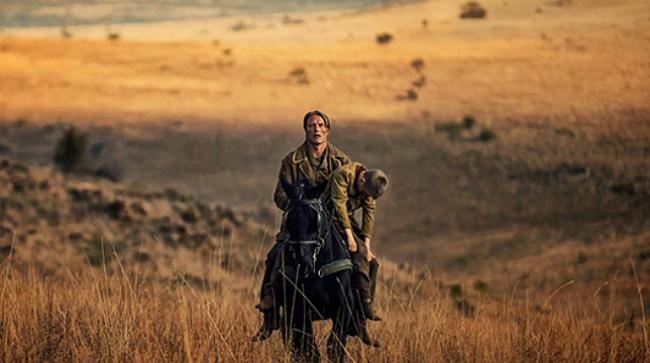 Mads Mikkelsen and Toke Lars Bjarke in The Salvation
The Salvation is a western film made in the traditional vein of so many that have come before it. A man seeking revenge for the death of his family sounds like a movie Clint Eastwood made at least once or twice and is that not the very basis to the plot of The Revenant (2015)? There is also a rich landowner who controls the territory and in the background is a sign of development and changing times. Yeah, pretty much every western cliche is covered. What is unique about The Salvation is that it was made by a Danish production company and it was filmed in South Africa, where an entire western town set was built for the movie.

Denmark's most famous international star, Mads Mikkelsen, stars as Jon Jensen, a Danish immigrant taking his wife and son across 1870s America. Only a small portion of the dialog is spoken in Danish. Jon and his brother Peter, played by Mikael Persbrandt, who played Beorn in The Hobbit trilogy, were soldiers in the Danish/German war of 1864, so we know they can handle a gun but they have since come to America as peaceful settlers. While on a stagecoach ride, Jon attempts to stop two men from raping his wife but she and their son end up dead. He soon thereafter kills both men but this is just the beginning of his problems as the men worked for the local gang leader, Henry Delarue, who rules the nearby town with an iron fist and an itchy trigger finger.
Jon soon learns that the cowardly townspeople are no help to him. Until his brother shows up, Jon is completely alone, fighting odds that would make John Wayne hesitate. Peter has the film's best, and most appropriate, line when he says, "I learned something from war... never start a fight you can't win." This story is very straight forward, however dark it sometimes gets. Many, many people are killed and often the deaths seem too random. This is not exactly a feel good film.

Mikkelsen and Eva Green reunite after playing the Bond Villain and Bond babe in Casino Royale (2006). Green plays Madelaine, a mute from having had her tongue cut out by Indians. I told you this was a dark film. She is the wild card in the movie. We never quite know where her loyalty lies and just what she may be capable of. Her facial scar and stare alone are very unsettling at times.

There is plenty of action, tension and some very nice cinematography. The climactic shootout takes place at a burnt shell of a town. Reportedly it was the original town film set that was destroyed in a fire. Although The Salvation is cliche ridden, but what western is not, this remains a solid piece of entertainment.
Photos © Copyright Zentropa Entertainments (2014)
Related Review