Movie Review
Safety Not Guaranteed
Wanted: Someone to go back in time with me...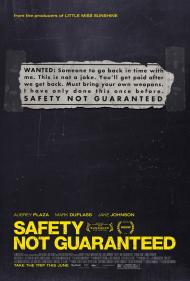 US Release Date: 06-08-2012
Directed by: Colin Trevorrow
Starring
▸
▾
Aubrey Plaza

,

as

Darius Britt
Mark Duplass

,

as

Kenneth Calloway
Jake M. Johnson

,

as

Jeff Schwensen
Karan Soni

,

as

Arnau
Jenica Bergere

,

as

Liz
Kristen Bell

,

as

Belinda
Mary Lynn Rajskub

as

Bridget

Reviewed on:
July 22nd, 2012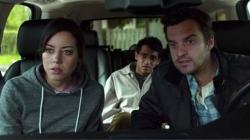 Aubrey Plaza, Karan Soni and Jake M. Johnson in Safety Not Guaranteed.
Safety Not Guaranteed is a fun time at the movies. It's a clever little indie film that isn't at all pretentious. It doesn't try too hard to be hip and therefore successfully manages to be. It was inspired by an actual classified ad that ran in Backwoods Home Magazine in 1997. It caught national attention when Jay Leno mentioned it on The Tonight Show during his popular "Headlines" segment.
In the movie the ad reads, "Wanted: Somebody to go back in time with me. This is not a joke. You'll get paid after we get back. Must bring your own weapons. I have only done this once before. Safety not guaranteed."
A writer for a Seattle magazine, along with two interns, tracks down the man that placed the ad in order to write a story about him. Although in truth the magazine writer is more interested in looking up an old high school flame than in researching the story. Meanwhile one of the interns poses as someone answering the ad and begins a relationship with the oddball that placed it. The other intern, a shy young man from India, gets a hand in losing his virginity by the more experienced journalist. It turns out to be a working vacation that none of them will soon forget.
The dialogue is memorable and the cast excellent. Aubrey Plaza of television's Parks and Recreation proves herself to be quite a capable comic leading lady. Her unique face and expressive eyes are perfectly suited for the offbeat, quirky Darius. She says things like, "There's no sense in nonsense, especially when the heat's hot." Jake M. Johnson of television's New Girl is equally good as Jeff the cynical magazine journalist. His best scene is where he gives the young Indian intern a pep talk on life. "You won't be 21 forever, I fuckin' promise you that." Truer words were never spoken.
As Darius gets in deeper and deeper with Kenneth we are left to wonder whether he is a scientific genius or just crazy. The sudden appearance of two federal agents ups the ante. As the story heads towards its conclusion each of the four main character's lives are changed in a significant way. The whimsical conclusion is entirely satisfying.
Safety Not Guaranteed is both heartfelt and funny. The pacing is masterful; it tells its tale in a brisk 84 minutes. Mark Duplass as Kenneth Calloway creates the quintessential loner/nerd/geek. His romance with Darius, another lonely soul, is one of the funniest yet most touching relationships I've seen onscreen in a long time. Although the movie's title doesn't guarantee safety, I can say wholeheartedly that for its audiences entertainment is guaranteed. Don't miss this delightful little movie.
Reviewed on:
July 22nd, 2012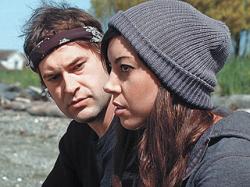 Mark Duplass and Aubrey Plaza in Safety Not Guaranteed.
After so many bloated, big budget summer spectacles with epic running times and an overload of CGI, Safety Not Guaranteed came as something of a relief. This small, but well made and very entertaining film is one of the most enjoyable movies that I have seen in a very long time.
Its themes are regret and a longing for the past. While Kenneth is looking for a literal way of going back, Jeff is looking to recapture his fading youth by revisiting his first love. Darius also has something in her past that she regrets. We learn less about Arnau's character, but Jeff does his best to help him get through this assignment at least without regrets.
Although the themes are serious and even mildly thought provoking, the story itself is told with much humor and charm. The script contains some nice one-liners and some funny banter. I particularly enjoyed the discussion of lasers and storm troopers as blue collar workers. There's also some nice physical humor when Kenneth breaks into the labs to steal the aforementioned lasers.
I agree with Patrick that the cast is terrific. Aubrey Plaza is dryly funny as the sarcastic Darius. Likewise, Jake Johnson is good as the cynical reporter, who gives the impression that he peaked in his younger years and regrets wasting them.
The ending may split viewers as it is left open for interpretation. There were really two ways to end it, only the writer or director chose the third way, which means it's up to the audience to decide what they think happened. Normally I'm not fan of that kind of ending, but here it fits the mood of what came before it.
Like a lot of Independent movies released these days, this one could be labeled as quirky. In fact, that seems to be a requirement of all indies nowadays. The marketing material for this one includes plenty of references to the fact that it's from the producers of Little Miss Sunshine, the quintessential quirky Indie of the past decade. While that trope is becoming a little played out, it's an adjective that works well when describing this one and it's a style that it employs quite well.

Reviewed on:
November 29th, 2012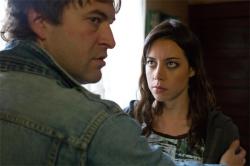 Mark Duplass and Aubrey Plass in Safety Not Guaranteed
The three leads are good, but I have to point out that Aubrey Plaza, however charming, is merely playing a slight variation of her disassociated character from Parks and Recreation. The same could be said of Jake M. Johnson. His Jeff is very reminiscent of his emotionally aloof as cool character in New Girl. Mark Duplass of television's The League is the real stand out, playing the man who may or may not be insane. At first Kenneth seems nuts as he is a bit unclear, but then we slowly see him come into focus. Duplass was not blessed with leading man charm but he wins the audience over as much as he does Darius.
The story of Jeff parallels that of Kenneth. Both are trying to visit a past love who was never meant to be. Kenneth seems crazy, yet Jeff is irrational. After he has sex with Liz he over reacts to her response to his invitation. She ends up calling him nuts. The difference between Kenneth and Jeff is that Kenneth has Darius. She believes in Kenneth and her support of him changes his future/past. Jeff has Arnau, whom he tries to "help" as a distraction from his own issues, but ultimately does little for him.
All quirkiness aside, Safety Not Guaranteed is simply a love story with a gimmick. I liked the ambiguous ending. After all, no love story guarantees the couple will live happily ever after, so why not let their fate remain a mystery. After all, this story is about their journey in finding each other, not where they go afterwards. All we need to know of them is summed up by Kenneth when he says to Darius,"When you choose a partner you have to have compromises and sacrifices, but it's a price you pay. Do I want to follow my every whim and desire as I make my way through time and space, absolutely. But at the end of the day do I need someone when I'm doubting myself and I'm insecure and my heart's failing me? Do I need someone who, when the heat gets hot, has my back?" Darius asks, "So, do you?" and he responds, "I do."
Photos © Copyright Big Beach Films (2012)