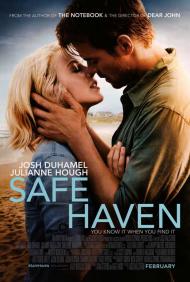 US Release Date: 02-14-2013
Directed by: Lasse Hallstrom
Starring
▸
▾
Julianne Hough

,

as

Katie
Josh Duhamel

,

as

Alex
David Lyons

,

as

Tierney
Cobie Smulders

,

as

Jo
Noah Lomax

,

as

Josh
Mimi Kirkland

as

Lexie

Reviewed on:
February 21st, 2013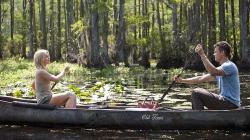 Julianne Hough and Josh Duhamel in Safe Haven
From romance novelist Nicholas Sparks comes another love story about two wounded people finding each other in this crazy world. Katie is on the run from a past we are at first not quite sure of, but it involved lots of blood and a knife. After hopping a bus to anywhere, she ends up in a small North Carolina seaside town. You know, the type of small town where everyone knows everyone and they greet a new person in town with smiles, a job and a run down cabin in the woods to live in. See Doc Hollywood (1991) for a second opinion.
Katie soon meets Alex, a single father whose wife died a few years before from cancer. He has a son with an attitude problem and an adorable girl who makes friends with Katie very quickly. Katie also meets and makes friends with a neighbor woman who encourages her in positive ways.
Katie plays hard to get at first as she does not want to get close to any one so as to keep her past a secret. Alex, having spent the last few years playing both father and mother, seems eager to be with Katie, especially after seeing how she and his daughter get along. He spooks Katie by giving her a gift in an odd way, that shows just how eager he is to get to know her.
As in The Notebook (2004), Sparks has the male lead give the woman of his desire a ride in a boat as foreplay. In The Notebook they went in a row boat, while here they go on a date in a canoe that ends in a rain storm. Their attraction to each other is of course based on the physical at first. This is Julianne Hough and Josh Duhamel after all. It does not take too long before it becomes clear that each is what the other desperately needs, emotionally speaking.
As in Sleeping With the Enemy (1991), Katie's past eventually comes looking for her. This leads to some tension, as the truth of what happened to her must finally come out. Throw in a romantic twist and the film ends in a very satisfying way.
Nicholas Sparks is one of the few romantic authors whose work I can stomach. This is probably because he writes male characters better than most women do. Look no further than Stephanie Meyers for the best example. Alex is a man who runs a business and is trying, unsuccessfully to raise two children. His son likes to fish but Alex never seems to have time to go with him. His young daughter is often left alone in the store waiting on customers. It is easy for us to see Alex as Katie's intended savior, but she is just as much his.
My wife loved this film and if she had her way, would give it four stars. This is a chick flick in every way shape and form. Although some parts seemed a bit unoriginal, I was still able to find much in Safe Haven to enjoy. I just never got as lost in it as much as my wife did. Apparently, Nicholas Sparks knows his way to a woman's heart.
Photos © Copyright 20th Century Fox (2013)
Related Review