Movie Review
Ruthless
Power ... Money - were his gods!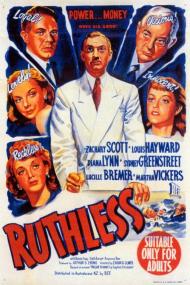 US Release Date: 04-16-1948
Directed by: Edgar G. Ulmer
Starring
▸
▾
Zachary Scott

,

as

Horace Woodruff Vendig
Louis Hayward

,

as

Vic Lambdin
Diana Lynn

,

as

Martha Burnside / Mallory Flagg
Sydney Greenstreet

,

as

Buck Mansfield
Lucille Bremer

,

as

Christa Mansfield
Martha Vickers

,

as

Susan Duane
Edith Barrett

,

as

Mrs. Burnside
Dennis Hoey

,

as

Mr. Burnside
Raymond Burr

,

as

Pete Vendig
Robert J. Anderson

as

Horace Vendig as Child

Reviewed on:
January 6th, 2012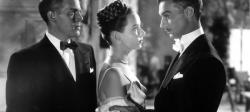 Louis Hayward, Diana Lynn and Zachary Scott in Ruthless
Ruthless is a highly melodramatic film of greed and betrayal. Yeah, it is as soap opera-ish as it sounds. There are plenty of dramatic shadows and an overly wrought musical score.
The film opens with Vic and his new girlfriend Mallory arriving at his old friend Horace Vendig's huge home. Horace is a rich philanthropist. Vic's new girlfriend resembles a girl both men knew when they were children. The movie then goes into an extended flashback. Horace is from a dysfunctional home. His parents are divorced. His father is a gambler and his mother has a new man interested in her. He gets taken in by an upper middle class family whose daughter he saved from drowning. They grow up together and become a couple, with her dad paying for his college education.
Then comes another woman with a richer father. Horace trades up and later up again. He is completely self serving, hurting anyone he has to so as to get further ahead. This film features extra marital affairs and suicide. I told you it was a soap opera. By the time the flash backs are over, Horace makes a play for Mallory. After all this time he has not changed in the least. His heart is as cold and tiny as it ever was.
The cast is lead by Zachary Scott as the smooth talking Horace and Louis Hayward as the loyal friend who takes far too long to catch on to Horace's ways. Even his girlfriend, Diana Lynn in a duo role, can recognize him after only knowing Horace for a few hours. She describes him in the film's last line as not a man but a way of life.
The supporting cast is a bit fascinating. Known mostly as shady characters in Humphrey Bogart films, Sydney Greenstreet here plays someone who gets taken by the shady Horace. Playing Horace as a child is Robert J. Anderson. You will recognize him for playing a young George Bailey in It's a Wonderful Life. Coincidentally an adult slaps him in the face in both movies.
Ruthless tries to equate being a man with being honorable. Just as Mallory points out that Horace is not a man, Horace himself says as a boy that, "I don't want to be a man. Never! I wish there weren't any men in the whole world." It is not much of a story arc but then this is not much of a movie.
Photos © Copyright Arthur S. Lyons Productions (1948)