Movie Review
Rudy
When people say dreams don't come true, tell them about Rudy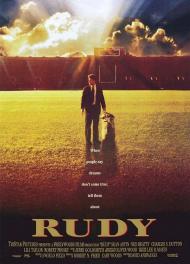 US Release Date: 10-13-1993
Directed by: David Anspaugh
Starring
▸
▾
Sean Astin

,

as

Daniel E. 'Rudy' Ruettiger
Jon Favreau

,

as

D-Bob
Ned Beatty

,

as

Daniel Ruettiger
Greta Lind

,

as

Mary
Scott Benjaminson

,

as

Frank Ruettiger
Mary Ann Thebus

,

as

Betty
Charles S. Dutton

,

as

Fortune
Lili Taylor

,

as

Sherry
Vince Vaughn

as

Jamie O'Hara


Reviewed on:
February 15th, 2006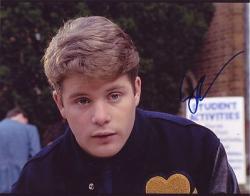 Sean Astin in Rudy.
There have been plenty of inspirational movies made, but none get me by the throat the way Rudy does. Based on a true story, Rudy demonstrates that accomplishing a particular goal is not decided by wealth, talent or athletic ability alone. Rudy has none of those things, but what he does have is an inner drive and a ton of determination.
Daniel E. 'Rudy' Ruettiger was born to a large working class family. Rudy's future seemed set for him. After high school graduation he went to work at a steel mill where his father and two older brothers worked. Rudy however, had long dreamed of going to Notre Dame and playing on their renowned football team. Without the grades or finances, his dream seemed an impossibility.
After the death of his best friend, Rudy finally decided to give his dream a shot. With his $1,000 savings in hand, he took off to South Bend, Indiana. There, nothing came easy for him. Before even being considered for admittance into Notre Dame, he had to attend a junior college near by to get his grades up. After finally enrolling at Notre Dame, he became a tackle dummy for the real football squad. He basically gets tackled and beat up every practice. Along the way though, Rudy endeared himself to many different people with his perseverance, including the football players who eventually help Rudy fulfill his dream.
Sean Astin does a remarkable job portraying Rudy as a ordinary young man with a dream that seems far out of his reach. He sometimes comes across as a little annoying. All he talks about is Notre Dame football. He is naive and often clueless about what is going on around him. However, you cannot help but root for someone who wants something so badly. Astin keeps Rudy on a level playing field. Rudy never become sanctimonious.
Rudy has some memorable lines in it. When asked if he is ready to run out on the field for his first real game, Rudy replies, "I've been ready for this my whole life." When Rudy asks a Priest for help getting into Notre Dame, the Priest says, " Son, in 35 years of religious study, I have only come up with two hard incontrovertible facts: there is a God, and I'm not Him."
Rudy makes a powerful statement that who we are is not based on what we have but what we do with what we have. We can easily blame life and others for our lack of success, but the only real limitations are the ones we set for ourselves. Look no further than Daniel E. 'Rudy' Ruettiger story for proof of that. Rudy will leave you cheering!
Reviewed on:
December 12th, 2013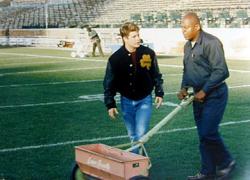 Sean Astin and Charles S. Dutton in Rudy.
This is one of the great underdog stories of all time. Rudy the motion picture, like the character himself, wears its heart on its sleeve for all the world to see. There is no hidden agenda or emotional sleight of hand going on here. What you see is what you get.
As Eric wrote, Rudy has more guts and determination than most players twice his diminutive size. The obstacles he faced were nearly insurmountable. But his dogged perseverance eventually paid off and the ending is one of the all time great cheer along scenes. If it doesn't put a lump in your throat or fill your heart with inspiration then beware. You just might receive a visit from three spirits some Christmas Eve.
In one scene Rudy reads a plaque hanging on the Notre Dame football locker room wall. It is a quote from a famous speech made by Knute Rockne. Rudy was in fact just the second movie ever allowed to be filmed on the Notre Dame campus and in its hallowed halls. The first was the equally inspirational 1940 classic Knute Rockne All American, which starred Pat O'Brien in the title role.
A few minor facts were changed for dramatic purposes but nothing that seriously alters Rudy's story. The new head coach never refused to allow Rudy to dress for that final game. In fact it was the coach's idea to put him in rather than the way it is shown here where the other players refuse to dress if Rudy isn't allowed to play. And Rudy has said that he never had a brother named Frank. This character was created as a composite of all the people who told Rudy to give up his dream. That he would never make it into Notre Dame, let alone get on the football team and actually play in a game.
Rudy is a sports movie but it is much more than that. Rudy faces and overcomes many obstacles on his way to the gridiron. I agree Eric, Rudy teaches a great lesson. We may not all be equal when it comes to talent, ability and/or financial resources but there is one common denominator we all share. We all can choose how much effort we put into accomplishing our goals and attaining our dreams just like Rudy so beautifully illustrates.
Photos © Copyright TriStar Pictures (1993)
Related Review