Movie Review
Rooster Cogburn
Marshal Rooster Cogburn has finally met his match!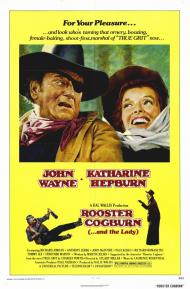 US Release Date: 10-17-1975
Directed by: Stuart Millar
Starring
▸
▾
John Wayne

,

as

Rooster Cogburn
Katharine Hepburn

,

as

Eula Goodnight
Anthony Zerbe

,

as

Breed
Richard Jordan

,

as

Hawk
John McIntire

,

as

Judge Parker
Strother Martin

,

as

Shanghai McCoy
Richard Romancito

,

as

Wolf
Paul Koslo

,

as

Luke
Jack Colvin

,

as

Red
Jon Lormer

as

Rev. George Goodnight


Reviewed on:
September 5th, 2003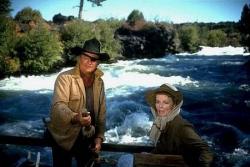 John Wayne and Katharine Hepburn in Rooster Cogburn.
As Rueben 'Rooster' Cogburn, John Wayne created his most entertaining character. Sure he won the Oscar playing him in True Grit, but it is in Rooster Cogburn, the movie, that he really shows off the character. Wayne has much more chemistry and witty dialogue to exchange with Katharine Hepburn than he did with the annoying Kim Darby.
Cogburn, in pursuit of the bad guys, comes across and joins forces with a bible quoting spinster, Eula. The bad guys in question killed her father, and she wishes to take an eye for an eye. Together with Eula's Indian assistant, they chase the outlaws across some beautiful landscape.
These two legends, in the autumn of their years, have so much spunk and enthusiasm that they genuinely seem to be having the time of there lives making this movie. The biggest flaw this movie has is that it keeps showing the bad guys. Who cares? It is the pairing of these two stars that makes this movie good.
The dialogue is not bad either. Early in the movie, Cogburn defends himself to a judge who just called him a drunk. Cogburn barks with all seriousness, 'I haven't had a drink since breakfast.' Later, Cogburn is trying to give Eula a compliment, but it ends up being...'Out here we almost value a spirited woman as much as a spirited horse.' 'Almost?' Eula clarifies?
This really is not so much a sequel to True Grit. In fact, the events of that movie get mentioned at a campfire. Cogburn tells the famous story of him holding the reins in his teeth and a gun in each hand as he charges Ned Peppers gang. Eula thinks it is all a lie.
This is one amazing movie star team up! However, the movie does drag a bit and there is plenty of room to make comparisons to the superior The African Queen. Hepburn plays a bible thumper in each, who teams up with a drunk to defeat the bad guys after a close relative is murdered. Hepburn even ends up on a boat going down a river in Rooster Cogburn. Still, this film remains a must see for fans these two Hollywood royalty.
Reviewed on:
February 7th, 2010
Two legends together for the only time.
The script is completely unoriginal,True Grit is a better movie, but none of that matters when you have John Wayne and Katharine Hepburn together on screen. They were both 67 at the time (Hepburn was exactly 2 weeks older than Wayne) and as Eric wrote they both have plenty of spunk left in their tanks. I agree about the dialogue. Some of it is quite memorable. Hepburn gets one of the best lines in her first scene when she tells the bad guys, "I do not fear a skunk. I simply do not care for its odor."
These two icons play the characters they were born to play. Wayne's Rooster Cogburn is a one-eyed variation of the uncouth but heroic cowboy he had been specializing in for decades and the prim yet feisty bible-thumping spinster was Hepburn's bread and butter. And yes, it is nearly impossible to watch this movie without thinking about the vastly superior African Queen. The climax in the white water rapids is a direct rip-off.
The story is a rehash but, as noted above, the scenery is breathtaking. It was shot in a national forest in Oregon. Rooster Cogburn and the Lady is a pleasant way to spend a Sunday afternoon. Wayne and Hepburn are as familiar as relatives and they will draw you in with their enthusiasm and those two very distinctive speaking voices.
Photos © Copyright Universal (1975)