Movie Review
A Room with a View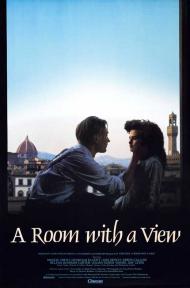 US Release Date: 05-23-1986
Directed by: James Ivory
Starring
▸
▾
Maggie Smith

,

as

Charlotte Bartlett
Helena Bonham Carter

,

as

Lucy Honeychurch
Denholm Elliott

,

as

Mr. Emerson
Julian Sands

,

as

George Emerson
Simon Callow

,

as

The Reverend Mr. Beebe
Daniel Day-Lewis

,

as

Cecil Vyse
Patrick Godfrey

,

as

The Reverend Mr. Eager, Chaplain of the Anglican Church in Florence
Judi Dench

,

as

Eleanor Lavish, a novelist
Fabia Drake

,

as

Miss Catharine Alan
Joan Henley

,

as

Miss Teresa Alan
Amanda Walker

,

as

The Cockney Signora
Maria Britneva

,

as

Mrs Vyse, Cecil's mother
Rosemary Leach

,

as

Mrs Honeychurch, Lucy's mother
Rupert Graves

,

as

Freddy Honeychurch, Lucy's brother
Peter Cellier

as

Sir Harry Otway, a landlord

Reviewed on:
December 3rd, 2012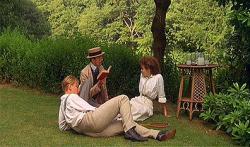 Julian Sands, Daniel Day-Lewis and Helena Bonham-Carter in A Room with a View.
A Room with a View was the movie that put Merchant Ivory Productions on the map. Producer Ismael Merchant and director James Ivory (a real life romantic couple for decades) along with screenwriter Ruth Prawer Jhabvala produced many films over a 40 year period that reached its peak from 1985-1995. Their movies won a total of 6 Academy Awards and they are listed in the Guinness Book of World Records for having the longest producer/director partnership in the history of independent cinema. Even today the expression "Merchant-Ivory film" immediately brings to mind a certain genre of movie rather than just meaning a production company.
A Room with a View is a typical Merchant-Ivory production. It was taken from the novel of the same title by E.M. Forster and is set in Edwardian England. The story actually begins in Florence, Italy where Miss Lucy Honeychurch (Bonham-Carter making her feature film debut) is on holiday with her older cousin and chaperone Miss Charlotte Bartlett (Smith).
Lucy is a free spirit while Charlotte is a proper Englishwoman with a decidedly Victorian outlook on life. The two of them meet a modern thinking father and his handsome grownup son named George. They are staying at the same hotel as Lucy and Charlotte. Upon learning the women do not have a view the gentlemen offer to switch rooms with the ladies, thus thrusting the plot into motion.
Lucy and Charlotte return to England where the majority of the story takes place. The main gist of the plot is a love triangle between Lucy, George Emerson (the passionate man of few words she met in Florence) and Lucy's stuffy fiance Cecil, a man who never shuts up. Cecil is a cold fish while George is full of fire.
Daniel Day-Lewis plays the perfect uptight Brit. He speaks with florid language and spends most of his time with his nose in a book. The funniest scene is when he is reading a chapter in a book (see photo) that -unbeknownst to him- was based on Lucy and George's impetuous kiss in a field of barley while in Italy. Charlotte had witnessed the kiss and gossiped about it to a fellow traveler also staying at the same inn. A woman writer played by Judi Dench who incorporated it into her latest novel.
A Room with a View has the distinction of featuring one of the longest extended full frontal male nude scenes in any mainstream movie. Lucy's brother Freddy, along with George and The Reverend Mr. Beebe, goes bathing in a small pond. They horse around completely naked in the water having a fine time until Cecil, Lucy and Lucy's mother come walking by. It is a truly hilarious scene of awkwardness.
A Room with a View features a great cast of interesting characters and a terrifically witty script. It was nominated for eight Oscars, including Picture and Director, but won just three for Art Direction, Costumes and Adapted Screenplay. This movie ushered in a golden age for Merchant-Ivory Productions. It was the first of three times they would be nominated for Picture and Director. The other two were for Howards End and The Remains of the Day. Unfortunately they would lose both awards on all three occasions.
A Room with a View looks out over a lush trip to the past featuring a funny and romantic storyline.

Reviewed on:
July 14th, 2014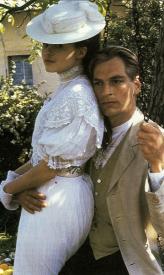 Helena Bonham Carter and Julian Sands in A Room with a View
A Room with a View features a great cast indeed. Not only is this Bonham-Carter's feature film debut but also Rupert Graves'. I did not even realize that I was watching the same actor who plays Detective Lestrade in television's Sherlock until I researched this film. Of course there are several decades between "Sherlock" and his days as a Merchant Ivory muse.
These are interesting characters as they live by much stricter manners than we do today. Although those very manners may often stifle their lives, I had very little sympathy for these idle rich. They travel abroad at their leisure. When at home in their country estates they have games of tennis on the lawn, swim in a pond, and play piano. None seem to have the least bit of stress other than some muted affairs of the heart.
As he has won many awards and raves, I am clearly in the minority when it comes to the opinion of Daniel Day-Lewis. I did not find that he played the perfect uptight Brit. I found this performance more of an exaggeration on a stereotype. He could have easily stepped into a Monty Python sketch without missing a beat. I found him more of a caricature than an actual character.
Patrick was struck by the skinny dipping scene while my favorite is when Cecil is reading the passage in the book that describes Lucy and George's passionate kiss in a field of barley. He is reading a literal description of his fiancés indiscretion to Charlotte and the man in question. He cannot see what is directly in front of his face.
This film is like a dream of another time and place. It is all so beautiful and languid. It moves along at a slow pace, just as life must have been in the Victorian era. Merchant Ivory films have their own look and feel. As Patrick noted, the expression "Merchant-Ivory film" is as much a description as it is a genre of movie. You may have to be a tad patient to enjoy this film, as there is more atmosphere than plot, but it is well worth the watch.
Reviewed on:
October 2nd, 2014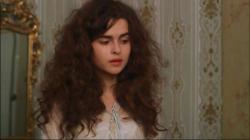 Helena Bonham Carter in A Room with a View.
As with much of E.M. Forster's work, A Room with a View concerns itself with the English class system. Eric mentions having very little sympathy for these idle rich, but not all of the characters are rich. George and his father are both middle class and work for a living. It's this that makes George seem like such a poor choice for the upper class Lucy and why Charlotte dismisses them so quickly. Although Merchant and Ivory downplay George's more humble beginnings by casting the very posh looking and sounding Julian Sands in the part. Unlike some of Forster's other work, this one has (spoiler alert) a happy ending, at least for George and Lucy, with love crossing the boundaries of class. We often see in movies and books the poorer girl marrying the well off man, but this is the rarer case of the woman marrying below her socially.
The movie is quite symbolic. There are characters who are content to stay in rooms, while others need a view and the outdoors. Lucy comments to Cecil that, "When I do think of you, it is always in a room." George on the other hand, revels in the outdoors, with the skinny dipping scene Patrick enjoyed being the prime example. He literally bares himself in the wild with nothing enclosing him. Certain characters, like Freddy are almost exclusively seen outside, while Lucy's mother remains mostly indoors, enclosed in a room. Their position in relation to the indoors denoting their more traditional attitudes while those seen out of doors are more progressive. Lucy would never be content to remain in a room. She has to have the view. Even the names have meaning. Lucy comes from the Latin word for light, while Cecil is derived from the Latin for blind. George is from the Greek for "he who works the land", again connoting the outdoors.
Visually, the movie is as beautiful as my brothers have mentioned. The scenes in Italy are particularly well done and the moment in the barley field where George first kisses Lucy is one of the most romantic scenes in any Merchant/Ivory film. There's a golden haze around Lucy's time abroad that does make it seem like a dream. Where Italy is gold, the scenes in England seem dipped in green, with sun dappled lawns and idyllic country villages featuring prominently. The art direction and costume Oscars that Patrick mentioned were well earned.
The cast is wonderful and filled with recognizable British character actors. Bonham Carter and Daniel Day-Lewis were just beginning their careers while others like Judi Dench and Maggie Smith had been working for years, but all four of them would see their fame rise in the years to come. For Bonham Carter this would mark the beginning of her run as the reigning costume drama sex symbol. In regards to Day-Lewis, I agree with Eric that he is nearly a caricature, but then I've never been the biggest fan of his theatrical style of acting.
Anyone who enjoys this type of period film, filled with drama and wit, and concerned with manners and the relations between the classes, will find plenty to enjoy with this one. Like many such British films much of the drama goes unsaid, remaining below the repressed British facade. The unsaid being more important than the spoken words. For those with the patience for it, the reward is great and no one does this sort of thing better than Merchant and Ivory.
Photos © Copyright Merchant Ivory Productions (1986)