Movie Review
Romance on the High Seas
Romance and Laughter...under a Rio moon!
US Release Date: 07-03-1948
Directed by: Michael Curtiz
Starring
▸
▾
Jack Carson

,

as

Peter Virgil
Janis Paige

,

as

Elvira Kent
Don DeFore

,

as

Michael Kent
Doris Day

,

as

Georgia Garrett
Oscar Levant

,

as

Oscar Farrar
S.Z. Sakall

,

as

Uncle Lazlo Lazlo
Fortunio Bonanova

,

as

Plinio
Eric Blore

,

as

Ship's Doctor
Franklin Pangborn

,

as

Rio Hotel Clerk
Leslie Brooks

,

as

Miss Medwick
William Bakewell

,

as

Dudley (travel agent)
John Berkes

,

as

The Drunk
Avon Long

,

as

Specialty Singer
Page Cavanaugh Trio

,

as

Themselves
Sir Lancelot

,

as

Specialty Singer
Samba Kings

,

as

Themselves
Grady Sutton

as

Ship Radio Operator
Reviewed on:
April 4th, 2012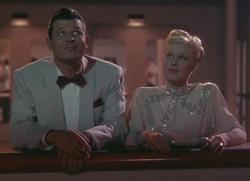 Jack Carson and Doris Day in Romance on the High Seas.
Recently Three Movie Buffs wrote an article about the movie debuts of well known stars. One person we forgot to mention was America's favorite singing virgin, Doris Day. Although, to paraphrase the old joke, Romance on the High Seas was made back before Day became a virgin. The former Doris Mary Ann Kappelhoff was just 24 years old and received fourth billing for the starring role of nightclub singer, and haunter of travel agent offices, Georgia Garrett.
This Technicolor Warner Brothers' musical boasts quite a prestigious movie pedigree. It was directed by the great, but often unheralded, Michael Curtiz, from a script by the Epstein brothers, with additional dialogue by I.A.L. Diamond. Busby Berkeley staged the musical numbers from a score by Jule Styne and Sammy Cahn.
The musical highlights include "Put 'em in a Box, Tie 'em with a Ribbon (and Throw 'em in the Deep Blue Sea)" and "It's Magic", both performed by Doris Day, and the calypso flavored "The Tourist Trade" sung by specialty act, Avon Long. Top billed Jack Carson gets one number singing a novelty song called "Run, Run, Run", which he performs in a Trinidadian accent.
The plot revolves around one of those silly cases of mistaken identity that only happen in Hollywood movies. It begins misleadingly, with the wedding of Michael and Elvira Kent (Don DeFore and Janis Paige). Misleading because Doris Day and Jack Carson are the actual stars of the picture and the ones that share the titular romance.
Anyway, this wealthy young New York society couple don't trust each other even after three years of marriage. Elvira, with the help of wealthy Uncle Lazlo (the always amusing S.Z. Sakall), concocts a plan to fool Michael into thinking she is on a cruise to Rio, when in fact she will be staying in New York to spy on her husband. She hires singer Georgia Garrett (Day) to impersonate her and take her place on the ship. Michael, meanwhile, hires a private investigator (Carson) to trail his "wife" on her travels.
You guessed it. The investigator and the singer (whom he thinks is a married woman) share a shipboard romance as they travel to South America, with stops in Cuba and Trinidad along the way. The story is pure fluff but the stars both give winning performances.
Jack Carson shines in a rare leading man role. He demonstrates his romantic charms wooing Day on the moonlight drenched ship's deck (see photo). And his fine comic timing is put to good use in a scene where he and Oscar Levant commiserate about their love lives at a bar while their drinks are being surreptitiously downed by a drunk (John Berkes).
Doris Day proves what a natural she was in front of the cameras. Besides being photogenic and possessing a pleasant singing voice she was also a gifted comic. She had a quiet, steady quality that made audiences empathize with her characters. Legend has it she was so embarrassed at seeing herself in the dailies that she begged her director to get her a drama coach. Curtiz famously replied, "No! No! You're a natural just as you are - if you learn how to act, you'll ruin everything."
The supporting cast includes stalwart funnymen William Bakewell, Eric Blore and Franklin Pangborn as a travel agent, a ship's doctor and a hotel clerk respectively. These memorably played peripheral characters add to the fun.
Romance on the High Seas is a breezy musical comedy painted with a colorful palette. In addition it launched the career of one of America's most popular movie stars.
Photos © Copyright Warner Bros. Pictures (1948)