Movie Review
Rock of Ages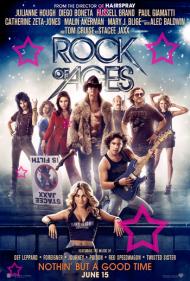 US Release Date: 06-15-2012
Directed by: Adam Shankman
Starring
▸
▾
Diego Boneta

,

as

Drew Boley
Julianne Hough

,

as

Sherrie Christian
Tom Cruise

,

as

Stacee Jaxx
Alec Baldwin

,

as

Dennis Dupree
Russell Brand

,

as

Lonny
Bryan Cranston

,

as

Mike Whitmore
Catherine Zeta-Jones

,

as

Patricia Whitmore
Malin Akerman

,

as

Constance Sack
Paul Giamatti

,

as

Paul Gill
Will Forte

,

as

Mitch Miley
Mary J. Blige

,

as

Justice Charlier
Kevin Nash

,

as

Stacee's Bodyguard
Eli Roth

as

Stefano


Reviewed on:
June 17th, 2012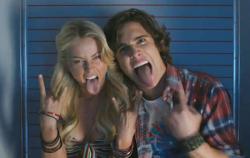 Julianne Hough and Diego Boneta in Rock of Ages
Rock of Ages is filled with loud 1980's rock. The girls have big hair and the fashion is colorful. It treats rock and roll as a youthful act of rebellion. At one point Alec Baldwin says of his rock venue, "This place is about to become a sea of sweat, ear-shattering music and puke." Yet try as it might to be a tribute to anthem/arena 80s rock, Rock of Ages is really nothing more than a simple plotted musical, the likes we have seen since Warner Baxter told Ruby Keeler, "...you're going out a youngster but you've got to come back a star!" in 42nd Street in 1933.
Sherrie is just a simple, yet adorably hot, girl from Oklahoma with dreams of becoming a star in Hollywood. After two songs and getting mugged, she meets the baby faced Drew, who likewise has dreams of being a star. He is a waiter at a club that features rock-n-roll acts. He gets her a job there so they can fall in love and the soundtrack can easily provide more classic 80's tunes.
The club is being picketed by some right wing/Christian organization with a political agenda. You know, those same mean folks who would not let those country kids party in Footloose. The club will stay in business if they can just make some money and are riding on the return performance of rock star Stacee Jaxx to put them in the black.
Jaxx is a cliche rock star. He is always surrounded by groupies and has eccentricities such as a pet monkey/bartender. He thinks he is deeper than he actually is. All he needed was a real hot reporter to tell him some truth about his life. At the club, Drew assumes Sherrie has sex with Stacee and breaks up with her.
Here is where the movie gets long winded. He joins a boy band and she starts working at a strip club. Considering how little plot this film has, it should have ended sooner. In That's Entertainment (1974), Frank Sinatra described the plots of early musicals. "Boy meets girl. Boy loses girl. Boy sings a song and gets girl. They were that simple." That is pretty much what happens here. We just have to sit through Mary J Blige's screen time first.
The best Rock of Ages has to offer is that the cast does their own vocals. Julianne Hough is a singer and Catherine Zeta-Jones Douglas started as a pop singer in the UK, but who ever thought that we would hear the likes of Tom Cruise and Alec Baldwin singing for all it is worth? No doubt they were helped in the studio by some professionals, but no one embarrasses themself. My personal favorite and the film's funniest moment, was when Baldwin and Russell sang, "Can't Fight This Feeling."
If you grew up in the 80s you will find yourself recognizing the songs and singing along to most of them. If not, you may likely come away bored. The plot is pointless and the characters as one dimensional as they can be. Since I am a child of the 80s, I sang along to them all and had a good time doing it.
Reviewed on:
June 18th, 2012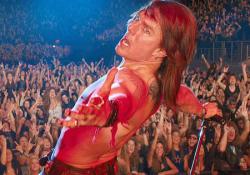 Tom Cruise as Stacee Jaxx in Rock of Ages.
Sure, the plot is a musical cliche, but obviously that was the creator's intention when putting together the Broadway show upon which this movie is based. They took the plot of a classic musical, but set it to 1980's power ballads. It's possible that you could enjoy it without having lived through the 1980s, but the target audience is clearly those old enough to remember the music.
As Eric said, none of the cast embarrasses themselves, although some do better than others. Zeta-Jones had already proven in Chicago that she could handle a song, but Tom Cruise was the unknown quantity. We may never know how much work was done in post-production, but he does alright. Baldwin gives it his all, but he and Brand have the weakest vocals.
While the two leads are blandly attractive and sweet (and not particularly rock-n-roll), Tom Cruise is the movie's real highlight. Dressed like Axl Rose and moving on stage like Steve Tyler, while singing a Bon Jovi song, he gives the movie a lift while he's on the screen.
It's not just the leads who are only pseudo-rock-n-roll, but really the whole movie. Eric quoted the line, "This place is about to become a sea of sweat, ear-shattering music and puke", but really it's very sanitized. There's no sign of drugs, very little sex (and zero nudity even during the sex scenes and in the strip club) and the rock-n-roll is pretty mild and consists mostly of power ballads that have been given a show tune spin. It's rock-n-roll, but for the over-forty crowd.
Anyone who was young during the 1980s will find something to enjoy here. Sharp eyed viewers will be able to pick out some famous 80s faces in the crowd during the "We Built This City" number, including Debbie Gibson and Sebastian Bach.
Overall I seem to have enjoyed this movie more than you did Eric. It's very lightweight, but intentionally so. It's all kept very light and peppy. I agree that the third act could have been trimmed, but I was never really bored. Maybe it's not a classic, but it is a bit of fun.
Reviewed on:
June 19th, 2012
Alec Baldwin and Russell Brand can't fight the feeling in Rock of Ages.
Exactly. Rock of Ages takes a 1930's boy-meets-girl plot and sets it in the colorful MTV era along L.A.'s Sunset Strip. It's a hybrid of an MGM musical and a vintage rock video. Like in those old-fashioned musicals the characters break into song at the drop of a hat and, as my brothers said, all the songs are well known 80's rock anthems and power ballads. And it packs in plenty of them. It features song after song (at least 20) with a minimum of dialogue in between the musical numbers.
Although the songs weren't written for the movie they are used for plot advancement and/or character development on more than one occasion. Most cleverly in the duet of "I Can't Fight This Feeling" by Alec Baldwin and Russell Brand, that Eric mentioned. It's a cute and humorous number that gives this 80's cheese-fest a slight 21st Century sensibility. Scott, I don't think the song arrangements are really any less "rock" than most of the original versions. What passed for metal in the 80's is laughable by today's standards.
Wisely, with the exception of the "Shadows of the Night/Harden My Heart" medley at the strip club, there are no big choreographed dance numbers. It wouldn't have made sense to have people hoofing to 80's hair band music. It even pokes fun at the boy band phenomenon which was just beginning to take over the music scene in the late 1980's.
Like Scott, I think Tom Cruise steals the show whenever he's on the screen. He makes a memorable entrance, waking up in bed entangled with three scantily clad women in his first scene. I predict a Golden Globe win come January. His singing is more than adequate and his energy, stage presence and dance moves prove him to be quite a natural stage performer. It's not like he's a stranger to the rock star lifestyle and he still oozes cocky charisma. He captures the essence of the role beautifully. Stacee Jaxx is a larger-than-life parody of a rock star yet Cruise also imbues him with a fully fleshed-out personality. He gives snatches and glimpses of the real man behind the image. He's the only one in the movie I wanted to spend more time with.
You wouldn't know it by looking at him but Tom Cruise turns 50 this summer. Just compare him to the 5-years-younger Paul Giamatti. The guy could play Cruise's older brother or pass believably as his uncle.
In addition to the cameos Scott mentioned there's one by Constantine Maroulis as a record company executive. He got his start on American Idol and garnered a Tony nomination for originating the role of Stacee Jaxx on Broadway. At least they threw him a bone. He wasn't the first theater star to have their most successful part usurped by a bigger name for the movie version. Just mention Barbra Streisand's name to Carol Channing.
I fully enjoyed Rock of Ages. I mean how often do you see a musical where you can sing along to every single song? Color it pure escapist fun!
Photos © Copyright New Line Cinema (2012)