Movie Review
Robots
Repair for adventure!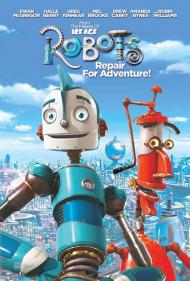 US Release Date: 03-11-2005
Directed by: Chris Wedge, Carlos Saldanha
Starring
▸
▾
Ewan McGregor

,

as

Rodney Copperbottom (voice)
Halle Berry

,

as

Cappy (voice)
Robin Williams

,

as

Fender (voice)
Greg Kinnear

,

as

Ratchet (voice)
Mel Brooks

,

as

Big Weld (voice)
Drew Carey

,

as

Lugnut (voice)
Amanda Bynes

,

as

Piper (voice)
Jim Broadbent

,

as

Madame Gasket (voice)
Jennifer Coolidge

,

as

Aunt Fanny (voice)
Paul Giamatti

,

as

Tim (voice)
Stanley Tucci

,

as

Herb Copperbottom (voice)
Dianne Wiest

,

as

Mrs. Copperbottom (voice)
Stephen Tobolowsky

as

Bigmouth Executive/Forge (voice)

Reviewed on:
March 5th, 2005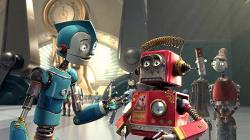 Robots
20th Century Fox entered the computer-animated arena, previously dominated by the mega-combination of Disney and Pixar, with 2002's Ice Age. Now they follow up that hit with the even better Robots. Featuring an all-star cast, it contains enough jokes for adults and kids alike, and makes good use of some truly impressive animation.
The story takes place in a world populated entirely by robots. Rodney Copperbottom (voiced as an adult by Ewan McGregor) is 'born' to his working-class parents in a small town. Actually, he's delivered in a cardboard box and after twelve hours of labor is assembled into a robotic baby. As he gets older, his body parts are upgraded and upsized into a boy, a teen-ager, and finally an adult. Deciding to emulate his idol, Big Weld (Mel Brooks), he heads for Robot City where he hopes to get a job at Big Weld's factory as an inventor.
Rodney finds himself overwhelmed by the big city, but is befriended by a group of misfits led by Fender (Robin Williams). He also finds out that Big Weld is no longer in charge of his factory and that it is instead being run by Phineas T. Ratchet (Greg Kinnear), who wants to do away with outmoded robots by stopping the sale of spare parts and only selling upgrades. It's up to Rodney, naturally, to rescue his idol and put things right.
While Ewan is the star, it is (unsurprisingly) Williams who steals the movie. His fast talking Fender gets the biggest laughs as he riffs on everything and everybody. He even gets a song and dance number when he does his version of "Singin' in the Rain", entitled, "Singin' in the Oil". But the entire cast, all made up of known stars, is likable and each gets their moment to shine. And unlike last year's Shark Tale, which seemed to use stars for the sake of using stars, this cast is all put to use in aid of the story.
By now we've all become used to the wonders of computer-animation, but the animators of this film have really put together something special. The entire world of the robots is created with great detail and will take many viewings to pick up on all the jokes hidden in the background on signs and in windows. The look of the robots themselves and their technology is very retro and evocative of household appliances. A head here looks like it was built from a toaster; a body there could have been an old vacuum cleaner.
The pacing of the film is also quite brisk. Clocking in at around 90 minutes, the movie feels even shorter. The jokes and the action just keep right on coming, from beginning to end.
Robots is everything an animated feature should be. It's fast paced, funny for both kids and adults, and makes good use of its animation to provide a story that could be done in no other medium. I'd say with this one, Fox has cemented their place in the world of modern animation.

Reviewed on:
March 13th, 2005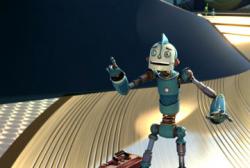 Robots
Robots is entertaining enough, but Scott liked it more than I. The plot is a bit worn out. A small town boy goes to the big city and makes good, is as old a plot as there can be. I agree with him that the animation is good and the movie does have some good lines. My sons repeated the following dialogue many times after seeing it.
Fender, "She's not really my Aunt."
Rodney, "Then why do you call her Aunt Fanny?"
Fender, "Well, we couldn't call her Aunt Booty."
The part that really bugged me about this movie was the politics. When was it decided that making money is a bad thing? When was it decided that Hollywood movies would all rally against capitalism? The bad guy in the movie is running a successful business buy selling legal products. The hero rescues a guy who supposedly became very successful in business but never was really interested in making money? Huh? This was like listening to hypocrite, Ted Kennedy rant on the senate floor last week when he complained that American credit card companies were very profitable. Heaven forbid America have a successful enterprise.
Robots will appeal to children. My 9 year old son liked it more than my 11 year old. But this middle aged conservative just saw it as yet another Hollywood family film indoctrinating children into it's liberal double speak.
Photos © Copyright 20th Century Fox (2005)