Movie Review
The Robe
The first motion picture in CinemaScope--the modern miracle you see without glasses!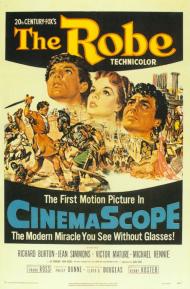 US Release Date: 09-16-1953
Directed by: Henry Koster
Starring
▸
▾
Richard Burton

,

as

Marcellus Gallio
Jean Simmons

,

as

Diana
Victor Mature

,

as

Demetrius
Michael Rennie

,

as

Peter
Jay Robinson

,

as

Caligula
Dean Jagger

,

as

Justus
Torin Thatcher

,

as

Sen. Gallio
Richard Boone

,

as

Pontius Pilate
Betta St. John

,

as

Miriam
Jeff Morrow

,

as

Paulus
Ernest Thesiger

,

as

Emperor Tiberius
Dawn Addams

,

as

Junia
Leon Askin

,

as

Abidor
Mae Marsh

,

as

Jerusalem Woman Aiding Demetrius
Cameron Mitchell

as

Jesus Christ (voice)

Reviewed on:
May 14th, 2012

Jean Simmons, Jay Robinson, Richard Burton and cast in The Robe.
The Robe is yet another biblical epic from Hollywood in the 1950s. It has the distinction of being the very first movie released in the widescreen format known as CinemaScope. Although How to Marry a Millionaire was actually the first completed movie shot in this format, it didn't hit theaters until November of 1953, while The Robe premiered in September of that year. Since many theaters weren't yet equipped to show widescreen movies, The Robe was actually shot in two different versions, with the standard academy format version (1.33:1) being shown in most theaters and it was this version that was given to television in the 1960s. The CinemaScope version didn't make its television debut until AMC aired it in the 1990s, when letterbox screenings first began showing up on the small screen.
This is the story of Marcellus Gallio (Richard Burton), the Roman military tribunal in charge of the soldiers that crucified Jesus. He wins Jesus' robe after casting lots with his fellow soldiers. When his Greek slave Demetrius (Victor Mature) places the robe around Marcellus' shoulders, the tribune suffers a seizure and demands that Demetrius remove the robe.
Demetrius does so but he also runs away from Marcellus (taking the robe with him), who, thereafter begins acting as if he's going mad. Any mention of the events on Calvary set him off on a rant. He yells out, "Were you out there?!" He even does this in the presence of the Emperor Tiberius in Capri. Tiberius (here portrayed as a benevolent elder statesmen - in direct opposition to the cruel tyrant he is known as historically) sends him on the mission of finding and destroying the robe and getting the names of Jesus' followers.
To make a long story short, Marcellus eventually joins the newly formed Christians in direct defiance of Rome. This leads to his final confrontation with the new Emperor Caligula and the stories' denouement. There is a romance along the way between Marcellus and a ward of the state named Diana (Jean Simmons). Diana is initially promised in marriage to Caligula but she falls for Marcellus.
Historically, the filmmakers stayed fairly true to the time period. The change in Tiberius' personality is one inaccurate aspect to the movie as is the fact that the Empress Julia had already been banished by her father Augustus Caesar, and long dead before the events of this story take place.
The Robe is quite a spectacle and it is properly over the top in style. Many of the scenes are in long shot with the width of the screen being used well in the composition of each frame (see photo). The duration of each shot is also longer than average. The score by Alfred Newman is dramatically pious and its crescendos are used as exclamation points to end certain scenes. For example, when Marcellus crosses paths with a man that tells him of Jesus' arrest, there is a dramatic bolt of lightning and crack of thunder underscored by bombastic chords as the man tells Marcellus his identity. "My name is Judas." Like in many religious movies of the period, Jesus' face is never shown.
Richard Burton received an Oscar nomination but also garnered many negative reviews from critics who complained of his "wooden" performance. Although he is youthful and handsome this is nowhere near his best screen work. Jean Simmons is likewise attractive on the eye but also quite forgettable. Victor Mature was no great shakes as a thespian either but he was built like a movie star and he makes Demetrius the most compelling character to watch. He even reprised his role for the sequel, Demetrius and the Gladiators (1954).
The Robe is a decent Biblical epic that was groundbreaking in format. During the early 1950s theater owners were desperate to compete with television. One popular idea at the time was to show movies in 3D. Just like today! The advertising campaign for this movie made fun of this gimmick by proclaiming in its tagline, The Robe was "the modern miracle you see without glasses".

Reviewed on:
January 19th, 2015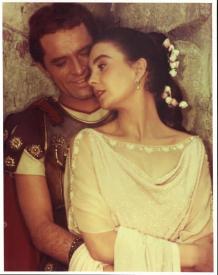 Richard Burton and Jean Simmons in The Robe
I enjoyed the depiction of ancient Rome in The Robe. The sets are glorious and the opening scene is quite blatant with slave girls on the auction block forced to show themselves to prospective buyers. I wondered though, why Marcellus is dressed in armor as he shops in the slave market. Is he expecting war to break out there? If so, then why is he not packing his sword? His armored chest plate looks imposing but I imagine it would be so uncomfortable that any man would take it off whenever unnecessary to wear.
Having only seen Richard Burton's later work, after middle age, booze and Elizabeth Taylor had left their mark, it was interesting seeing him when he was, as Patrick noted, youthful. I did not find his acting so much wooden as reserved. He comes across quite natural, never hamming it up even though the director seems to want to go in that direction. Look at when Mature hesitates to hand over Marcellus's coins. Burton does not make a show of it; he simply raises his voice, "Give him the purse. What's the matter with you?" When Jesus stumbles, carrying the cross, Burton merely pauses and looks, in the manner of a Roman officer, above such concerns. If Burton had played his mad scenes any bigger they would have been laughable.
As Patrick wrote, the religious angle is highly dramatic, with the soundtrack over emphasizing some moments. Another one depicted is when we are first shown the robe being gambled for. There is also the vision of Christ above Marcellus as he tries to sleep.
I found some of The Robe interesting, such as the unique angle to the story of the crucifixion. There are however, some real problems. Quite a bit of the film was shot beautifully outside while other times some outdoor scenes were filmed in studio, with a painted backdrop. Look at the scene where Marcellus and Diana meet on Capri. They kiss and talk on what is an obvious sound stage, they then walk to a cliff that is actually outside. Lights inside a studio have never been able to match that of the Sun, making for an awkward transition.
The pace is almost as uneven. The movie starts entertainingly enough but slows to a preachy crawl when Marcellus searches for Demetrius. He meets people who benefitted from Jesus and receives lecture after lecture in the process. We get some action near the end but it is not enough to make up for all that has come before. At 135 minutes, I felt like I was stuck in a church service with a sermon that did not know when to end.
Burton has claimed that this was one of his least favorite films. He supposedly so hated the experience of making it that he turned down a contract with 20th Century Fox and instead returned to the London stage. Although a rumored affair with Jean Simmons may have made the production more pleasant for him. Burton had a reputation with women that could challenge Wilt Chamberlain.
As Patrick mentioned, in the analogs of film history, The Robe has its place of note. Watching it today, I only found it enjoyable by comparing it to Biblical films recently made. These religious epics of days gone by praised the Christian God while films like Exodus: Gods and Kings (2014) questioned him.
Photos © Copyright Twentieth Century Fox Film Corporation (1953)
Related Review