Movie Review
The Roaring Twenties
He used to be a bigshot.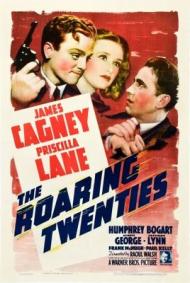 US Release Date: 10-23-1939
Directed by: Raoul Walsh
Starring
▸
▾
James Cagney

,

as

Eddie Bartlett
Priscilla Lane

,

as

Jean Sherman
Humphrey Bogart

,

as

George Hally
Gladys George

,

as

Panama Smith
Jeffrey Lynn

,

as

Lloyd Hart
Frank McHugh

,

as

Danny Green
Paul Kelly

,

as

Nick Brown the Bootlegger
Elisabeth Risdon

as

Mrs. Sherman

Reviewed on:
April 22nd, 2003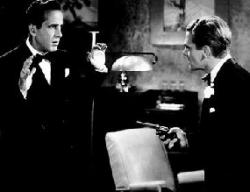 Humphrey Bogart and James Cagney in The Roaring Twenties.
The Roaring Twenties marked the last time James Cagney would play a gangster until ten years later in 1949. Director Raul Walsh tells this riveting story that spans one of America's most famously violent decades. Once again James Cagney and Humphrey Bogart are perfect together as rival gangsters. Although Bogart doesn't get nearly enough screen-time the immense star power between the two of them makes this clichéd story much better than it would have been with lesser talents.
Three best friends survive World War I. After the armistice and with the advent of prohibition former saloonkeeper George Hally (Humphrey Bogart) becomes a bootlegger, unemployed Eddie Bartlett (Cagney) becomes a cabbie and Lloyd Hart (Jeffrey Lynn) practices law. Eddie builds a fleet of cabs through delivery of bootleg liquor and hires Lloyd as his lawyer. George and Eddie form a partnership and things fly along smoothly until the Stock Market crashes, and then a few years later, the legalization of liquor brings an abrupt end to the era.
A few love angles are thrown in for good measure. Priscilla Lane as the ingénue gets to sing a few songs. She plays Eddie's unrequited love interest who only has eyes for the honest Lloyd. In one scene she repeatedly rejects Eddie's requests for a date. Finally, exasperated he asks, "Is it all right if I just drive by your place and blow my horn?" Meanwhile, 'bad girl' Panama Smith (Gladys George) faithfully loves Eddie from a distance.
The showcasing of historic events using newsreel footage marks the passage of time. Eddie goes from a young ambitious soldier willing to do almost anything for a buck, to a pinstriped dandy on top of the world, to - finally - a broken down unshaven bum. Gladys George as heart-of-gold moll Panama Smith nearly steals the movie from Cagney. It is she (after Eddie has stormed into George's mansion to gun him down) who gets to utter the movie's most famous line. Eddie staggers out of the mansion, having killed George, but knowing he will never get away alive. His bullet riddled body staggers up the steps of a church before tumbling down them, coming to rest in the snow. Panama cradles her dying love. A cop asks, "Who is he?" She replies, "Eddie Bartlett." "What's his business?" "He used to be a bigshot."
Reviewed on:
December 27th, 2011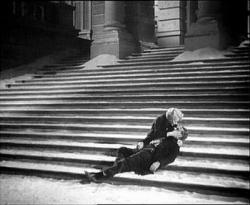 Gladys George and James Cagney in The Roaring Twenties.
I thought I'd seen all of Cagney's gangster pictures, but somehow I'd missed this one and it just might be my favorite. Cagney is terrific as ever and the script is a match for him, charting the rise and fall of his career with action, tension and some genuine humor.
Cagney and Bogie are great together and I wish more screentime had been devoted to their rivalry. Bogie makes a great villain and Cagney is strong as the criminal who tries to do the right thing for the love of a dame.
The two women in the picture are equally good. What's interesting about them is that the "good" girl, played by Priscilla Lane, uses Eddie twice for her own gain. First, she plays along with his interest in her so to launch her singing career and then later she uses his love for her one more time to get him to intervene on behalf of her husband. On the flipside, the "bad" girl, played wonderfully by Gladys George, is the one who's always there for Eddie and who gives him as much help as she can.
Jeffrey Lynn is the weak link in the cast. It's hard to see why Jean would choose him over Cagney's Eddie, particularly as this might be the best the pugnacious Cagney has ever looked.
It's a far cry from a comedy, but there are some moments of levity to help ease the tension. One of my favorite lines comes near the beginning when Lloyd says he wants an office in the Woolworth building with a view so he can see the bay and Brooklyn. To which Cagney replies, "Who'd want to look at Brooklyn?"
As powerful and iconic as the ending is (and it is iconic), I still wish things had turned out different for Eddie. You have to blame the Production Code of course, since because of it there was never a chance of Eddie riding off into the sunset to live happily ever after, but I was still pulling for him.

Reviewed on:
July 9th, 2012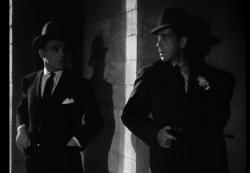 James Cagney and Humphrey Bogart in The Roaring Twenties
I need to first and foremost sarcastically thank both of my brothers for giving the ending away. I know this is an old movie, but I had never seen it before and would have preferred to not know how it played out.
The Roaring Twenties opens with a scene shared by two of the greatest film icons of all time. James Cagney and Humphrey Bogart are soldiers in a World War I fox hole. They are soon joined by Jeffrey Lynn. They meet each other there but we start to see their personalities in the next scene where they are in a building shooting at the enemy. After Lynn misses a shot, Bogie asks with a snarky tone, "Whatsa' matta', "Harvard," did you lose the Heine?" Lynn responds, clearly bothered, "No... but he looks like a kid, about 15 years old." The less concerned Bogart then shoots the German kid and remarks, "He won't be sixteen."
Cagney is great here, but right after the war ends and he goes back to New York, we lose sight of Bogie. As Patrick wrote, "Bogart doesn't get nearly enough screen-time." Although Cagney is playing a tough guy, watch the scene where he gets called a sucker, Bogart is playing a sadist. Cagney's Eddie is rational while Bogie's George is a bit unstable. I wish they would have shared more scenes together.
The women are good here as well. Gladys George as Panama Smith has some good lines. After a shootout at a speak easy, she says, "I'm gonna look for some excitement. There's a lull in the joint." Scott wondered why Jean would choose Jeffrey Lynn over Cagney. Easy answer Scott. She is the opposite of Panama Smith. Jean likes the good guys.
Patrick mentioned that Priscilla Lane gets to sing a few songs. Although her voice is not that memorable, she does get to sing several classic old ditties. This includes, "It Had to be You," which has been recorded by the likes of Gene Kelly, Frank Sinatra, Harry Connick JR and countless others. Often these old films feature songs long lost to history, but here fans of American pop standards should recognize all her songs.
The stars are amazing. The songs are memorable. The story is decent and well framed in historical facts. Although Bogart could have been in more scenes and Pat O'Brien would have worked well as Lloyd Hart, The Roaring Twenties remains a wonderful piece of classic movie entertainment.
Photos © Copyright Warner Bros. (1939)
Related Reviews