Movie Review
Road to Hong Kong
The last of the red hot Lamas!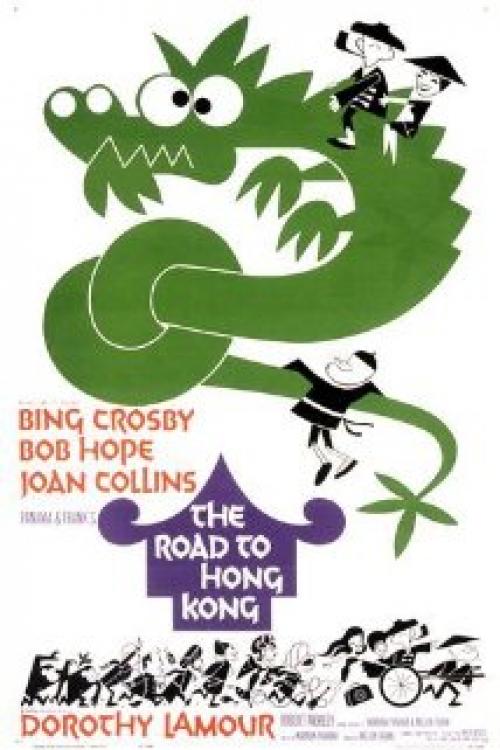 US Release Date: 05-22-1962
Directed by: Norman Panama
Starring
▸
▾
Bing Crosby

,

as

Harry Turner
Bob Hope

,

as

Chester Babcock
Dorothy Lamour

,

as

Herself
Joan Collins

,

as

Diane
Robert Morley

,

as

Leader of the 3rd Echelon
Peter Sellers

,

as

Indian physician
Walter Gotell

,

as

Dr. Zorbb
Sir Felix Aylmer

,

as

Grand Lama
Mei Ling

,

as

Ming Toy
Jerry Colonna

,

as

Man Looking for a Match
Alan Gifford

,

as

American official
Frank Sinatra

,

as

Himself/The 'Twig' on Plutomium
Dean Martin

,

as

Himself/The 'Grape' on Plutomium
David Niven

,

as

Lama
Pat O'Brien

as

Chinese Restaurateur
Reviewed on:
May 8th, 2015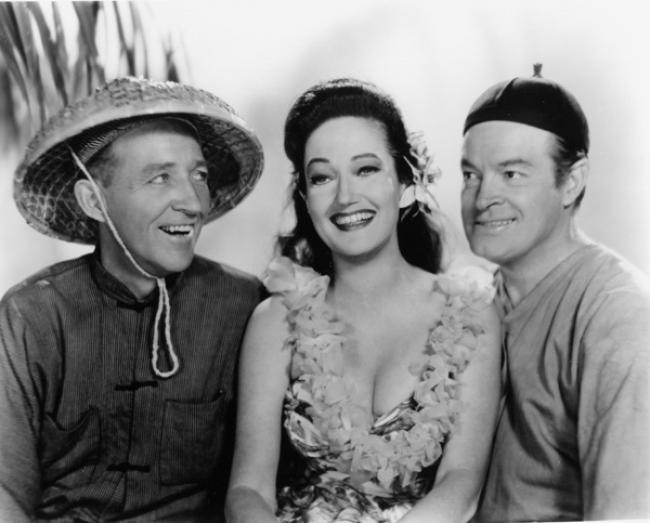 Bing Crosby, Dorothy Lamour and Bob Hope in Road to Hong Kong.
In 1962 Bing Crosby and Bob Hope hit the road one last time in Road to Hong Kong. It had been ten years since their last road picture, Road to Bali (the only one in the series shot in color) and this time around they spoof the spy genre (five months before Dr. No hit theaters). The boys play their usual itinerant out-of-work vaudevillian/con men. Their latest scheme is selling "Interplanetary Fly-It-Yourself Space Kits." Cue unfunny slapstick. The silly yet convoluted plot has them replacing apes in an experimental rocket being sent to the moon. Cue more unfunny slapstick.
Geographically speaking, Road to Hong Kong covers more ground than any previous road picture. They travel from India to Tibet to Hong Kong and even into outer space. At the end of the movie they find themselves on the planet Plutomium (it also spoofs space movies), where they encounter Frank Sinatra and Dean Martin. "The Italians have landed." Quips Hope.
This movie is proof of Hollywood's double standard towards gender and age. In the fall of 1961, when this movie commenced filming, Dorothy Lamour was just 47 years old, while Crosby and Hope were both pushing 60 and looked it (see photo). By the standards of the day Lamour looked pretty damn good (see same photo). Nevertheless she was reduced to what amounted to basically a cameo, while the 28 year old Joan Collins took over as leading lady.
Lamour gets one extended scene. She shows up at the climax as herself and, for old time's sake, performs a number with Bob and Bing. She does get one of the movies' best lines at their expense when she says, "That's the plot so far? I'd better hide you ... from the critics!"
In addition to Frank and Dino, several other famous stars make cameos. Peter Sellers as an Indian doctor who examines Hope and Crosby, David Niven plays a Tibetan monk who recites Lady Chatterly's Lover from memory and Pat O'Brien shows up in yellow face as a Chinese restaurateur. Robert Morley plays the villain. He's the leader of a SPECTRE like organization called the 3rd Echelon. When he announces his sinister plans for world domination, Hope stage whispers to Crosby, "I think he rolls his own." A marijuana joke from Bob Hope. The 1960s had definitely arrived.
Road to Hong Kong has its moments but its my least favorite of the seven road pictures (in 1977 an eighth movie, Road to the Fountain of Youth, was permanently derailed by the death of Bing Crosby). Several road picture traditions are kept alive, such as the boys singing a song featuring the destination in the title of the movie in the lyrics, and the boys acknowledge the audience such as when Bing tells Bob, "Well, don't get sore at me. It's just a plot point." and of course they do their famous patty cake routine one last time to get out of a jam.
Road to Hong Kong is worth seeing for anyone who wants to complete the journey, but it's not a road you'll want to travel more than once.
Photos © Copyright United Artists (1962)
Related Reviews