Movie Review
The Rite
You can only defeat it when you believe.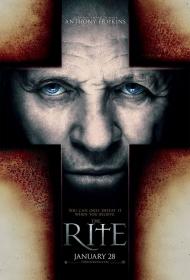 US Release Date: 01-28-2011
Directed by: Mikael Hafstrom
Starring
▸
▾
Anthony Hopkins

,

as

Father Lucas Trevant
Colin O'Donoghue

,

as

Michael Kovak
Alice Braga

,

as

Angeline
Ciaran Hinds

,

as

Father Xavier
Toby Jones

,

as

Father Matthew
Rutger Hauer

,

as

Istvan Kovak
Marta Gastini

as

Rosaria

Reviewed on:
February 4th, 2011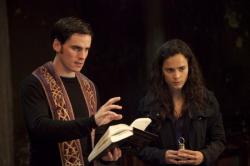 Colin O'Donoghue and Alice Braga in The Rite.
I recently wrote in my review for Easy A that Hollywood only shows Christians as a butt of jokes. You may think that The Rite may have me eating my words as it is essentially about a man discovering his faith in God. However, It was directed by a Swede and stars a cast of actors born outside of the United States. This has the look of a Hollywood movie, but is not.
Michael Kovak is a young man searching for his place in life. He decides to go to a seminary school, as the tradition in his family is to either be a mortician or a priest. In his fourth year he questions his faith and decides to quite. A father at the school informs him that if he does he will have to pay back his tuition, which is close to 100 grand. Another option presented to him is to study in Rome for a semester, taking a class in Exorcism.
It is a no brainer, and Michael finds himself going to the eternal city on the papacy's dime. His faith is still lacking. In class he asks questions that almost seem impudent. The priest teaching the course sends him to see Father Lucas, a local priest who performs exorcisms.
There he witnesses Lucas try to exorcize a demon from a pregnant girl. Michael is still not convinced and thinks the girl just needs a good psychiatrist. Father Lucas tries to prove to him otherwise but Michael stands by his secular beliefs.
Michael becomes Father Lucas's student following him to visit potentially possessed people. Michael meets a journalist who has many questions as she is doing a story on exorcism. The film reaches it's dramatic climax with Michael having to do an exorcism.
The Rite is based on a book written by Matt Braglio. He was a journalist who met an American priest, Gary Thomas, studying exorcism in Rome. The movie turns Matt into Angeline, played by the beautiful Brazilian born Alice Braga. Father Gary studied under an Italian priest in Rome. He is played by the British Anthony Hopkins. In an interview I found on the net, Father Gary Thomas, now an active priest in California, has stated he has performed 5 exorcisms.
Whether you believe in possession by a demon is moot in the enjoyment of this movie. If you believe, it may be scarier than if you do not. I liked the character of Michael Kovak, played by Irishman Colin O'Donoghue. He is not perfect. He is a bit lost. Although he is studying how to deal with the demon possessed, he is portrayed very much like every man who has ever dealt with personal demons.
The movie thankfully avoids such Hollywood trappings as a romance between Angeline and Michael. Their relationship stays clearly platonic. However, it includes some special effects and scenes that are never explained. Where the true story ends and where the screenwriter takes over is never stated. Like Michael, you have to decide for yourself what you really believe in.
Photos © Copyright Contrafilm (2011)