Movie Review
Risky Business
There's a time for playing it safe and a time for Risky Business.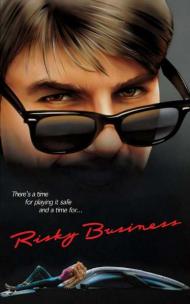 US Release Date: 08-05-1983
Directed by: Paul Brickman
Starring
▸
▾
Tom Cruise

,

as

Joel Goodsen
Rebecca De Mornay

,

as

Lana
Joe Pantoliano

,

as

Guido
Richard Masur

,

as

Rutherford
Bronson Pinchot

,

as

Barry
Curtis Armstrong

,

as

Miles
Nicholas Pryor

,

as

Joel's Father
Janet Carroll

,

as

Joel's Mother
Shera Danese

,

as

Vicki
Raphael Sbarge

,

as

Glenn
Bruce A. Young

,

as

Jackie
Megan Mullally

,

as

Call Girl
Sean Penn

as

Cameo


Reviewed on:
June 14th, 2012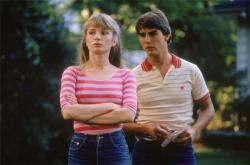 Rebecca De Mornay before she became a nanny and Tom Cruise before he jumped the couch, in Risky Business
Risky Business is remembered today mostly for the scene of Tom Cruise dancing in his underwear to "Old Time Rock and Roll". When it first came out in theaters I recall the line, "What the Fuck." making quite an impression as well. In the long run, this will be remembered most as the film that made Tom Cruise a star.
Joel is an average upper middle class high school senior with two things weighing heavy on his mind, grades and sex. His parents expect him to make it into an Ivy League school, yet during one scene we discover that he is perhaps above average in his grades but he is hardly the valedictorian. Of his four close friends, at least one is sexually active, while the other two are vague on their sexual knowledge.
This first part of the film is a realistic portrayal of teenage boys. School is an important part of their life and some have sexual experiences, while others do not. This all changes when Lana, in the form of Rebecca De Mornay doing an obligatory 1980s nude scene, enters the picture. Her character is the most important for the story but she also takes the plot in a direction that no longer resembles anything real.
After an awkward encounter with a black drag queen, he gives Joel, Lana's phone number. "It's what you want. It's what every white boy off the lake wants." she assures him. Lana shows up at Joel's house in a scene that seems right out of a teen boy's fantasy. She walks right into his house, he lifts her dress and the wind blows the patio doors open. The scene is symbolic perhaps, but also a bit porno cheesy.
The next morning she robs Joel and runs off. After getting into trouble with her pimp, she ends up back at Joel's house where they eventually come up with a plan. She invites some of her whore friends over while he invites his rich, horny class mates to use their services.
At this point all sense of reality has left the building. Lana and all of her prostitute friends are clean, upscale looking women for hire. None of Joel's friends leak his whore house business to anyone who would call the police. The neighbors are never shown objecting to the dozens of cars parked along the street and all the comings and goings from Joel's house.
As is a common sequence in many teen films, Joel must clean up before his parents get home. This means getting his father's Porsche fished out of Lake Michigan and detailed like new. He has to buy back his parents' furniture from the pimp as well as put everything back in place. Again, he never seems concerned that his neighbors might mention to his parents that something happened while they were gone.
Joel celebrating his moment of freedom by dancing around his house is one that any young person can relate to, as is him feeling that he has to lose his virginity to keep up with his friends. Risky Business connects with the audience the first third of the movie, then becomes a teenage boy's sexual fantasy. As a teenager I liked the last two thirds better, but now I enjoy the beginning much more.
Reviewed on:
January 10th, 2014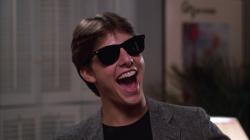 Tom Cruise in Risky Business.
As Eric said, Risky Business is pure (heterosexual) teen fantasy. Only in the movies could such outlandish events play out without any negative repercussions. Although to be fair, writer/director Paul Brickman originally envisioned a slightly darker ending but was overruled by the studio. If you can get past the unrealistic aspects of the story, however, Risky Business has a lot to offer in the way of entertainment.
Very few movies have launched the career of a major movie star the way this role shot Tom Cruise into the stratosphere. The instantly iconic dance in white socks, pink dress shirt, tighty-whiteys, and Ray-Ban sunglasses was improvised by Cruise. The script simply stated that Joel, "dance to rock music". Not since Clark Gable undressed in It Happened One Night and wasn't wearing an undershirt had a movie star so effected sales of a product. Whereas Gable caused the popularity of T-Shirts to plummet, Cruise had the opposite effect. The sales of Ray-Ban wayfarer model sunglasses exploded 2,000% after the release of Risky Business.
Teen boys are all pretty much obsessed with sex and that is the true secret of this movie's success. Joel gets to have plenty of no-strings-attached sex without any negative consequences whatsoever. The scene where he and Lana make love on the Chicago 'L' is one great example. The train stops at a station and conveniently waits while Joel helps the homeless man -that had been staring at them while he sipped from a bottle- off. They then proceed to do the wild thing in full view of the world without any bothersome interruptions. It's about as realistic as the opening dream sequence.
Actually the entire movie takes place in a sort of vacuum. The outside world doesn't seem to exist at all, except for Joel's school and friends. The story keeps a very narrow focus on Joel's life at all times. As Eric wrote, none of his neighbors, other than a few kids on bikes, are ever even shown. And these prostitutes all look like lingerie models. So the question becomes, does Joel lead a charmed life because he's Tom Cruise, or is he Tom Cruise because he leads a charmed life?
Another memorable aspect to Risky Business is the soundtrack. Anyone who went to high school in the 1980s will be taken back to those more innocent times. In addition to Bob Seger's "Old Time Rock and Roll" snippets of "Every Breath You Take" by The Police, "Hungry Heart" by Bruce Springsteen, "After the Fall" by Journey, "D.M.S.R." by Prince, and of course "In the Air Tonight" by Phil Collins, can all be heard. Ah, to be seventeen again.
Risky Business may always be remembered for that one classic scene and for being the movie that made Tom Cruise a star, but it is also a nice little satire of 1980's suburban teen life.
Reviewed on:
October 19th, 2014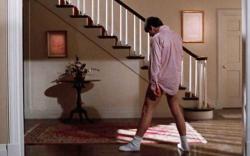 Tom cruise in Risky Business.
Somehow I managed to never see this movie until now. The only things I knew about it were the two things Eric mentioned; The "Old Time Rock 'n Roll" moment and the "What the Fuck." line. I'd always assumed it was just another 1980s' teen sex-comedy, but it's less zany and a little darker than other coming of age by losing your virginity comedies of the era.
As Eric wrote, the film opens fairly realistically. Then, about 30 minutes in, it takes a sharp turn into fantasy territory. Here's a theory for you. Everything after Joel falls asleep while waiting for Lana to show up for the first time is a dream. He's asleep on the couch, when Lana lets herself in and Joel, the sexually insecure virgin, suddenly has the confidence to walk up to her and begin to make love to her. The doors being blown open during that scene only adds to the dreamlike feel of the moment. Also of note is that the very first line of the movie is Joel saying, "The dream is always the same." Making the final two-thirds of the movie a dream is the only way it makes logical sense to me.
Unlike other teen comedies of the era, this one also has something to say. It's a satire of consumerism and capitalism of the big business 1980s. Producer Jon Avnet has said,"It's not about prostitution. It's about capitalism." Director Paul Brickman said, "This was the Reagan years, it was all about money." and that they aimed to give the film a certain tone and an underlying theme of anti-capitalism. Joel's journey is from an innocent minded teen to smooth talking salesmen and pimp with guaranteed entry to Princeton. By the time he graduates he'll be ready to get a job with Gordon Gecko.
There's also a dark look to the film that goes against the typical brightly lit film of the era. Most of the movie takes place at night and the cinematography is often quite striking. Director Nicolas Refn has said that he was inspired by the look of this film when he shot Drive.
Like Patrick, I was struck by the soundtrack. Anyone who was a teen in the 1980s, like we three were, will have to fight off the nostalgia upon hearing the many songs Patrick listed. They are the most dated aspects of the film, except maybe for Cruise's cut-off jean shorts.
Seeing Cruise in this movie for the first time today is different than seeing him in it when it was released. To audiences of the day he was a fresh faced kid who had only appeared in couple of minor roles. He definitely made an impression. He received almost universal praise from critics and audiences and even scored a Golden Globe nomination for Best Performance by an Actor in a Comedy/Musical. While no one could have predicted just how big he would become, it was definitely a case of a star being born. Watching it today, it's hard to see just Cruise, without all of the Scientology and other baggage that he's built up over the years. Seeing him so baby faced is the biggest surprise, but his talent was definitely visible. De Mornay is good and she certainly looks good, but this is Cruise's movie.
In the end, no matter how good this movie is, it will always be remembered, as my brothers wrote, for Cruise sliding into view in just a dress shirt and tightie-whities. Just do a search on YouTube for Risky Business spoofs and when you see the thousands of clips that search returns, you'll have no doubt we're correct.
Photos © Copyright Warner Bros. Pictures (1983)