Movie Review
Rio Grande
John Ford's Greatest Romantic Triumph!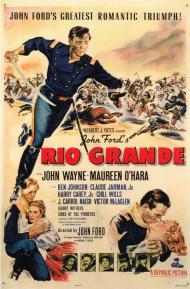 US Release Date: 11-15-1950
Directed by: John Ford
Starring
▸
▾
John Wayne

,

as

Lt. Col. Kirby Yorke
Maureen O'Hara

,

as

Kathleen Yorke
Ben Johnson

,

as

Trooper Travis Tyree
Claude Jarman Jr.

,

as

Trooper Jefferson Jeff Yorke
Harry Carey Jr.

,

as

Trooper Daniel Sandy Boone
Chill Wills

,

as

Dr. Wilkins (regimental surgeon)
J. Carrol Naish

,

as

Lt. Gen. Philip Sheridan
Victor McLaglen

,

as

Sgt. Maj. Timothy Quincannon
Grant Withers

,

as

U.S. Deputy Marshal
Ken Curtis

,

as

Donnelly - Regimental Singer
Peter Ortiz

,

as

Capt. St. Jacques
Steve Pendleton

,

as

Capt. Prescott
Karolyn Grimes

,

as

Margaret Mary
Patrick Wayne

as

Boy


Reviewed on:
November 7th, 2007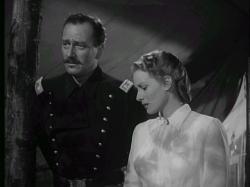 John Wayne and Maureen O'Hara in Rio Grande.
John Wayne and Maureen O'Hara had one of the most unique onscreen chemistry of any acting couple. Rita Hayworth and Glenn Ford had heat. Tracy and Hepburn were always trying to up the other. Wayne and O'Hara nearly always played a couple that have a love/hate relationship, but one always showed the other one respect. It was never about one dominating the other. When one shoved, the other shoved back, and they loved each other for it.
Rio Grande is one of the best examples of their on screen charm. Upon meeting for the first time in years O'Hara says to Wayne, "Ramrod, wreckage and ruin, still the same Kirby York." Wayne, unfazed, responds, "Special privileges to the special born, still the same Kathleen." Wayne plays a cavalry Colonel who finds his estranged son, Jeff, who recently flunked out of West point, under his command as an enlisted man. O'Hara soon shows up to get her underage son out of the service. Neither father nor son want him out. As the Duke puts it, "He must learn that a man's word to anything, even his own destruction, must be honored."
The movie opens with Wayne leading a bunch of soldiers back into a fort. They have just returned from a fight with Apache Indians. The women look on and wonder who was killed or wounded. It is too bad the fight was never shown as it then takes awhile to get to the next action scene. Instead the audience is treated to Wayne and O'Hara dancing about each other as each decides when to let the other know that they still love each other. However, Ford decided, for some reason, to insert several songs, sung by The Sons of The Pioneers. They add some atmosphere but they slow the movie down.
The action picks up the last half of the film and ends in a great sequence. The Apache kidnap the settlers' children. O'Hara has a good moment when she breaks the silence of the stunned mothers by simply saying to Wayne, "Kirby, the children." The kids are locked in a church while the Indians drink alcohol. Three soldiers, including Jeff, sneak into the church. When one of the kids rings the church bell and Wayne gives the order, "Bugler, sound the charge." You know it's a bad day to be a drunken Indian.
Although Ford gave too much time to the songs, there is enough fighting, humor and friction between its legendary stars to make this one a great western.
Reviewed on:
May 1st, 2014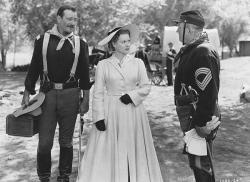 John Wayne, Maureen O'Hara, and Victor McLaglen in Rio Grande.
This is the final movie in John Ford's "Cavalry Trilogy" following Fort Apache (1948) and She Wore a Yellow Ribbon (1949). All three movies star John Wayne. Rio Grande is notable for being the very first teaming of Wayne with his most famous leading lady, Maureen O'Hara. It is the only movie in which they costarred to be filmed in black & white. Other Ford regulars such as Victor McLaglen, Harry Carey Jr., and Ben Johnson also appear, with McLaglen and Johnson having the same character names as they had in She Wore a Yellow Ribbon. John Wayne, meantime, plays a higher ranked variation of the character he played in Fort Apache, he also has the same appellation only spelled with an "e" at the end of it.
What more can you ask of a western than to have John Ford directing John Wayne in Monument Valley? Throw in some decent action scenes against marauding Apaches, and the tumultuous Maureen O'Hara, and you have all the ingredients for a truly classic picture. Yes you can quibble about the songs but they don't really slow things down that much and they certainly add to the atmosphere of the piece.
As Eric wrote, Wayne and O'Hara had a very unique onscreen chemistry. He was the ultimate man's man and she was one hell of a woman. Together they created dynamite. My one complaint here is that at 29 she was a bit young to be the mother of a 16 year old. But then again women did marry much younger in those days. Originally The Quiet Man was to have been their first movie together but Ford was required to make this picture to secure financing for that one, which was considered a financial risk by Republic Pictures.
Like he did with Shirley Temple in Fort Apache, Ford used a former child star who was transitioning into adulthood. Claude Jarman Jr. had become a star at the age of ten with the perennial favorite The Yearling. He was still just 15 when he played Wayne's son in this movie. Another child actress appears in the movie as well. Karolyn Grimes will always be remembered as Zuzu Bailey in It's a Wonderful Life. Here she steals a few scenes as a young pioneer girl who, along with a few other children (one of them being Wayne's son Patrick making his uncredited movie debut), gets kidnapped by Apaches and held captive in a church.
I agree with my brother. Although Rio Grande isn't a perfect movie it is a great western with a terrific cast.
Photos © Copyright Republic Pictures (1950)
Related Reviews