Movie Review
Rio 2
It's on in the Amazon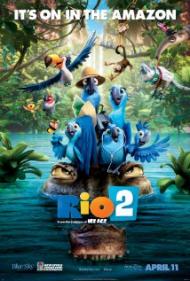 US Release Date: 04-11-2014
Directed by: Carlos Saldanha
Starring
▸
▾
Jesse Eisenberg

,

as

Blu (voice)
Anne Hathaway

,

as

Jewel (voice)
Miguel Ferrer

,

as

Big Boss (voice)
Jamie Foxx

,

as

Nico (voice)
Andy Garcia

,

as

Eduardo (voice)
Jake T. Austin

,

as

Fernando (voice)
Kristin Chenoweth

,

as

Gabi (voice)
Jemaine Clement

,

as

Nigel (voice)
George Lopez

,

as

Rafael (voice)
Leslie Mann

,

as

Linda (voice)
Bruno Mars

,

as

Roberto (voice)
Sergio Mendes

,

as

Street Vendor (voice)
Kate Micucci

,

as

Tiny (voice)
Janelle Monae

,

as

Dr. Monae (voice)
Natalie Morales

,

as

Newscaster (voice)
Rita Moreno

,

as

Aunt Mimi (voice)
Tracy Morgan

,

as

Luiz (voice)
Rodrigo Santoro

as

Tulio (voice)

Reviewed on:
May 1st, 2014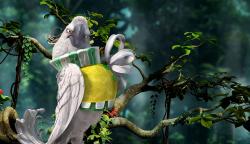 Nigel, voiced by Jemaine Clement, steals every scene in Rio 2
Rio was a mildly amusing film about a city bird, Blu, and a jungle bird, Jewel, having an adventure in colorful Brazil. The opposites attracting each other provided some humor as Blu needed Jewel to show him how to fly. It was a complete story that did not require a sequel. The only possible reason to watch this one is if you were absolutely mad about the first one and hoped for more of the same of what you liked in Rio.
This time around Blu and Jewel have three kids and are living in a bird house next to an actual house that Blu enjoys cooking in while Jewel prefers to teach the kids about nature. "We are not people, we're birds. We have to get out into the wild and be birds, Blu." After their previous human owners discover other birds of their species living in the wilds of the Amazon, they decide to take their children on a trip to find them.
Nigel, the evil bird from the first film, shows up to cause problems, exact revenge on Blu and provide some laughs. Who really scares Blu though, is his father in-law. He is not impressed with Blu's fanny pack and all the gear he brought from the human world. The real threat comes from illegal loggers. The man in charge of the loggers calls Blu and Jewel's human friends, "Tree huggers."
The entire film is bathed in brilliant colors and motion as the birds and animals move about their bright glorious world. The animation is a bit of a pleasant distraction but it does nothing for a film that has such a forced little plot. Conflicts with an in-law are as old as film and Ferngully (1992) was a much better film about the Amazon jungle being destroyed by logging. If you adored Rio you will likely tolerate Rio 2. I tolerated Rio and this sequel but I still categorize Rio 2 as completely unnecessary in every possible way.
Photos © Copyright Twentieth Century Fox (2014)
Related Reviews