Movie Review
Riffraff
When a red-headed woman meets a red-headed man!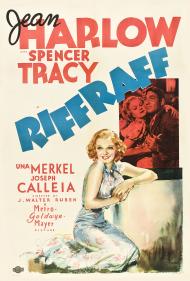 US Release Date: 01-03-1936
Directed by: J. Walter Ruben
Starring
▸
▾
Jean Harlow

,

as

Hattie Muller
Spencer Tracy

,

as

Dutch Muller
Una Merkel

,

as

Lil
Joseph Calleia

,

as

Nick Lewis
Victor Kilian

,

as

'Flytrap'
Mickey Rooney

,

as

Jimmy
J. Farrell MacDonald

,

as

'Brains' McCall
Roger Imhof

,

as

'Pops'
Juanita Quigley

,

as

Rosie
Paul Hurst

,

as

Belcher
William Newell

as

Pete

Reviewed on:
January 31st, 2015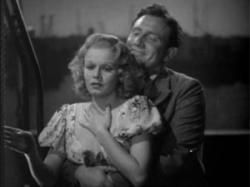 Jean Harlow and Spencer Tracy in Riffraff.
This 1936 melodrama is notable for being the second pairing of Jean Harlow and Spencer Tracy. The two had appeared previously together, before either was a big star, in 1931's Goldie, and would appear again later in Libeled Lady. For fans of classic Hollywood it's always entertaining to see big name stars appear together, and that's about all this movie has to offer. The lighter moments are fun, but the melodrama that takes over the story in the second half is awful.
Tracy was still on his way up in Hollywood and in 1936 it was bigger news that Harlow was appearing without her trademark platinum blonde hair than it was that she was starring with him. Tired of the weekly trips to the beauty salon to maintain her blonde look, Harlow stated, "I've gotten over acting with my hair." With her star at its apex, the studio agreed with her and she was able to return to her reddish brown hair color, which the MGM Publicity department tried to spin as "brownette". The result was a much more natural look and a still healthy Harlow rarely looked more beautiful than she does here in one of her least glamorous parts.
The story takes place mostly on the docks where Harlow works in a tuna cannery and has a crush on Tracy who works on the tuna boats. The film starts lightheartedly with Tracy and Harlow sparring back and forth. Harlow feigns disinterest while Tracy has a swelled head especially after he breaks up a strike and is photographed by the news reels. Harlow responds by hitting him in the head with a fish, which also makes the news. The owner of the tuna factory also has the hots for Harlow, which makes Tracy jealous and he decides to take a stand with the union. This leads to the melodrama with labor strife and through some further complications even has Harlow giving birth in prison before making an escape through a sewage tunnel in the rain.
Harlow played opposite many of the biggest male stars of the 1930s. She flirted with the best of them. While she's fine here, Tracy doesn't feel like a natural fit for her. Gable or Powell, with their roguish charms were much better suited for her style. Both Tracy and Harlow do what they can and while they bicker they make their scenes together work, but this isn't a great romance.
The best parts of the movies are definitely the lighter ones, which are helped by the supporting cast. A young Mickey Rooney plays Harlow's nephew and provides a few laughs as does Una Merkel as Rooney's mother and Harlow's sister. In fact, all of Harlow's family get a laugh or two, from the drunk father to the youngest daughter. Their comic relief is certainly more entertaining than the labor dispute.
Any movie with Harlow in the lead is worth watching at least once, but she was churning out movies so quickly (this was one of 4 in which she starred in 1936) that she was bound to produce a few duds. It's through no fault of her own, but rather a poor script that never finds the right balance between the romantic comedy and the melodrama.
Reviewed on:
February 11th, 2015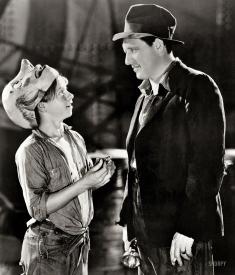 Mickey Rooney and Spencer Tracy in Riffraff.
Yeah, Riffraff works better in the more lighthearted first half. Jean Harlow and Una Merkel were both such gifted comediennes that it seems a shame to waste their combined talents here. The melodramatic script throws in just about everything except the proverbial kitchen sink. There's a labor strike, a scene at a hobo camp, a birth in prison, a prison escape, and even an attempted bombing of the docks. It is all too much by the end, although Tracy and Harlow certainly gave it their best shot.
This was the first movie pairing of Spencer Tracy and Mickey Rooney. They would work together twice more during the next two years in Captains Courageous in 1937 and Boys Town in 1938. You might say Rooney was a bit of a good luck charm for Tracy who became the first man to win back to back Best Actor Oscars for those pictures. Rooney and Tracy would reunite on screen one final time in the all-star comedy epic It's a Mad, Mad, Mad, Mad World in 1963. Here their best scene together takes place on the docks. Rooney shows up wearing a funny mask (see photo) and at first taunts Tracy by calling him Rudolph in a funny voice. Later he comes to Tracy's rescue during the aforementioned attempted bombing of the docks.
Jean Harlow is still attractive here but personally I prefer her with platinum hair, wearing a slinky evening gown, while making dumb blonde small talk. She isn't bad in the dramatic moments but she was such a sparkling jewel that it seems a shame to cover her in these shabby clothes. There were other actresses around Hollywood that could play self-sacrificing mothers/wives but there was only one Blonde Bombshell.
MGM spent a pretty penny (or was it a beautiful dollar?) making Riffraff. They shot it on location at tuna canneries near Venice Pier. The cast included 42 contract players, the most the studio had ever used in one motion picture up to that time. Riffraff cost more than a million bucks to make and, although it was fairly popular, it ultimately failed to recoup its hefty price tag. Seen today it's more of a curiosity than great entertainment. The cast is impressive but the script is a bit of a jumbled mess.

Reviewed on:
May 3rd, 2015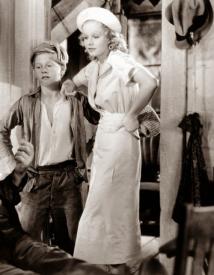 Mickey Rooney and Jean Harlow in Riffraff
As my brothers wrote, the lighter moments work best. Early on, a concerned Una Merkel wonders where Mickey Rooney is in all of the chaos of the impending strike. She eventually sees him sitting precariously over the edge of the top of a building. Relieved, she says to Harlow, "There he is. Thank goodness he's safe."
Nick, the owner of the tuna packing company, has a very strong accent. He says of Tracy, "He catches my goat, that Dutch Mueller. He smart guy. He settle my strike. Maybe someday I settle for his hash." I have no idea what that means or even if I heard it right. The dialogue contains slang for the time. Harlow describes hitting Tracy with a fish as, "I sure did hit him in the mush with that mackerel." When Tracy challenges Nick, who just recently gave Harlow a fox boa, Harlow tells the owner, "Why waste time with this riffraff."
Although Tracy has a girl and Nick is interested in Harlow, we know Tracy and Harlow will get together. They have a scene on a boat, see photo in Scott's review, where Tracy proposes marriage. Harlow is not so easily sold on his sincerity, but Tracy assures her with my favorite line in the entire film, "Don't be screwy. I wanna marry you cause your spit lucky." It must have been a compliment as they marry shortly thereafter.
My brothers did not think Harlow and Tracy were at their best, while I disagree. They both do great work. Harlow's hair color did not bother me in the least and Tracy was suited to playing politically charged characters. Look at all of those movies he made with Katharine Hepburn where politics are integral to the plot.
The supporting cast is likewise good. Una Merkel's voice could improve any comical line. I laughed when Mickey Rooney would shout something out of nowhere, such as when he laughs out loud at the wedding. Joseph Calleia is also good with his almost undecipherable accent.
The plot works until the last third of the film when the strike turns bad and the movie focuses more on making a social commentary than being entertaining. When this film was written, union strikes and labor unions were topical news stories. In 1933, the Roosevelt administration and Congress enacted The National Industrial Recovery Act, which provided for collective bargaining. In 1935 came the National Labor Relations Act which required businesses to bargain in good faith with any union supported by the majority of their employees.
The labor issues and subsequent problems in Riffraff were very topical for the time but today they only work as some insight into what many in the 1930s were dealing with. Here is a film that could be shown in a U.S. history class and with Harlow and Tracy acting as instructors you are sure to pay attention.
Photos © Copyright MGM (1936)