Movie Review
Ride Along 2
The brothers-in-law are back.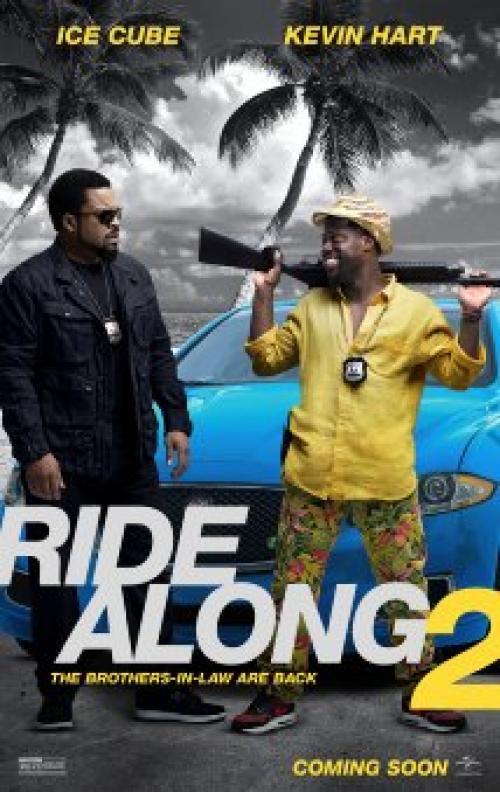 US Release Date: 01-15-2016
Directed by: Tim Story
Starring
▸
▾
Ice Cube

,

as

James Payton
Kevin Hart

,

as

Ben Barber
Tika Sumpter

,

as

Angela Payton
Benjamin Bratt

,

as

Antonio Pope
Olivia Munn

,

as

Maya
Ken Jeong

,

as

A.J.
Bruce McGill

,

as

Lt. Brooks
Michael Rose

,

as

Gates
Sherri Shepherd

,

as

Cori
Tyrese Gibson

,

as

Mayfield
Glen Powell

,

as

Troy
Nadine Velazquez

as

Tasha

Reviewed on:
January 21st, 2016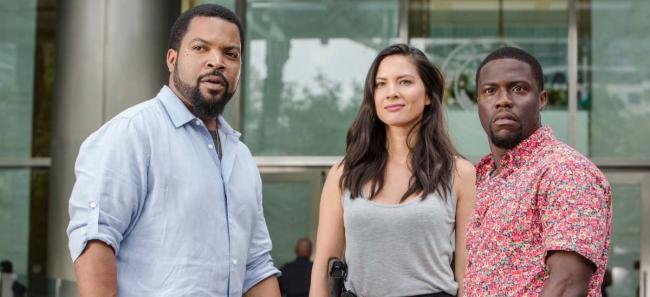 Ice Cube, Olivia Munn and Kevin Hart in Ride Along 2
Ride Along 2 accomplishes a rare Hollywood feat in that it is actually better than the first film. The heart and joy of these movie comes from the time spent with Ice Cube's and Kevin Hart's characters reacting to each other. In the first film, James' treatment of Ben sometimes seemed malicious and out right cruel. Here, their reasons for being together are less forced and there is clearly an underlying degree of growing affection for each other, even if James is hard pressed to express it. Their chemistry is what makes this movie work.
The story starts one week before Ben and Angela's wedding day. Ben has recently graduated from the police academy and is now working at the same Atlanta precinct as James. After accidentally getting James' partner shot, Ben teams up with James for an assignment that takes them to Miami. Actually, Angela begs James to take him along as he keeps getting into arguments with their wedding planner.
In Miami they hunt down a computer hacker who ends up connecting the bad guy from Atlanta to an even bigger one in Miami (Benjamin Bratt). They begin working with Maya (Olivia Munn), a Miami police detective who does not take to Ben and easily over powers him when she needs to. Ben recognizes something familiar in her and almost immediately starts to joke to James that she should be his "plus one" at his and Angela's wedding.
The pace is perfect, as is the running time. There are plenty of action scenes and explosions. The energetic Hart provides slapstick humor, such as when he gets knocked out by a ceiling fan or chases Ken Jeong through a neighborhood. The real treat though, is whenever Ice Cube reacts to something Hart does that bothers him. When picking up Ben, James has to endure a conversation between Angela and Ben about where Ben's thongs are, and which panty drawer is his.
For the first Ride Along film, I wrote that almost any actor could have played James, but here Ice Cube's character starts to get a smidgen of depth. We continue to see his love for his sister and also that he has no one special in his life. He is a quiet loner while Ben is an outgoing people person. They are just what the other needs. Either on their own would be dull or annoying but together they make a perfectly entertaining couple. Ben still works to impress James and James still tries to keep his personal feelings in check. One of the better developments in this installment is that James reveals some personal growth. He starts to acknowledge Ben's contributions and we see a bit of an attraction between him and Maya. Ice Cube's cold exterior now has me thinking he is the perfect foil for the manic Kevin Hart.
After watching the first film, I cared not if they made a sequel. Now I would eagerly come along for a third installment. As long as they keep slowly, and carefully, developing these characters, this series could ride on for quite awhile.
Photos © Copyright Universal Pictures (2016)
Related Review