Movie Review
The Reunion
Last Chance. Long Odds.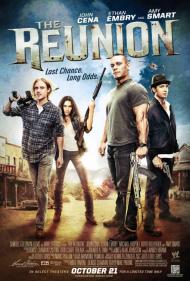 US Release Date: 10-21-2011
Directed by: Michael Pavone
Starring
▸
▾
John Cena

,

as

Sam Cleary
Ethan Embry

,

as

Leo Cleary
Boyd Holbrook

,

as

Douglas Cleary
Amy Smart

,

as

Nina Cleary
Lela Loren

,

as

Theresa Trujillo
Michael Rispoli

,

as

Canton
Jack Conley

,

as

Nealon
Dylan Kenin

as

Bertram

Reviewed on:
January 6th, 2012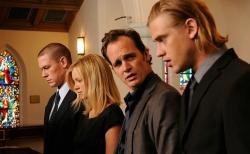 John Cena, Amy Smart, Ethan Embry and Boyd Holbrook in The Reunion
WWE studios has been struggling to get their films into wide release. Their films are not all that great but are often better than some films that have been given a national release. They have made several films lately featuring a wrestler but none have caught on. They are hoping that lightning will strike twice and John Cena will become the next Dwayne "The Rock" Johnson. Although WWE has a stable of muscle bound wrestlers with potential action star quality, most of the eggs seem to be in Cena's basket.
In the limited released The Reunion, Cena plays Sam, a policeman recently suspended. He attends the funeral of his estranged father where he runs into his half-sister Nina and two brothers, Leo who is a bail bondsman and Douglas who recently got out of jail for stealing. Sam and Leo hate each other, and neither even knows Douglas. The distant siblings have the same drunk womanizing father but different mothers.
Nina was closest to their father and informs them that their father died a rich man. They learn that they will inherit millions if the three brothers go into business together for three years. Arguing as they go, the three grudgingly agree to the arrangement.
They decide to be bail bondsmen and their first job takes them to Mexico to bring back a parole violator. The movie turns into a modern western. The brothers run into a hot Indian girl who helps them out. They ask her if she can track someone. Her response is appropriately sarcastic. They even end up on horseback and wear cowboy hats. Their search gets them mixed up with a drug lord and they uncover the kidnapping of a rich American businessman. Things get dangerous, forcing the brothers to learn to work together.
The story is not all that exciting or original. Why is it whenever a hero in a movie meets a woman that can help she is always hot as hell? Lela Loren is so hot she could start a camp fire just by squatting over it. Just once would it not be funny for an action hero to need the help of a fat, freckled faced, four eyed, foul looking girl. Just once for variety.
The best this action/comedy has to offer is the banter and bickering between the brothers. They yell and joke constantly. My favorite line is said by the manic Ethan Embry. The brothers walk into a room full of guns and Ethan says, "This must be what Charlton Heston's first wet dream looked like." The bloopers during the end credits are worth watching as well.
The Reunion was written and directed by Michael Pavone, who also wrote and directed the WWE drama That's What I'am. This shows he has range but not polish. Neither film is able to draw the audience in close enough to emotionally invest in the goings on. There is a great movie in this guy, we have just not seen it yet. Lets hope he finds it before WWE Studios goes belly up.
Photos © Copyright WWE Studios (2011)
Related Review