Movie Review
Return to Neverland
He's back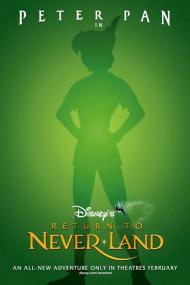 US Release Date: 02-15-2002
Directed by: Robin Budd, Donovan Cook
Starring
▸
▾
Blayne Weaver

,

as

Peter Pan
Harriet Owen

,

as

Jane & Young Wendy
Corey Burton

,

as

Captain Hook
Jeff Bennett

,

as

Smee & Pirates
Kath Soucie

,

as

Wendy
Andrew McDonough

,

as

Danny
Roger Rees

,

as

Edward
Spencer Breslin

as

Cubby

Reviewed on:
February 17th, 2002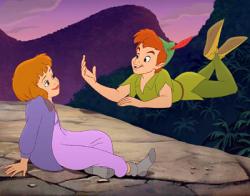 Return to Neverland
Jane is a serious little girl. Her world is at war. Her father goes off to fight in the army. He leaves her with instructions to help out her mom and take care of her brother. Jane takes his last words to her very seriously. So seriously in fact that she has no time for childhood. She gets angry when her mother tells her brother stories about lost boys and fighting pirates. Her mother is just trying to distract them, but Jane would rather listen to war news. How can her mother expect her to listen to such nonsense when their city is being bombed?
Well, before you know it Jane is kidnapped by Captain Hook, who believes her to be Wendy, and whisked off to Neverland to be used as bait to capture Peter Pan. She is, of course, rescued by the flying hero. Peter assumes she will stay awhile and play with him and the lost boys. Jane, however, has lost her sense of fun and just wants to get back to her family. She makes a deal with Hook to help capture Peter if he will take her home. Yeah, the rest of the movie is fairly predictable but what did you expect, The Crying Game?
The movie has a nice message about kids just needing to be kids. The spirit of the original Peter Pan is equally duplicated. Hook and Pan pretty much are up to the same cat and mouse routine. Peter's ever playful smile and childish carefree attitude are the heart and soul of this movie. He is forever at that wonderful age in every boys life where the imagination is still there but the discovery and confusion of girls is still a year away. Everyday can be an adventure.
The one flaw the film has is that there are a couple of very slow scenes; Jane lonely by a campfire because she doesn't want to play with Peter, Jane crying over a dying Tinkerbell because Jane said she didn't believe in fairies. Both scenes are punctuated by slow soundtrack songs.
It was as if some one said, "this movie is only 80 minutes, drag this scene out a bit so we can push the soundtrack." During both scenes children throughout the theatre stirred and complained. However, a great action climax involving a giant squid chasing Captain Hook had all the kids cheering and laughing.
The film ends on a nice sentimental note. A brief reunion between Peter and Jane's mom, who is of course Wendy, was also nice to see.
Peter Pan and Tinkerbell fly off at the end to the second star on the right. Tinkerbell, the symbol of Disney magic and Peter Pan, the symbol of infinite childhood, they are truly a great pair.
Photos © Copyright Walt Disney (2002)