Movie Review
Resident Evil: Retribution
Evil goes global.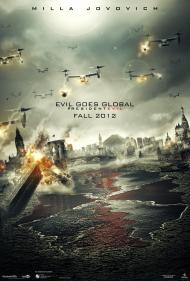 US Release Date: 09-14-2012
Directed by: Paul W.S. Anderson
Starring
▸
▾
Milla Jovovich

,

as

Alice
Sienna Guillory

,

as

Jill Valentine
Michelle Rodriguez

,

as

Rain
Aryana Engineer

,

as

Becky
Bingbing Li

,

as

Ada Wong
Boris Kodjoe

,

as

Luther West
Johann Urb

,

as

Leon S. Kennedy
Robin Kasyanov

,

as

Sergei
Kevin Durand

,

as

Barry Burton
Ofilio Portillo

,

as

Tony
Oded Fehr

,

as

Todd / Carlos
Colin Salmon

,

as

One
Shawn Roberts

,

as

Albert Wesker
Megan Charpentier

,

as

The Red Queen
Ave Merson-O'Brian

as

The Red Queen (voice)
Reviewed on:
September 16th, 2012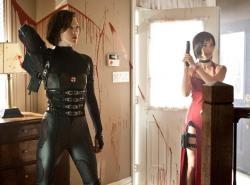 Milla Jovovich and Bingbing Li in Resident Evil: Retribution .
Is this really only the fifth Resident Evil movie? It really feels more like the 10th. In my review for the previous entry in the series, I compared it to a television series with long gaps between episodes, but what it reminded me of this time is one of those old movie serials from the first half of the last century. Like those serials of old, the Resident Evil movies are a continuing b-movie series that all end with a cliffhanger. Although the production values are much higher, there's also roughly the same amount of characterization and depth of plot in these movies as there was in those old serials and the thrills are cheap, but entertaining.
"My name is Alice," are the words that start every Resident Evil movie as spoken by Milla Jovovich's character, Alice. This leads into the ever lengthening, "previously on Resident Evil" speech that her character gives to bring everyone up to speed on what's going on in the story. This isn't just helpful to new members of the audience, but I know I always rely on it as well, because even though I always sort of, kind of enjoy these movies, I always forget the details of the previous films.
Not that the plots really matter or are ever really that complicated. They all boil down to basically the same thing. Milla Jovovich plays Alice, a woman who can kick some serious ass. She lives in a post-apocalyptic world where a virus released by the all-powerful Umbrella corporation has turned almost everyone into zombies. Umbrella wants Alice dead and Alice wants them to leave her alone. That's pretty much all you need to know. The details are just excuses to set up the fight scenes anyway.
And it's these fight scenes that are the reason to watch. They're pure eye candy, with Milla being the sweetest piece. She's 5'9", weighs next to nothing, has no visible muscle tone and yet she still manages to kick ass believably. Watching her run around in a cat suit, firing weapons, doing impossible flips and kicks without ever messing up her hair or makeup and with even her bruises and cuts looking sexy, is definitely the best part of the movie.
The series is loosely based on the Resident Evil video game series, although the plot has widely diverged from the games. Writer/Director Paul W.S. Anderson throws in some references to them by including some characters from the series, most notably, Ada Wong and Leon S. Kennedy. Ada Wong is famous from the games for her slit up the leg red dress, which she wears here, despite the impracticability of it. Leon has been the main character of the most recent RE games, but little is done with with his character here.
Along with the characters from the games, the story also includes characters from earlier films in the series, including Michelle Rodriguez who gets to play two parts. However, Ali Larter, who had a big part in the previous two films, does not return for this one. To make up for the loss of a hot blonde, the story brings back Sienna Guillory as Jill Valentine, another character from the games.
As usual, the story ends on a cliffhanger, and with it opening as the number one movie of the weekend, a sixth installment seems inevitable. I assume it will be more of the same as this one and every other entry in the series. That is, a mildly entertaining piece of eye-candy.
Photos © Copyright Screen Gems (2012)
Related Reviews