Movie Review
Rescue Dawn
A true story of survival... declassified.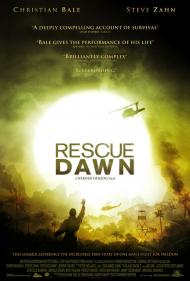 US Release Date: 07-04-2007
Directed by: Werner Herzog
Starring
▸
▾
Christian Bale

,

as

Dieter Dengler
Steve Zahn

,

as

Duane
Jeremy Davies

,

as

Gene
Marshall Bell

,

as

Admiral
Francois Chau

,

as

Province Governor
Craig Gellis

as

Corporal

Reviewed on:
December 2nd, 2007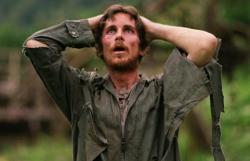 Christian Bale in Rescue Dawn.
For whatever reason I have always been fascinated by World War II and the movies made about it. The Vietnam War however, holds little interest to me, and thus I have equal amount of interest in movies about it. Because Rescue Dawn stars one of my favorite current actors, Christian Bale, I was a bit anxious to see it though.
Based on a true story, Bale plays a fighter pilot, Dengler, who gets shot down behind enemy lines and eventually captured and imprisoned. Dengler soon initiates and masterminds a breakout. This upsets some of the veteran prisoners, while it inspires others.
The movie plays in episodes. In starts with Dengler and his fellow fighter buddies yucking it up and preparing for a raid. Then it becomes a chase as Dengler runs through the jungle trying to avoid the enemy. The next episode is Dengler in camp and the last is him escaping. It ends with him again yucking it up with his same buddies.
The movie is full of tension and plenty of action. The movie works on every level except for one. Please note that the following divulges key plot points. Dengler is the only survivor of the escape and thus this "true" story is based entirely on his recollection. All of this could very easily be true, but Dengler is written as a flawless character. I am suspect of any "true" story that makes the one and only eye witness this much of a hero. Dengler is shown bravely refusing to sign a form that would denounce the United States. Dengler is shown as being the only one with brains in planning and executing the escape. Other than getting his plane shot down, Dengler never missteps, every other prisoner is shown as helpless children that were just lying in wait for Dengler to come along. Again, this account may be 100% true, but the character of Dengler would have rang a little more true if Rescue Dawn had revealed at least one flaw.
Photos © Copyright MGM (2007)