Movie Review
Red River
Greatest Spectacle Ever!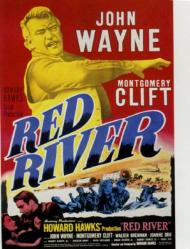 US Release Date: 09-17-1948
Directed by: Howard Hawks
Starring
▸
▾
John Wayne

,

as

Thomas Dunson
Montgomery Clift

,

as

Matt Garth
Joanne Dru

,

as

Tess Millay
Walter Brennan

,

as

Nadine Groot
Coleen Gray

,

as

Fen
Harry Carey

,

as

Mr. Melville
John Ireland

,

as

Cherry Valance
Noah Beery Jr.

,

as

Buster McGee
Harry Carey Jr.

,

as

Dan Latimer
Mickey Kuhn

,

as

Matt - as a Boy
Chief Yowlachie

,

as

Quo
Paul Fix

,

as

Teeler Yacey
Hank Worden

as

Simms Reeves


Reviewed on:
June 21st, 2012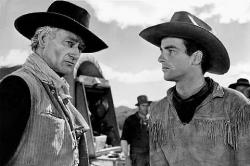 John Wayne and Montgomery Clift in Red River
AFI has Red River at number 5 on their list of top 100 best westerns. It is based on Borden Chase's Saturday Evening Post story "The Chisholm Trail" which he helped adapt to a screenplay. It is not always as fast paced as I would like, but it does feature John Wayne in a unique role.
The film starts with Wayne leaving a wagon train to go off with an old friend and claim his land and start a ranch. No sooner does he go his own way, when Indians attack the wagon train and kill everyone but a boy, Matt, and his cow. He joins with Wayne and the old coot who raise him as a son. The three run the ranch together.
Some 14 years later, Matt is all grown up and the ranch is full of steers. The gist of the plot being a huge cattle drive through dangerous territory. This includes crossing the red river, dealing with a stampede and some angry Indians. Most importantly is the relationship between Wayne and Clift. It has been described as akin to Fletcher Christian and Captain Bligh. Wayne shows in a dramatic scene that he could actually act.
What makes this role unique for Wayne is that his character is not the most honorable. He is not above taking a few of his neighbor's cows who happen into his herd. As the movie opens he is saying goodbye to a girl he clearly has had sex with. The clue is when he says to her, "Last night I made a decision." Most important is that he likes being in charge and does not take shit from others, even when he is wrong.
This was Clift's first film role, but not his first release. It sat on a shelf for a couple of years for legal reasons. Clift was a homosexual and John Ireland was reportedly well endowed. They share one scene that is the gayest to be found this side of Brokeback Mt. Ireland rides up. He and Clift smile at each other while they look each other in the eye. Then they play a game of you show me yours and I will show you mine. They hold each other's guns in their hands waist high, handling them with gentle care and admiration.
Another interesting cast member is Mickey Kuhn. This kid worked on several classic films. He was quoted years later as saying, "I remember John Wayne telling me, 'Never apologize, never say you're sorry, but never forget to say thank you.'"
As with these old black and white westerns, it drags a bit in places but has much to offer. The scene where Clift mutinies Wayne's authority is a dramatic highlight. The best action scene is when Clift helps to defend a wagon train from an Indian attack and a girl gets an arrow in her shoulder. The best scene is the film's most famous, when Wayne catches up to Clift and beats the snot out of him at the end.
Reviewed on:
April 4th, 2013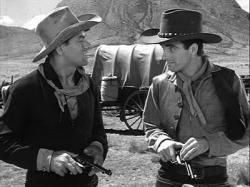 John Ireland and Montgomery Clift compare revolvers in Red River.
Thomas Dunson is, along with Ethan Edwards from The Searchers, one of John Wayne's least sympathetic characters. He is not only a selfish, domineering, son of a bitch, he is also a thief and a murderer. At the beginning of the movie he bids a temporary farewell to his girlfriend, who he plans on sending for once he's settled (he isn't merely running out on her as my brother made it sound). He gives her his mother's bracelet, which plays an important role throughout the movie. However, he shows his true colors when he squats on land already legally owned by a rich Mexican. He shoots a man in cold blood for this land and kills another half dozen defending it over the years.
Dunson's meeting with the young Matt Garth and the ensuing 14 years are summed up in a written passage across the screen (the original version with Walter Brennan narrating the story is no longer available) that says, "And that was the meeting of a boy with a cow and a man with a bull and the beginning of a great herd." Due to financial hardships caused by the Civil War, Dunson is broke when the story proper begins, hence the idea of a great cattle drive.
Red River is famous for two scenes in particular. Eric mentioned both of them. The first is the meeting between John Ireland's Cherry Valance (a name that was recycled for a female character in The Outsiders) and Montgomery Clift's Matt Garth. It is filled with gay sexual innuendo. The two men examine each others' guns with admiration (see photo), but it is the dialogue that really sends it over the top. Here's what Cherry says to Matt by way of introduction, "That's a good-looking gun you were about to use back there. Can I see it? And you'd like to see mine. Nice, awful nice. You know there are only two things more beautiful than a good gun. A Swiss watch or a woman from anywhere. You ever have a good Swiss watch?" They then proceed to have a shooting contest.
The other iconic scene is the climactic fist-fight between Wayne and Clift. And although Dunson gets the better of Garth at the beginning of the fight, Garth does eventually fight back and land a few good punches as well. It is believable that the skinny Clift can trade punches with the much larger Wayne only because Dunson is shot in the side (by Cherry coming to Garth's defense) before the fight begins. Unfortunately this leads to the horrible ending where, completely out of character, Dunson sees the error of his ways and abruptly makes nice with his adopted son, the man he has sworn to kill. It is an unrealistic happy Hollywood ending. In the original story Cherry shoots Dunson dead and Matt takes his body back to his ranch to be buried. That ending makes more sense.
Monty Clift was a great actor. He brings a sensitivity to the role of Matt Garth that was rare for a western. Wayne gives one of his best performances as well. He wasn't afraid to play unlikable characters. Walter Brennan plays his usual cantankerous old codger with a heart of gold. This movie has the distinction of being the only time Harry Carey and his son Harry Carey Jr. appeared together. This was Harry Carey's last movie before his death and his son replaced him as a regular in John Wayne's pictures from then on.
This was John Wayne's first collaboration with Howard Hawks. They would make a total of 5 movies together. In fact Hawks' last movie was 1970's Rio Lobo, starring John Wayne. Hawks could direct any genre of film. He was as adept at screwball comedies as he was action movies. Red River suffers from some obvious shots of the stars on fake horses in front of rear projection in some of the action scenes and the cattle drive looks suspiciously like it takes place in the same valley, only shot from different angles. But there is no denying that Hawks got great performances from his two male leads.
Red River was a huge hit. It was the third highest grossing movie of 1948. Only Road to Rio and Easter Parade earned more at the domestic box office. It remains a classic western and one of John Wayne's best movies.
Reviewed on:
March 12th, 2014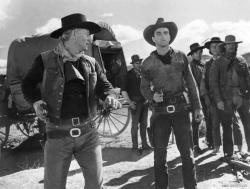 John Wayne and Montgomery Clift in Red River.
Patrick already described the ending so I'll be discussing it here as well. Rarely have I ever been so disappointed by the resolution to a movie. It's the worst kind of happy ending to come out of a town famous for bad happy endings. Patrick mentioned how it was changed from the original story, which isn't necessarily a horrible thing, but if they wanted to change the ending then they should have changed more of what came before it. For 9/10ths of the movie it builds to a dark and violent ending of the kind that you normally never see in a John Wayne movie when suddenly, at the very last minute, it does a 180 degree turn right back into happily ever after land.
This is definitely one of the Duke's finest performances. According to Hollywood legend, frequent Wayne collaborator John Ford remarked after seeing the film that, "I never knew the big son of a bitch could act". Wayne himself listed it as one of his favorite films and even had a belt buckle made in the shape of the Red River brand, which he often wore in later movies. As Eric wrote, he walks the line between villain and hero for most of the story and you realize just how effective a bad guy John Wayne could play. We're used to seeing him dominate the screen as the unstoppable hero, but when he's trailing the cattle drive looking for revenge, it's easy to see why everyone is worried and scared. He's like the cowboy equivalent of the Terminator.
Clift was famous for employing method acting while Wayne basically played the same character in every film. On paper this combination seems like a surefire recipe for disaster, but their scenes together are the best in the film. Perhaps working with Clift helped raise Wayne's acting game. There's certainly a dynamic spark between the two of the them. Reportedly, Clift too was disappointed with the ending, calling it "ludicrous. He also called his own performance mediocre, but realized it was a star-making role. 10 years after this film was released, Clift would turn down the part of Dude in the Howard Hawks' directed Rio Bravo, which would have reunited him with Wayne and Brennan.
Like Eric, I found the pacing a touch slow in places and at 2 and a quarter hours there's definitely room for trimming. There's a few too many scenes of the cattle drive for my taste and while the vistas are beautiful and the cinematography quite well done, they don't do much to aid the plot.
Despite these few minor issues, and the disappointing ending, it's easy to see why this movie was ranked so high by the AFI. Thanks to Wayne and Clift, this is a must-see for any film buff.
Photos © Copyright United Artists (1948)
Related Reviews