Movie Review
Red Riding Hood
Believe the legend. Beware the wolf.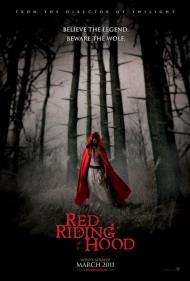 US Release Date: 03-11-2011
Directed by: Catherine Hardwicke
Starring
▸
▾
Amanda Seyfried

,

as

Valerie
Gary Oldman

,

as

Solomon
Billy Burke

,

as

Cesaire
Shiloh Fernandez

,

as

Peter
Max Irons

,

as

Henry
Virginia Madsen

,

as

Suzette
Lukas Haas

,

as

Father Auguste
Julie Christie

,

as

Grandmother
Shauna Kain

,

as

Roxanne
Michael Hogan

,

as

The Reeve
Adrian Holmes

as

Captain

Reviewed on:
March 15th, 2012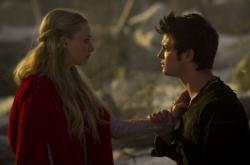 Amanda Seyfried and Shiloh Fernandez in Red Riding Hood
This variation on the classic Little Red Riding Hood story was clearly made with Twilight fans in mind. It features a beautiful young woman, two love sick handsome suitors and a werewolf. Director Catherine Hardwicke even helmed the first Twilight film. If that were not enough, Billy Burke plays the lead actresses father in both films.
Valerie and Peter grew up as playmates in a northern European looking hamlet. Now of marrying age, her mother is pushing her to marry a different young man, Henry. Peter is a lumberjack while Henry is a metal smith, and apparently Henry would be a social step up for Valerie. It is never in doubt though, that Peter is Valerie's true love.
When not distracted by the matters of the heart, the village must contend with a werewolf, who has been stalking and killing villagers for years. After a particular death at the fangs of the werewolf, some of the men decide to finally hunt and kill it. One villager happens to know of a man, Solomon, who specializes in killing werewolves and sends for him.
Apparently werewolves can be a lucrative business. After the villager's hunt proves both deadly and pointless, Solomon rides into town in an armored carriage with guards. He immediately starts barking orders and instructions. The most interesting thing he has to offer is that the werewolf is likely one of the citizens of the village.
The rest of the film plays out as a mystery of who could be the werewolf. Absolutely everyone, excluding Valerie, could be the lycanthrope. Another romantic tangle is revealed, but it all plays out pretty much by the numbers.
Someone thought it would be clever to throw in a few references to other childhood fables about wolves. Valerie's boyfriend Peter, is clearly a reference to "Peter and the Wolf." During a village party, three people dress with pig snouts on their faces while someone says , "I'll huff and puff and blow your house in." Valerie even exchanges the famous lines with her grandmother, "Why grandmother, what big eyes you have." "The better to see you with my dear." "Why grandmother, what big ears you have." "The better to hear you with my dear." ...etc.
Amanda Seyfried is as adorable as they come, but clearly does not come from a village in the middle of a dark forest with harsh climate. She looks far more the pampered princess than a country girl. Shiloh Fernandez as Peter, attempts to brood as he sees Valerie being pushed to marry Henry, but all that is truly required of him is to look the teen idol, and speak his lines. Max Irons, the son of Jeremy, has a little more to do as he loves a woman he knows does not reciprocate his feelings. The script however, is not written well enough for this love triangle to ever become truly interesting.
As Red Riding Hood was not a hit, it clearly did not catch onto the audience it was hoping to. The acting here is as good as what you will find in Twilight and the plot is almost as bad. I guess the love starved female fans of Twilight can better relate to a modern girl doing absolutely nothing to get two men to fall in love with her, than a girl from an old children's story doing the same.
Photos © Copyright Warner Bros. Pictures (2011)