Movie Review
Red Hill
Revenge just rode into town.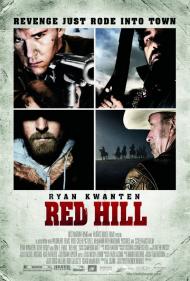 US Release Date: 11-05-2010
Directed by: Patrick Hughes
Starring
▸
▾
Ryan Kwanten

,

as

Shane Cooper
Steve Bisley

,

as

Old Bill
Tommy Lewis

,

as

Jimmy Conway
Claire van der Boom

,

as

Alice Cooper
Christopher Davis

,

as

Slim
Kevin Harrington

,

as

Jim Barlow
Richard Sutherland

,

as

Manning
Ken Radley

as

Earl

Reviewed on:
November 17th, 2011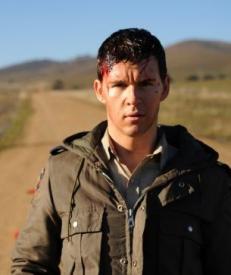 Ryan Kwanten in Red Hill
Known in The United States as Anna Paquin's horny brother on HBO's True Blood, Ryan Kwanten was first famous in his native Australia starring on the television show Home and Away. When not playing southern red neck Jason Stackhouse, Kwanten keeps busy working back home in Australia.
In Red Hill, Kwanten plays Shane Cooper, a policeman on his first day at a new assignment. He and his very pregnant wife have just moved to the very small, country town of Red Hill, for a couple of reasons. First, is so as to allow his wife a peaceful pregnancy and delivery. The other is to get past a mistake he made on the job that nearly cost him his life. They moved one day to early.
Shane is very considerate of his wife leaving her the car and walking to work. At the station, everyone seems aloof as they size him up. As he is trying to figure out how to fit in, a television news report comes on of an escaped prisoner. Suddenly all the other constables and several townsmen get nervous and grab their guns. Shane learns that the escapee was from Red Hill and the police believe he is heading back to exact revenge on the men who put him behind bars.
Each officer is assigned to watch a particular rural road into town in anticipation of the escapee's arrival. It is Shane's road that he takes and he ends up leaving Shane for dead. What follows is a blood bath, as he arrives back in town and goes on a killing spree. Shane however, is only wounded and finds his way back into town where the place has turned into an old western shootout. He runs back into the escapee and starts to suspect that there is more going on than originally assumed. "We got a convicted murderer out there killing every man in this town and you're suggesting we don't call it in?" He says to Old Bill, the police chief, who responds, "Yes."
Ryan Kwanten was thirty four when he filmed this but he easily looks ten years younger. His youthful looks play well with his character trying to maneuver around a bunch of middle aged country ranchers who share a secret. My favorite scene of his and the entire movie is when he comes home in the middle of all the action and killing to get his gun and car. So as to not upset his wife, who looks like she is ready to pop any minute, he pretends nothing is wrong, even though he was left for dead, seen men killed, been chased and shot at and is clearly bleeding.
With men riding horses and everyone carrying and using guns, Red Hill is very much a modern western. With the entire film taking place in twenty four hours, the pace never lags. With the exception of Kwanten, the cast is unknown in The United States. If not for all the blood, Red Hill could easily pass for a Spike TV original film. Directed, written and produced by Patrick Hughes, Red Hill delivers an action packed hour and a half of pure "guy" entertainment.
Photos © Copyright Hughes House Film (2010)