Movie Review
Red Dawn
Welcome to the home of the brave.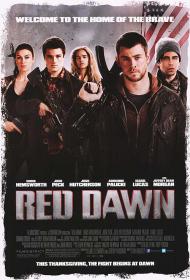 US Release Date: 11-21-2012
Directed by: Dan Bradley
Starring
▸
▾
Chris Hemsworth

,

as

Jed Eckert
Josh Peck

,

as

Matt Eckert
Josh Hutcherson

,

as

Robert Kitner
Adrianne Palicki

,

as

Toni Walsh
Isabel Lucas

,

as

Erica Martin
Connor Cruise

,

as

Daryl Jenkins
Edwin Hodge

,

as

Danny
Brett Cullen

,

as

Tom Eckert
Alyssa Diaz

,

as

Julie
Julian Alcaraz

,

as

Greg
Will Yun Lee

,

as

Captain Cho
Jeffrey Dean Morgan

,

as

Tanner
Michael Beach

as

Mayor Jenkins


Reviewed on:
December 6th, 2012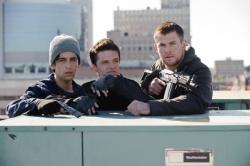 Josh Peck, Josh Hutcherson and Chris Hemsworth in Red Dawn
Red Dawn wrapped filming in 2009 and was originally slated to be released in 2010, but MGM's bankruptcy problems put it on hold. With every dollar making a difference, the studio put the film back into post production to digitally change the invading army's flags and insignias from Chinese to North Korean. The actors all look alike so that was all it took, right? The switch cost MGM one million dollars in computer work and some dialogue changes. It was supposedly done to help in distribution and appeal of this film in China, a growing market for Hollywood films. At a budget of 70 million, MGM better hope this remake plays very well in China as it has tanked in the United States.
First time director Dan Bradley keeps Red Dawn fairly close, plot wise, to the original. Two brothers and some teenage friends head to the hills after an invading army takes over their medium sized town. Josh Peck has the movie's best line when he finds out who has attacked them. "North Korea? That doesn't make sense!" Although a mention is made that North Korea is getting some assistance from Russia, North Korea does not have the man power to invade North America, let alone post regiments of soldiers in every town. But as Peck said, none of this makes sense.
The group of kids become guerilla fighters, calling themselves "Wolverines" after their high school mascot. They sneak, with all ease, into town, blow something up and then escape back to their scenic hideout. Tension is introduced in the form of loved ones being killed and eventually some of the boys start getting killed off as well.
This remake has plenty of action and if you can bring yourself to block out all of the political inaccuracies you may enjoy this film on the pacing and constant action scenes alone. Take even a moment of any of this seriously and it all falls apart. At one point the kids are sitting around a cave talking about what they each miss. One guy says, "Call of Duty, Modern Warfare." Another guy says to him. "Dude, we're living Call of Duty. And it sucks." hmmmm.
The original Red Dawn came out during the Cold War. It was not exactly a great film either but it made sense for the times, feeding on the fear of a Nuclear war with Russia. This remake starts with clips of President Obama, Joe Biden and Hilary Clinton. It is trying to be topical but all of that is pointless when we discover it is the North Koreans. According to "The International Institute for Strategic Studies: The North Korean air force possess some 605 combat aircraft." As of 2009 the USAF had over 2,000 fighter aircraft in service. This does not even include navy jets. The film makers should have left as much politics and references to real people out as they could. The more they mention real events the more they remind the audience what BS this all is.
The only thing this film proves is that Hollywood has zero artistic integrity. It changed a huge part of this film for business or political reasons. Some on the right have suggested that it was done because liberal Hollywood did not want to offend the Chinese, whom Obama has made our country indebted to. Another possibility could have to do with Chinese billionaire Wang Jianlin, who recently took over AMC Entertainment, North America's second-largest movie theater chain. Or maybe a film directed by a stuntman, had a million dollars added to its budget from a bankrupt studio because they thought it would be such a huge hit? Whatever the reason, the only way this film could have made any sense is if it had taken place in South Korea.
Reviewed on:
January 25th, 2014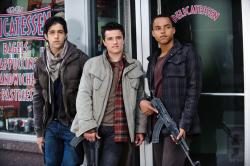 Josh Peck, Josh Hutcherson, and Connor Cruise take on the North Korean Army in Red Dawn.
Red Dawn was cheesy and unbelievable the first time around in 1984, but as Eric wrote, at least it made sense for the times. Anyone who remembers the 80s knows there was a sense of paranoia about the Cold War and the possibility of a nuclear attack. A manned invasion of a small American town never seemed like a major threat but at the time it didn't seem too farfetched. A modern day invasion by North Korea, however, is so far beyond the realm of plausibility that it makes this movie seem like science fiction.
And the ludicrous setup is just the first of this movie's many problems. Let's start with the acting. Chris Hemsworth is decent even though he spends the movie gruffly barking out orders like some tough sergeant in an old WWII picture. Josh Peck (who is supposed to be Hemsworth's brother despite the lack of any physical resemblance) is awful. He overdoes the serious moments with a fake anger, and underplays the rest of his scenes. He is matched in the horrible acting department by Adrianne Palacki. She couldn't act her way out of the proverbial paper bag. Connor Cruise, however, isn't so bad. It seems his father may have taught him a thing or two.
The plot has more holes than Swiss cheese. These kids are able to move in, out and all around this town with ease. Although just how they do this is never actually shown. This North Korean army is so inept that it makes you wonder how they were able to so easily defeat the United States Military. Other than a few marines we don't get so much as a glimpse of the most powerful war machine on the planet. The North Koreans seem to have whipped our butts in a single day of battle yet they cannot locate and put down an insurrection led by a bunch of high school kids.
In one unintentionally hilarious scene the North Koreans (and their secret Russian allies) are holding an important rally. Though just why it is being held in this tiny little town is never explained. These kids, armed to the teeth mind you, are able to sneak into a building right next to the public square where the rally is being held. I guess the invading army didn't think they needed any guards. But then later we are shown North Korean snipers on another roof who engage in a shooting match with the teens. They must have been looking the other way when the kids entered the building.
A stupid plot, hackneyed dialogue, bad acting and ridiculous action scenes all conspire to create one of the worst big budget Hollywood movies ever made. Its only amusement was in watching just how bad this movie was going to get. Well, trust me when I say it goes the distance and then some.
Photos © Copyright Metro-Goldwyn-Mayer (MGM) (2012)
Related Review