Movie Review
Reckless
Metro-Goldwyn-Mayer's Mammoth Musical Melodrama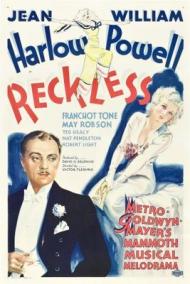 US Release Date: 04-19-1935
Directed by: Victor Fleming
Starring
▸
▾
Jean Harlow

,

as

Mona Leslie
William Powell

,

as

Ned Riley
Franchot Tone

,

as

Bob Harrison
May Robson

,

as

Granny
Ted Healy

,

as

Smiley
Nat Pendleton

,

as

Blossom
Rosalind Russell

,

as

Josephine Mercer
Mickey Rooney

,

as

Eddie
Henry Stephenson

,

as

Colonel Harrison
Man Mountain Dean

,

as

Man Mountain Dean - Wrestler
Allan Jones

,

as

Allan
Louise Henry

,

as

Louise
Allen Hoskins

,

as

Gold Dust
Leon Ames

,

as

Ralph Watson
Nina Mae McKinney

,

as

Nina Mae McKinney - Singer
Margaret Dumont

as

Woman in Audience Yelling 'Get Off the Stage'

Reviewed on:
March 14th, 2014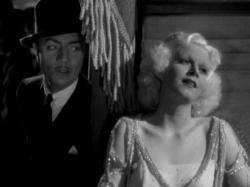 William Powell and Jean Harlow in Reckless.
Reckless was MGM's halfhearted attempt to make Jean Harlow into a musical star. I say halfhearted because she gets only a couple of songs, and, with the exception of the talk-singing introduction to the title number, her singing voice was dubbed by Virginia Verrill. A clip of this scene was featured in the classic MGM retrospective That's Entertainment! The point in the song where she spreads her arms wide and proclaims, "I want to go places and look life in the face!" left a lasting impression on me as a young boy.
But the less said about Harlow's borderline clumsy dancing the better. She makes Joan Crawford (MGM's original choice for the role) look like Ginger Rogers in comparison. Harlow does however, look radiant, even if the script is a melodramatic programmer.
The plot was loosely based on an infamous scandal that audiences of the day would have recognized from the papers. In 1931 torch singer Libby Holman married tobacco heir Zachary Smith Reynolds. His subsequent suicide from a self-inflicted gunshot wound made headlines around the country and Holman was publicly castigated for his death.
Harlow, as musical theater star Mona Leslie, falls for the wealthy Bob Harrison Jr. (Franchot Tone). Meanwhile her best friend Ned Riley (William Powell playing a suave gambler and sports promoter) pines for Mona. The only person he shows his true feelings to is Mona's Granny (a scene stealing May Robson).
The cast includes a 14-year-old Mickey Rooney as a paperboy who looks up to Nick. And Rosalind Russell makes an early career appearance as socialite Jo Mercer, a childhood friend of Bob's. She's also his fiancée whose wedding engagement Bob breaks off for Mona (unbeknownst to her). Going against the prevailing stereotype, Jo is portrayed as a sympathetic, kindhearted woman.
It isn't until the final act that we see Bob for the selfish cad he really is. But then given his fate the Production Code would have assured a negative portrait of the character. Franchot Tone gives his usual quietly controlled performance. He almost always played wealthy playboys and this role is no exception. But then he did look awfully nice in a tuxedo didn't he? The one scene where he comes up short is when he is supposed to be obnoxiously inebriated. He isn't a very convincing drunk.
In my book, William Powell could do no wrong. This role suits him like a glove. He was sophisticated and dapper but he always had a touch of the gutter about him. You just knew he came from a tough neighborhood. In that regard Ned Riley isn't much different from Nick Charles, only minus Myrna Loy's Nora.
Jean Harlow was quite simply a silver screen goddess. She was from the streets too but she was also the epitome of 1930's glamor. She wears the hell out of the many stylish Adrian creations he designed for her. She also gave good face, and director Victor Fleming took advantage of his star's luminosity in several memorable closeups. She's as good a reason as any for their invention.
Reckless is a forgettable movie with an unforgettable cast.
Reviewed on:
January 14th, 2015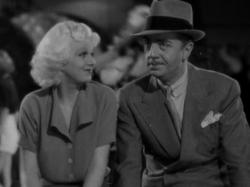 Jean Harlow and William Powell in Reckless.
Although it seems I enjoyed this movie slightly more than Patrick, I do for the most part agree with him. It really is the cast that makes this movie worth watching.
According to Daily Variety, the film was shot as a straight melodrama and MGM only decided to add the musical numbers after it was finished. As Patrick noted, this was a mistake. The musical numbers and Harlow don't mix. Her dancing talent was limited, to put it politely. In one tap dancing sequence the transition between Harlow and the real dancer's feet is blatantly shown without even trying to hide it as the camera pans down her legs. They needed either a better method of hiding her lack of musical talents or limited the already infrequent number of musical numbers.
An even bigger problem than the musical numbers is the melodrama. The lighter moments in the film are terrific. Powell and Harlow, who had an off-again/on-again relationship in real life, share a terrific chemistry together and Tone is well suited to play the lighthearted playboy about town. Once the story tries to become more serious however, it loses its way. It's not strong enough to sustain anything as serious as the death of a major character and the dramatic consequences that follow.
About the cast, I am in complete agreement with Patrick. Except for the musical moments, these parts suit them down to the ground. Powell plays the charming rogue to perfection, while Harlow plays the Broadway bimbo with the heart of gold like the natural that she was. And as Patrick noted, May Robson is a scene stealer as Granny, as are Nat Pendleton and Ted Healy as Powell's henchmen. Watching them, along with Tone and even Rooney in his small part, is a pure delight and goes a long way to covering the film's flaws.
Reportedly Harlow was reluctant to take this part because of the suicide of her second husband and because of her friendship with Libby Holman, whose life, as Patrick noted, was the inspiration for the story here. It was Powell who supposedly urged her to take the part anyway, which turns out to have been good advice. It became her highest-grossing film up until that point.
This isn't any member of the cast's best film, but thanks largely to their charm it's at least worth watching once.

Reviewed on:
January 27th, 2015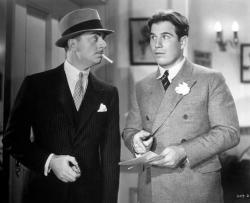 William Powell and Nat Pendleton in Reckless
As my brothers wrote, the greatest fun in watching Reckless as a movie buff are all of the familiar faces. Jean Harlow was simply the greatest screen vixen of her time. With the exception of Clark Gable, William Powell was Harlow's best leading man. I think it has to do with the fact that, as Patrick noted, Powell had a slight edge to him. Franchot Tone was a huge actor in the 1930s but was handsomely forgettable. May Robson was the go to actress when looking to cast an old lady in a supporting role. Her voice made her all the more distinct. As for Mickey Rooney, were there any Hollywood stars in the 1930s that he did not appear in a film with?
My favorite familiar face belongs to Nat Pendleton. He looks like a big lug and talks like a moronic goon. After Robson pushes by him to wake up Powell, an offended Pendleton remarks with hurt feelings, "Why did she call me a gorilla? Aren't I a man like everyone else?" During a pensive moment, Powell tells Healy and Pendleton that there must be something to marriage as millions of people get married every year. Healy states that millions also get hit by trucks every year. Pendleton moves the subject even further away with, "Yeah, it's all on account of them women drivers. They hadn't oughta let women drive." Watch the look on Pendleton's face when Powell refers to him as he tells Robson, "If I am lying I hope he drops dead." Pendleton turns into a shy school boy when a woman finds him attractive for having been in prison.
Patrick mentioned the Production Code playing into a character's fate while I enjoyed a piece of dialogue that is subtle but still a bit questionable. In the scene depicted in the photo in Scott's review, Harlow tells Powell that she spent the weekend on Tone's yacht. Powell asks her, "Did you catch anything?" Harlow answers, "We didn't fish." Powell repeats, "Did you catch anything?" wink wink. One line seems a bit shocking today but was a common expression then. When Harlow tells Tone they need to face his friends, Tone responds, "That's mighty white of you Cinderella."
Reckless is a decent picture but as Scott wrote; the lighter moments are the best parts of the movie. If they had played up the laughs, toned down the drama and all but eliminated the dancing, this could have been a great film.
Photos © Copyright Metro-Goldwyn-Mayer (MGM) (1935)