Movie Review
Rebel Without a Cause
Teenage Terror Torn From Today's Headlines.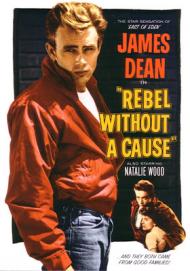 US Release Date: 10-27-1955
Directed by: Nicholas Ray
Starring
▸
▾
James Dean

,

as

Jim Stark
Natalie Wood

,

as

Judy
Sal Mineo

,

as

Plato
Jim Backus

,

as

Frank Stark
Ann Doran

,

as

Mrs. Stark
Corey Allen

,

as

Buzz Gunderson
Dennis Hopper

,

as

Goon
Rochelle Hudson

as

Judy's Mother


Reviewed on:
October 27th, 2001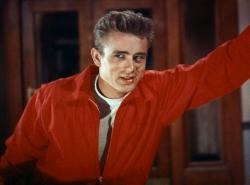 James Dean in Rebel Without a Cause.
When Rebel Without A Cause first came out it was ground breaking in that it was a story about teenagers and their problems dealing with their parents. By now every teen angst TV show, 90210, Dawson's Creek ... have all dealt with teen "problems" so much and often that the problems the teens have in Rebel seem ordinary. One teen's parents bicker all the time. Another one's father no longer knows how to show her affection, and another's parents are never around.
The movie follows a teen as he starts at a new school after his parents moved because he got into trouble at his last school. He makes a friend, some enemies, and  gets a girlfriend. He also gets picked up for public drunkenness, plays a fatal game of chicken, and breaks into a mansion (the same exterior that was used in Sunset Blvd.) to play house with his girlfriend.
Now the plot is nothing amazing. However, the cast is. This is James Dean's most memorable performance. In fact, it is in his performance that all the charm of this movie lies. From his infectious smile and laugh to his cries of frustration. You feel for him and you relate to him. Especially if you're young. The last time I watched it I was still impressed with Dean's performance but I did not feel the same connection to his character as I had years ago when I first saw it. The plot may not be refreshing anymore due to so any imitators, but James Dean's performance is without question.
I was so amazed by him when I first saw this movie that I drove to his hometown just to  visit his gravesite. The locals pointed me to his grave so casually that I had the feeling they had given those directions many times before. I saw the high school he attended and the farmhouse where he spent his childhood. I even visited the James Dean museum and I still have the souvenir coffee mug I bought there. I guess I am telling this story to emphasize just how affected someone can be by a performance that you relate to.
Natalie Wood plays Dean's girlfriend and she cries and pouts well. Sal Mineo plays the lost soul, Plato, who ends up showing Dean's character that his problems aren't nearly as bad as he thinks. Jim Backus, of Gilligan's Island fame, plays Dean's father who just can't connect with his son.
A classic film due to James Dean's presence. It's an interesting film in that it demonstrates how teenagers really have not changed. Every generation grows up with similar problems. It's just too bad not every generation has such a charismatic actor as James Dean.
Reviewed on:
October 27th, 2002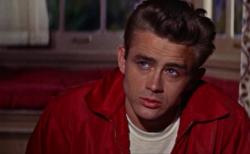 James Dean in Rebel Without a Cause.
I agree with Eric that the plot of Rebel Without a Cause is only so-so, but as he points out, this plot has been done and redone to death on every teen angst drama on television, so only on viewing now, is the plot so-so. When it was first released, it was original and inspired, I'm sure. Of course the problem is, when you watch this movie now, it doesn't seem as original, for of the aforementioned reasons.
What you can view with a sense of freshness, is the amazing performance by James Dean. So many people are lionized after their death, regardless of how much they truly deserve it. James Dean deserves to be thought of as a legend. Not only a phenomenal actor, but he defined modern cool with this part by personifying the good looking loner with the troubled past.
The rest of cast does an okay job, but my attention drifts whenever Dean isn't on the screen. Fortunately, he is in nearly every scene.
I'm surprised no one has tried to remake this movie. As Eric pointed out, the themes are universal and timeless. They could just update it for the new millennium. Sal Mineo's character could come out of the closet. Natalie Wood's relationship with her father could be more blatantly incestual. Of course a remake would bring up the inevitable question, who could replace James Dean?
Many people say it would be profane for a movie to be made of Catcher in the Rye, I say it would be wrong because the one person who could play Holden Caulfield died in a car accident in 1955.
Reviewed on:
October 27th, 2003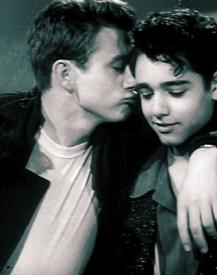 Dean and Mineo in a homoerotic moment.
This movie is incredible. My brothers are wrong in saying that the plot is no longer fresh and doesn't play well in modern times. A work of art stays a work of art whether society changes or not. Because modern audiences lack the imagination to understand the impact of these incidents on the characters in this movie has nothing to do with how good the movie is. The movie hasn't changed, we have.
The characters in here are well conceived and performed. Dean's parents are particularly well drawn. His domineering mother with her penchant for throwing guilt trips, his hen-pecked father who plays an entire scene wearing his wife's frilly apron. They are heartfelt, fleshed out characters reacting believably to the situations they are faced with. I understand that some of the dialogue sounds incredibly naive and corny today, so does Shakespeare.
What else can I say about the comet that was Dean? He took the "Method" style that Monty Clift and Brando had brought to the American cinema and added the movies first real rock and roll attitude. He was gorgeous and he died tragically young. He left three great movies of which Rebel Without A Cause has become the most celebrated.
Still I always like Sal Mineo better. Plato is one of the greatest tragic characters in film history and considered to be the first gay teen in the movies (check out the photo of Alan Ladd in his locker). His desperate attempt to latch onto James Dean and somehow keep himself from going over the edge can be witnessed in the eyes of Mineo. The events of that night in Rebel have only one inevitable conclusion, still I always find myself hoping that James Dean, Sal Mineo and Natalie Wood can remain as a happy family in the scene at the old mansion.
Finally, I must at least mention that Dennis Hopper makes one of his very first screen appearances as one of the bad kids.
Photos © Copyright Warner Bros. (1955)