Movie Review
Rebecca
The shadow of this woman darkened their love.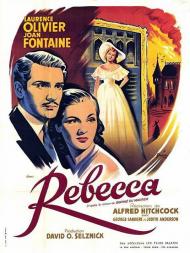 US Release Date: 04-12-1940
Directed by: Alfred Hitchcock
Starring
▸
▾
Laurence Olivier

,

as

Maxim de Winter
Joan Fontaine

,

as

The Second Mrs. de Winter
George Sanders

,

as

Jack Favell
Judith Anderson

,

as

Mrs. Danvers
Nigel Bruce

,

as

Major Giles Lacy
Reginald Denny

,

as

Frank Crawley
C. Aubrey Smith

,

as

Colonel Julyan
Gladys Cooper

,

as

Beatrice Lacy
Florence Bates

,

as

Mrs. Edythe Van Hopper
Melville Cooper

,

as

Coroner
Leo G. Carroll

,

as

Dr. Baker
Leonard Carey

,

as

Ben
Lumsden Hare

,

as

Tabbs
Edward Fielding

,

as

Frith
Forrester Harvey

,

as

Chalcroft
Leyland Hodgson

,

as

Mullen
Philip Winter

as

Robert

Reviewed on:
January 25th, 2013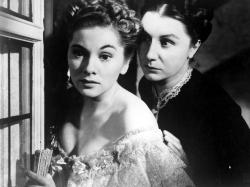 Joan Fontaine and Judith Anderson in Rebecca.
Of the many classic movies directed by Alfred Hitchcock during his forty years in Hollywood, only his debut film in Tinseltown, Rebecca, won the Best Picture Academy Award (for producer extraordinaire David O. Selznick). This screen adaptation of English author Daphne du Maurier's popular 1938 novel was a huge hit both commercially and critically. It earned an impressive eleven total Oscar nominations, including one for Hitch's direction and three of the four acting awards: Actor, Actress, and Supporting Actress for Olivier, Fontaine, and Anderson, respectively. Besides the big one its only other win was for B&W Cinematography (back in the days when they gave out separate awards for color movies) for George Barnes.
"Last night I dreamt I went to Manderley again." Thus Hitchcock begins his film exactly as the book began. He would remain quite faithful to the written page, although he did add several artistic touches such as having it rain when the newlyweds arrive at Manderley, and he made changes to the character of Mrs Danvers, making her younger and being more vague about her background. Thanks to the censorship of the day one key detail concerning the climax was altered but I can't say what without giving too much away.
The opening line is spoken by a young woman known in the script only as The Second Mrs. de Winter. While in Monte Carlo working as the paid traveling companion of a matronly socialite our young heroine meets and is quickly courted by wealthy widower Maxim de Winter, in town to forget his wife Rebecca's recent drowning. She accepts his proposal of marriage and arrives at his palatial seaside estate completely unprepared for her new station in life. She is soon being tormented by the sinister housekeeper who has an odd obsession (that may or may not be sexual) with the memory of the First Mrs. de Winter. The housekeeper, Mrs. Danvers, goes on and on about how elegant and refined Maxim's first wife was while making disparaging comments about any alterations to the house the new bride suggests.
If you want to know what happens next in this excellent mystery/thriller by The Master, you'll have to watch it because I'm not giving any more of the plot away. I'd rather talk about the amazing cast. Actor for actor this just might be Hitch's best ensemble ever.
Joan Fontaine beat out many famous actresses for the lead role. At one point or another Carole Lombard, Maureen O'Hara, Vivien Leigh (whom Olivier was campaigning for), Anne Baxter, and Fontaine's big sister Olivia de Havilland either tested or were considered for the part. Fontaine didn't win the Oscar but did so the following year for her work (in what some called a consolation prize) in Hitch's similar but vastly inferior Suspicion. She gives the finest performance of her career as the young bride in over her head at Manderley.
Laurence Olivier makes the perfect Maxim de Winter. He's charmingly sophisticated and incredibly manly at the same time, which is not an easy feat. He's a bit of a cipher at the beginning of the story but becomes a fully rounded character during the secret-revealing second half. He has better chemistry with Fontaine than Cary Grant would muster the following year in Suspicion.
Judith Anderson, whom I always remember from her indelible performance as Big Momma in Cat On a Hot Tin Roof, is creepy as hell as Mrs. Danvers. She rarely blinks and is hardly ever shown walking. She just seems to appear suddenly in doorways. When she does move she almost seems to glide across the floor. In her best scene she tries to talk an upset Mrs. de Winter into committing suicide by jumping from a window to the rocky cliffs below (see photo).
George Sanders has a small but pivotal role. He played decadent snobs better than anyone as he demonstrates here. If you are familiar with his resonant speaking voice no doubt you can picture him uttering lines like, "You know, old boy, I have a strong feeling that before the day is out, somebody's going to make use of that rather expressive, though somewhat old-fashioned term ''foul play.''"
The supporting players include many stalwart talents of the era. Not many movies can boast the likes of Nigel Bruce, Reginald Denny, Gladys Cooper, C. Aubrey Smith, Leo G. Carroll, and Florence Bates. The result is that even the smallest parts in the movie are made memorable because of the actor portraying them.
Rebecca is a fabulous movie. Some may consider it a tad slow at times, it does clock in at just over the two hour mark, but it is vintage Hitchcock, a compelling mysterious romantic thriller done in his inimitable (though many have tried) style.

Reviewed on:
December 5th, 2013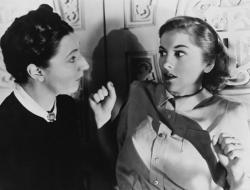 Judith Anderson as Mrs. Danvers scares the shit out of Joan Fontaine in Rebecca.
Rebecca is dark, moody and a bit frustratingly slow, but it remains an intriguing mystery as visualized by the master of suspense, Alfred Hitchcock. The setting and set up is brilliant. Fontaine's first days at Manderley are creepy and very cold. Everyone constantly refers to Rebecca, leaving Fontaine feeling like an intruder. Even the dog leaves the room when she enters. Fontaine plays such a timid character that she struggles to find her place in a house where she is in fact, the boss. The notorious Mrs. Danvers is determined to undermine any change that Fontaine may want to make.
This film adaptation of Mrs. Danvers has become quite the lesbian legend. Articles have been written about her and her love for the enigmatic Rebecca. Early on an in-law tells Fontaine of Mrs. Danvers, "She simply adored Rebecca." A more accurate term would be, "worshipped." Although we later learn that Rebecca was hardly a saint, we never learn of any sexual relationship between Mrs. Danvers and Rebecca. The scene where she shows Fontaine, Rebecca's underwear is strangely erotic as she tells of how she tended to Rebecca as she undressed, bathed and combed her hair. She even points out a sheer negligee that Rebecca wore.
Fontaine slowly learns more and more about her dead rival and the circumstances of her life and death. None of which makes her any more comfortable in her new home and relationship. Even her husband's love becomes somewhat of a burden. Fontaine is playing a little ninny. She is so completely scared of Mrs. Danvers that she is incapable of being the mistress of the house. Early on she should have set a precedence with Mrs. Danvers, but she is far too out of her comfort zone. She later realizes that her husband, in fact, married her because she is inexperienced and incapable of making her own decisions.
Fontaine's innocence and ignorance make her a perfect guide to lead the audience through this labyrinth of mystery, deceit and menace. Manderley is a character unto itself. Fontaine explores the house, discovering new mysteries at every turn. It slowly gives up its secrets just like the rest of the characters. Manderley is a haunting maze and Mrs. Danvers is the Minotaur.
Reviewed on:
March 19th, 2014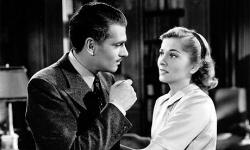 Laurence Olivier and Joan Fontaine in Rebecca.
There are many classic things about Rebecca. Hitchcock brings his usual style to the proceedings. There's an aura of gloomy dread that permeates the story that creates a palpable atmosphere. The presence of Rebecca, the title character who is never seen, looms over the film in a menacing way. And Mrs. Danvers is a very memorable screen villain. However, certain aspects of the film haven't aged particularly well. The drama is pure soap opera and often overwrought melodrama, particularly in the second act. It doesn't irreparably damage the film, but it does weaken it.
As with many of the Hollywood classics, there are an abundance of stories and legends that revolve around the making of this movie, most of them uncredited or at least unverified. One thing that all of the stories seem to agree on is that Hitchcock and Selznick didn't get along, mainly because of the control Selznick wanted to exert over the picture. Other stories mention how Hitchcock deliberately tried to make Joan Fontaine feel insecure during production to help her performance by telling her that the other actors didn't like her and that they were all making more money than her. Also, reportedly, Olivier wanted his then mistress, eventual wife, Vivian Leigh to play the female lead, but she was deemed too beautiful and refined for the part. I actually agree with that decision. It's much easier to picture Leigh as the late Rebecca than it is as the timid second Mrs. de Winter.
The soap opera plot is the film's biggest weakness. Accompanying this melodrama is some typical soap opera type acting. Note the way that characters often turn their backs on each other whenever they reveal something dramatic. Not that all of the acting or performances are in this old fashioned, over the top manner. There are some subtle performances in the quieter, less melodramatic moments. Fontaine is very good as the mousey wife out of her element. Olivier is good, but he's better in other films. This is a woman's movie though, with both Mrs. de Winters being more fully fleshed out than he is. Judith Anderson is the film's biggest scene stealer however, despite having very little actual screentime as Mrs. (Mrs.? Someone is or was married to her, can you imagine?) Danvers.
While visually this looks like a Hitchcock film, it doesn't always feel like one, no doubt in part due to Selznick's influence. According to legend again, Hitchcock wanted to inject some humor into the script to alleviate some of the gloom, but Selznick rejected the idea. In fact, he objected to every attempt by the director to alter the story, writing in a memo, "We bought Rebecca and we intend to make Rebecca."
Despite the melodrama, this remains a classic film. It's not a perfect one, but there are some perfect elements in it.
Photos © Copyright Selznick International Pictures (1940)
Related Review