Movie Review
Ready to Rumble
Sometimes two heads are simply more than one.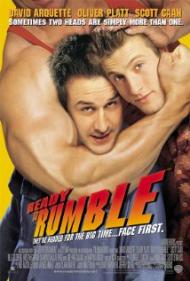 US Release Date: 04-07-2000
Directed by: Brian Robbins
Starring
▸
▾
David Arquette

,

as

Gordie Boggs
Oliver Platt

,

as

Jimmy King
Scott Caan

,

as

Sean Dawkins
Bill Goldberg

,

as

Himself
Rose McGowan

,

as

Sasha
Dallas Page

,

as

Himself
Richard Lineback

,

as

Mr. Boggs
Chris Owen

,

as

Isaac
Steve Borden

,

as

Himself
Joe Pantoliano

,

as

Titus Sinclair
Martin Landau

,

as

Sal Bandini
Caroline Rhea

,

as

Eugenia King
Tait Smith

,

as

Frankie King
Ellen Albertini Dow

,

as

Mrs. MacKenzie
Kathleen Freeman

,

as

Jane King
Oscar Gutierrez

,

as

Himself
Randy Savage

,

as

Himself
Booker Huffman

,

as

Himself
John Cena

as

Man in gym

Reviewed on:
November 24th, 2013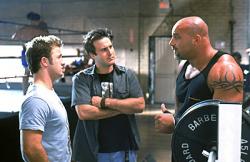 Scott Caan, David Arquette and Bill Goldberg in Ready to Rumble
Every generation has its sports heroes. Names and faces change, but the hero worship remains the same. Although WWE is as much about entertainment as it is a sport, it has some of the loyalist fans to be found. Ready to Rumble is about two such wrestling fans that become distraught when their favorite wrestler is fired.
Gordie and Sean are two grown best friends whose job is to empty port-a-potties and septic tanks. Sean's parents are dead, while Gordie's father, mother and sister are policemen and expect Gordie to be one as well, even though he does not. "But, Dad, it's my dream!" "Well, your dream is stupid!" WCW wrestling is the brightest part of Gordie's and Sean's lives.
Their favorite wrestler is Jimmy King, who they end up trying to help after he gets fired. They seek him out and find him a new trainer. Martin Landau steals all of his scenes as a crazy old wrestling coach. "Sal Bandini! Wanna wrestle?" he greets everyone. Some of his advice is, "Don't let up until you hear cartilage snap, or they crap in their pants."
Ready to Rumble features many popular wrestlers of the day, such as Goldberg and Sting. There is also Randy "Macho Man" Savage, whose better days had passed. In a blink and you missed him cameo is John Cena, who was a few years away from becoming one of the most popular wrestlers of the past ten years. My son is a huge fan of Rey Mysterio, who is known for always wearing a Lucha libre mask. This was early in his career and it is a rare glimpse at him mask-less.
Although as predictable as you would expect, there are laughs to be found here, especially if you can manage the sense of humor of a twelve year old. "I puke all the time, and I'm not a pussy." What thoroughly sold the film for me was the enthusiasm of David Arquette and Scott Caan. Even though Gordie and Sean are immature, they are so utterly likable that you cannot help but root for them. No matter what you think of WWE wrestling, you want these guys to succeed. After all, have we not all at one time wanted to meet and spend time with our own hero?
Photos © Copyright Bel Air Entertainment (2000)