Movie Review
Ray
The extraordinary life story of Ray Charles. A man who fought harder and went farther than anyone thought possible.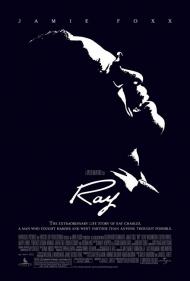 US Release Date: 10-29-2004
Directed by: Taylor Hackford
Starring
▸
▾
Jamie Foxx

,

as

Ray Charles
Regina King

,

as

Margie Hendrix
Kerry Washington

,

as

Della Charles
Bokeem Woodbine

,

as

Fathead Newman
Curtis Armstrong

,

as

Ahmet Ertegun
Larenz Tate

,

as

Quincy Jones
Jude Cambise

,

as

Sound Engineer
Warwick Davis

,

as

Oberon
Terrence Howard

as

Gossie McKee

Reviewed on:
October 26th, 2004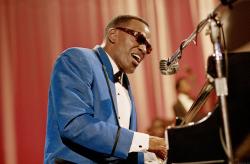 Jamie Foxx in Ray.
A good Biopic needs two main ingredients. It must be about a fascinating person and the actor portraying that person must be believable in the role. In both of these regards Ray is a winner.
The life of Ray Charles was filled with drama. He was raised in poverty in the rural south. He witnessed his younger brother's drowning death shortly before going blind as a small boy. Against nearly insurmountable obstacles he rose to fame and prominence as one of the great singer/songwriter/musicians of the 20th Century.
Jamie Foxx is superb as Ray Charles. Give this man an Oscar already!
After seeing Ray I felt that I knew Ray Charles. The movie portrays him as a very talented man battling his own personal demons. It neither vilifies nor confers sainthood on him. He struggled with heroin addiction and was a philandering husband and neglectful father. He also used his talent and music to fight segregation.
The supporting cast is filled with familiar and talented faces. Bokeem Woodbine plays Fathead Newman, Larenz Tate has a small role as Quincy Jones and Regina King gives one hell of a performance as Margie Hendricks, one of Ray's backup singers with whom he had a torrid affair, even fathering a child with her. She has always slipped just under the radar of movie stardom and hopefully this role will earn her an Academy Award nomination.
Naturally enough the music of Ray Charles plays an important role in the movie. In fact I wanted to go out and buy one of his CD's afterwards. His evolution from Nat King Cole imitator to full-fledged musical genuis is well chronicled and provides some of the most entertaining moments in the movie. The musical time period (late-40's through early-60's) is vividly conjured.
My one minor complaint is that Ray is perhaps twenty minutes too long. Trimming a few scenes could have made this good movie even better. As is Ray is one of the best and most satisfying film biographies to come out of Hollywood in many years.
Reviewed on:
October 28th, 2004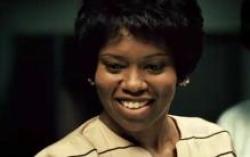 Regina King in Ray.
I'm not ready to completely throw my weight behind Jamie Foxx to win the Best Actor Oscar yet, but he certainly has a very deserved lock on a nomination.
Patrick's right when he says the makers of this film don't vilify or sanctify Ray Charles' life. But this doesn't mean his character is one-dimensional. In his career as a musical innovator, they show him as doing no wrong. After a shaky start as a mere imitator, his career seemingly goes without a hitch or a misstep as he travels the musical road to becoming a legend.
In his personal life however, he is truly a bastard, which the movie unflinchingly shows. He cheated constantly on his wife, treating his mistresses with even less respect than he showed her. He abandoned friends and business partners to advance his career. Basically, he puts himself and his music first and everyone else second.
Like Patrick, I also agree that, like most biopics, this one is too long. There are several scenes that could have been trimmed and the pacing of the film is slow at times. I also felt that the flashbacks of his mother talking to him by speaking directly to the camera were overused.
Apart from being a good representation of a musical legend's life, this movie is going to be most remembered for putting Jamie Foxx on Hollywood's A-List.

Reviewed on:
February 12th, 2005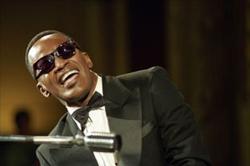 Jamie Foxx in Ray.
Gloria Swanson says in Sunset Blvd that she can say anything with her eyes. The real truth in her statement is that acting does involve the actor's eyes and what they do with them. Foxx's performance is obviously handicapped because two important tools in his acting arsenal are covered up for most of the movie.
Foxx does a great job, but often I was struck on how well he imitated Charles's walk or mannerisms. Thus, I was never able to fall into the performance. Foxx sounds like Charles. He hugs himself when he is happy, just as I've seen Charles do on television. Foxx does a great imitation, but I was never moved by his performance. Playing the role of a sunglass wearing character is a case of catch 22. An actor needs his eyes to fully express himself, so an actor playing a handicapped blind man is handicapped in their acting.
Foxx does as good an imitation as anyone could possibly do. Perhaps this movie should have used Foxx as a voice over narration as well. A little more info into his need for drugs or childhood demons may have helped better explain his character and quickened the pace of the movie. And perhaps the "after school special" scene where Charles's younger brother tells him that, "It wasn't your fault." could have been cut.
Photos © Copyright Universal Pictures (2004)