Movie Review
The Raven
The only one who can stop a serial killer is the man who inspired him.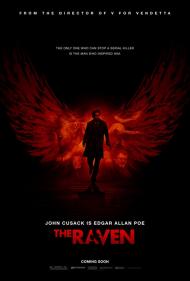 US Release Date: 04-27-2012
Directed by: James McTeigue
Starring
▸
▾
John Cusack

,

as

Edgar Allan Poe
Luke Evans

,

as

Detective Fields
Alice Eve

,

as

Emily Hamilton
Brendan Gleeson

,

as

Captain Hamilton
Kevin McNally

,

as

Maddux
Oliver Jackson-Cohen

,

as

John Cantrell
Jimmy Yuill

,

as

Captain Eldridge
Sam Hazeldine

,

as

Ivan
Pam Ferris

,

as

Mrs. Bradley
Brendan Coyle

,

as

Reagan
Aidan Feore

,

as

Stage Manager
Dave Legeno

,

as

Percy
Michael Shannon

,

as

Dr. Morgan
John Warnaby

,

as

Griswold
Michael Kelly

as

Party Reveler
Reviewed on:
April 28th, 2012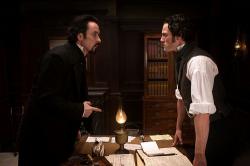 John Cusack and Luke Evans in The Raven.
Taking a real life historical figure and creating a fictional story around them is an intriguing idea, particularly when that figure is the darkly macabre poet Edgar Allen Poe. When you take into account that Poe's death has always been something of a mystery, you have a premise with great possibility. Unfortunately, while this movie has its moments and looks good, it never goes far enough to take advantage of the premise.
John Cusack stars as Poe and the story begins just a few days before the author's death. A series of murders is committed across Baltimore in 1849. Detective Fields, who is investigating the case, realizes that each one of them is the copycat of a murder from an Edgar Allen Poe story. All of his famous works are referenced, including, but not limited to, "The Telltale Heart", "The Pit and the Pendulum" and "The Murders in the Rue Morgue".
Fields enlists Poe's help with his investigation and the two of them quickly learn that the similarities aren't a coincidence and the murders are meant as a message to the author. The connection becomes even more personal when the killer kidnaps Poe's fiancee and dares him to write a solution to her survival.
Australian Director James McTeigue gives the movie a distinctive look. He previously directed V for Vendetta and was an assistant director on the Matrix Trilogy. He makes good use of shadows and fog on this film and also of costumes, with the men in long black cloaks designed for maximum swooping effect. The dark and atmospheric look is one of the best things the movie has going for it. He also doesn't skimp on the gore. Several scenes are quite bloody and the death by Pendulum is shown in graphic detail.
Reportedly Jeremy Renner was originally cast, but he dropped out to do Mission Impossible 4. Ewan McGregor was also connected to the part before it finally wen to Cusack. He does an okay job in the title role and looks the part, particularly after losing a great deal of weight to appear more gaunt. To be honest though, this isn't a very actorly part. He gets a few nice and comic moments, but once the mystery gets going all that's mainly required of him is to run around frantically.
It is the mystery that is the weakest aspect, particularly the resolution which isn't very satisfying. At the beginning of the story there is some question as to who could be the culprit, but as one by one the suspects are whittled down, it loses its emotional impact. When the killer is revealed, it's much more a sense of, "Is that all?" rather than one of, "Whoa!"
The real Edgar Allen Poe was found wandering the streets of Baltimore just before his death, wearing someone else's clothes and muttering the name, "Reynolds." No one knows what happened to him during the final day of his life or what caused his death, although there are many theories. While this movie incorporates some of that into the finale, it is ultimately disappointing. The opening scene and any knowledge of Poe's life reveals that he's going to die before the movie ends, but it still feels very anticlimactic.
Despite the many weaknesses, I still enjoyed this movie somewhat, but it's much more of a penny dreadful than a great work of literature.
Photos © Copyright Rogue Pictures (2012)